Nvidia TITAN RTX is finally here and it steals the title of the fastest graphics in the world from GeForce RTX 2080 Ti. Well, the name TITAN is always associated with Nvidia's top-end graphics card in any architecture, whether it is Pascal, Kepler, Volta, or Turing. Nvidia TITAN RTX is now officially the most powerful desktop graphics card in the world and also the fastest graphics card in Nvidia's RTX series. This card is a beast and can blow up any other card in competition. It can run any game at the highest graphics settings at 4K and is also a great workstation graphics card for use in AI research, data science, and creative applications. Let us know more about this card with its specifications, and the power it possesses.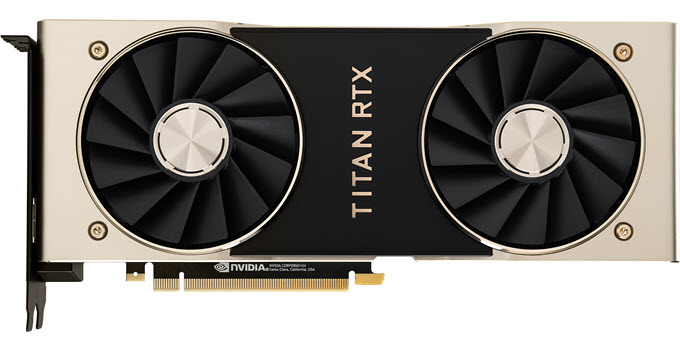 Nvidia TITAN RTX Specifications & Overview
Here is a complete overview of the Nvidia TITAN RTX along with its specifications and a brief comparison to the GeForce RTX 1080 Ti.
GPU
Nvidia TITAN RTX is built on the Turing GPU architecture with 12nm FinFET manufacturing process. The GPU chip used in this card is TU102, which is the same chip used in the RTX 2080 Ti and the mighty Quadro RTX 6000 workstation graphics card. It comes with 4608 CUDA Cores, 576 Tensor Cores for AI, and 72 RT Cores for Ray Tracing. It has got a GPU base clock and boost clock speed of 1350 MHz and 1770 MHz respectively.
Memory
The card comes with 24GB GDDR6 memory which is the same as Quadro RTX 6000, and a bit more than the double present in the RTX 2080 Ti. The memory is clocked at 14 GHz, has a bus width of 384-bit and offers a bandwidth of 672 GB/s. This huge amount of memory and memory bandwidth will definitely help in high workstation tasks that require a lot of memory for their working. Also, in high-end 4K or 8K gaming, it will prove very advantageous to store a large amount of graphics textures.
Must Read: GDDR6 vs GDDR5X vs GDDR5 vs HBM2 Memory Comparison
Design & Cooling
The card uses the same design and the cooler type that is used in RTX 20 series cards. However, the metal shroud in this card is of golden color instead of silver-grey, and it definitely gives the card a rich and premium feel to it. The cooler features Vapor chamber design with black painted Heatsink, and dual 13 blade fans on the top. The fans work silently and are much quieter than blower styled fans, which were used in the previous generations of Nvidia's Founders Edition cards and TITAN cards. The build quality of the card is rock solid as with the other RTX 20 series Founders edition cards. Even being such a powerful card, it has a dual-slot form factor which means it consumes only two slots on the motherboard and PC case.
Features
The card comes with Tensor Cores for Artificial Intelligence and Deep Learning processing, and RT Cores for Real-Time Ray Tracing. It supports all the major APIs that include DirectX 12, OpenGL 4.5, and Vulkan. It is an SLI ready card and you can connect two of these cards on a single SLI motherboard using the RTX NVLink bridge for increasing the compute performance and can scale memory for resource-intensive workstation needs such as real-time 8K video editing. It also includes a USB Type-C connector at the rear for VirtualLink VR connectivity, along with three DisplayPort and one HDMI connector.
Performance
The performance of this card is out of this world. It is more than capable of running any latest AAA game at maximum settings at 4K. However, if you enable Real Time Ray Tracing in supported games, then you may have to lower the resolution to 1080p to get a constant 60 FPS on average. This is due to the fact that Real Time Ray Tracing is a very Taxing on the graphics card and requires a ton of horsepower. The card FP32 performance is 16.3 TFLOPS which is remarkable. Talking about other performance figures, the card provides up to 130 teraflops of deep learning performance and can deliver up to 11 GigaRays per second of real-time ray-tracing performance. On average, it is about 15% to 20% faster than the RTX 2080 Ti.
The card can be used as gaming but I think only the top-level enthusiasts will buy it because of its higher price. Besides gaming, this is a very good workstation-level graphics card and can be used for content creation, game development, VR content creation, game studios, data centers, AI research, and scientific & research laboratories. The card is more suited to Data scientists, AI researchers and developers because of the extreme power it possesses.
Nvidia TITAN RTX Performance
Computer Performance
16.3 TFLOPS
Tensor Core Performance
130 Teraflops
Real Time Ray Tracing Performance
11 GigaRays per second
Power Consumption
The card requires two 8-pin PCI-E power connectors from the PSU and has a TDP rating of 280 Watts. The recommended Power Supply for this card is of 650 Watts.
Check out: Best High-end Power Supplies for Graphics Cards
Price
The card is officially priced at $2499 MSRP which is more than double of RTX 2080 Ti and Nvidia TITAN XP, which sell at $1200 MSRP. It is definitely a super expensive card for gaming purposes, but as a workstation card, it might get a pass.
Specifications
Nvidia TITAN RTX Specifications
Architecture
Turing
GPU Chip
TU102
CUDA Cores
4608
Tensor Cores
576
RT Cores
72
GPU Clock
1350 / 1770 MHz
Memory Clock
14 Gbps
Memory Size
24GB GDDR6
Memory Interface
384-bit
Memory Bandwidth
672 GB/s
Bus Interface
PCI Express 3.0
PCI-E Connectors
8-pin x 2
Thermal Design Power (TDP)
280 Watts
Power Supply Recommendation
650 Watts
Output Ports
3 x DisplayPort, 1 x HDMI, 1 x USB Type-C
Nvidia TITAN RTX vs RTX 2080 Ti
| | | |
| --- | --- | --- |
|   | GeForce RTX 2080 Ti | Nvidia TITAN RTX |
| CUDA Cores | 4352 | 4608 |
| Tensor Cores | 544 | 576 |
| RT Cores | 68 | 72 |
| Memory | 11GB GDDR6 (352-bit) | 24 GB GDDR6 (384-bit) |
| Memory Bandwidth | 616 GB/s | 672 GB/s |
| FP32 Performance | 13.4 TFLOPS | 16.3 TFLOPS |
| Power Consumption | 260 Watts | 280 Watts |
Final Thoughts
There is no doubt that Nvidia TITAN RTX is an extremely powerful graphics card and is currently the most powerful graphics card in the world. It can be used for gaming but I think it is more geared towards the workstation segment because it is super expensive and also we don't need that much power for gaming right now. Even the RTX 2080 Ti and RTX 2080 cards are not being well received by gamers because of their higher price or a lower price-to-performance ratio, so how can we expect someone to buy RTX TITAN for gaming. The card is also twice as expensive as the previous generation TITAN which is NVIDIA TITAN Xp. In my opinion, it is a slightly beefed-up version of RTX 2080 Ti with a few extra cores and double VRAM. However, if you have got deep enough pockets and want the best gaming graphics card for your rig then this is the ultimate card for you. If you have something to say then please leave a comment below.
(*This post may contain affiliate links, which means I may receive a small commission if you choose to purchase through the links I provide (at no extra cost to you). Thank you for supporting the work I put into this site!)