Dust is the No.1 enemy of PC, computer components, and electronic equipment. No matter how good your computer case is and how many fan filters you have installed in it, dust still finds its way inside your computer case and gets collected over your precious computer components. Dust can lead to various issues that include an increase in the temperature of your case and can reduce your case fans and CPU/GPU heatsink fan performance, which may result in overheating of the processor and graphics card. Also, it can get collected on the motherboard and its components, and if there is moisture build-up inside the case during the humid season then it can lead to a short circuit on the motherboard or PCB and can damage it permanently.
The best way to remove dust from the PC case and computer components is not by using a vacuum cleaner, but by blowing air into the components and case. Compressed air cans have been very popular for cleaning the computer and its parts but they prove too much costly to clean a complete PC, and they cannot be used again, once they get empty. You may also use a vacuum cleaner in blower mode to clean the computer and its components, but I would strongly advise you not to do this because the air coming out from the vacuum cleaner carries a lot of static charge with it and it can severely damage your motherboard and other electronic components. So, the best way to clean the dust from your computer case, computer parts, and other electronic components is by using electric dusters or electric air dusters that are designed especially for this purpose.
An electric duster is a compact and small air blower that blows out air at high pressure to remove the dust from the things at which it is directed. It is completely safe to use on computers, laptops, keyboards, CPU, and Graphics card heatsinks & fans / CPU Coolers, computer case fans, radiators, printers, cameras, and other electronic equipment, components, or devices. Electric air dusters are way more economical and safer than compressed air cans of compressed air It is only a one-time investment and then you can clean your computer or electronics as many times as you want, without having to fear that it may run out of the air which is the case with compressed air cans.
Electric Dusters are much safer than compressed air cans because the only thing coming out of them is air, but compressed air cans may emit the chemical liquid that is contained inside them, and this may cause damage to your computer parts and electronics. Also, the chemicals used in compressed air cans are very deadly and not safe for the environment. So, this is definitely not a green way to clean your computer or electronics. Selecting a good electric air duster is very important if you care for your computer or electronics, so here I am going to list down the best electric dusters that you can get for yourself.
Electric Air Duster Advantages
+ Economical than Air Cans
+ Safer than compressed air cans
+ Does not build up a static charge
+ Have a wide range of applications
+ Very easy to use or operate
+ Environment friendly
+ Saves a lot of time in cleaning dust
+ Unlimited usage with no restrictions
+ Free of dangerous fluorocarbons & deadly inhalants/propellants
Pro Advice: Always clean your Computer at least once a month using the Electric Duster. Also, these Electric Air Dusters can get hot when in continuous operation, so give them a little rest or pause in between when cleaning things.
Note: An electric duster is also known as an electric computer duster, electric dust blower, computer dust blower, PC dust blower, electric air blower, or an electric compressed air duster.
Best Electric Air Dusters for Computers & Electronics
Here are the best electric air dusters or computer air dusters for cleaning computers, PC components, laptops, notebooks, peripherals, electronics, etc. These electric dusters can be used for homes and offices.
A very popular and powerful electric air duster that has been trusted by many users. MetroVac DataVac ED-500 is a 500-Watt electric duster with a 0.75HP motor and comes with various attachments or nozzles to clean different things. It can be used to clean Desktop PC, laptops, keyboards, camera lenses, MacBook keyboards, CPU heatsinks, case fans, and various other electronics and household items.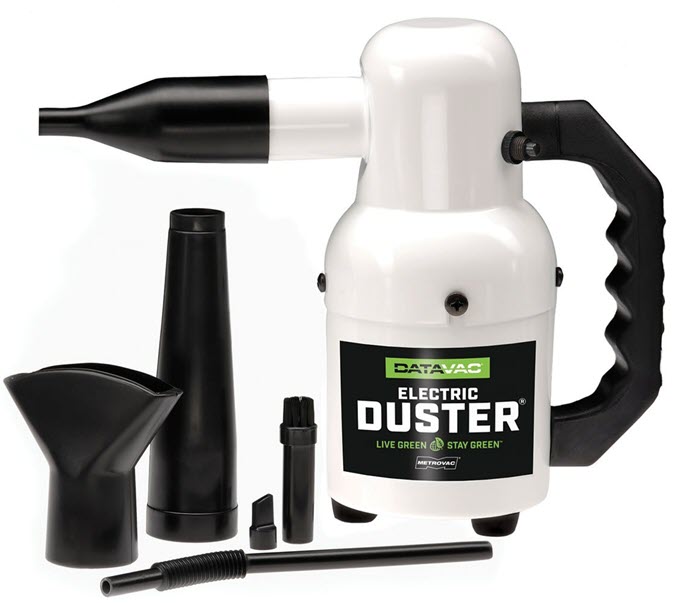 It is much more cost-effective and economical than a canned air can and can be used multiple times without any restrictions. It generates a maximum airflow of 70 CFM and comes with 12 feet long cord. The build quality of this electric duster is superb as the main body and air tank unit are made up of steel metal. This electric duster has no variable speed adjustment and works at a single speed only, and this is a slight shortcoming of this device. It is compact in size and various attachments include Air-Pin Pointer, Air Concentrator Nozzle, Air-Flare Nozzle, and 4-Piece Detailing Tool Kit. It is available in both 120V and 240V variants, and with two-pin and three-pin plugs for use in different countries.
Pros: Steel body construction, Great performance, Long cord, Multiple nozzle attachments.
Cons: No speed adjustment.
DataVac Electric Duster ED-500 Specifications
Power
540 Watts
Airflow
70 CFM
Cord Length
12 Feet
Speed Settings
None
Weight
3 lbs
Attachments
6 attachments that include Air-Pin Pointer, Air Concentrator Nozzle, Air-Flare Nozzle, and 4-Piece Detailing Tool Kit.
Buy DataVac Electric Duster ED-500
A very reliable, powerful, and highly popular electric duster and air blower from XPOWER. Just like the DataVac electric duster, this one is also a 500W air duster with a 0.75 HP motor, but it generates a bit more airflow at 90 CFM. It has got two-speed settings (high/low) and comes with 8 nozzle attachments for different applications. The cord length is 10 feet which I think is long enough for reaching anywhere.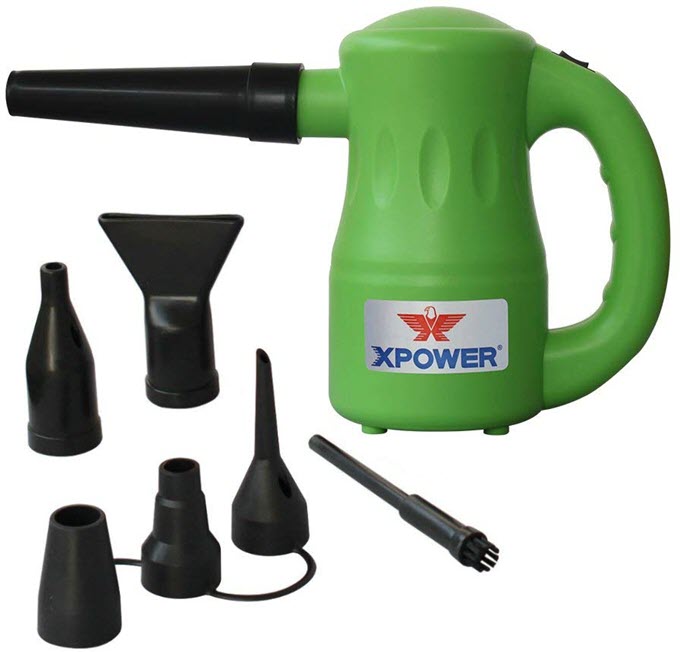 It is a compact and lightweight electric duster, and its body is made up of high-quality ABS plastic. In some ways, it is even better than DataVac Electric Duster when considering the design elements, because its body does not get heated up like the DataVac duster, which has a steel body. It can be used to clean computers, electronics, computer devices, air vents, windows, and various other things where dust can get into. It is available in three color options which are black, blue, and green, and is also cheaper than DataVac Electric Duster. Highly Recommended by me.
Pros: Great build quality, Great performance, Highest Airflow, Long cord, Speed Adjustment, Multiple nozzle attachments.
Cons: None.
XPOWER A-2 Airrow Pro Electric Duster Specifications
Power
500 Watts
Airflow
90 CFM
Cord Length
10 Feet
Speed Settings
2 (High / Low)
Weight
2.3 lbs
Attachments
8 nozzle attachments
Buy XPOWER A-2 Airrow Pro Electric Duster
A high-pressure electric duster that is as good as the DataVac and XPOWER Electric Dusters mentioned above. CompuCleaner Electric Air Duster is also a 500-Watt electric air duster and can be used to clean your electronic devices, computer keyboard, laptop, copy machine, printer, medical equipment, camera, and whatnot.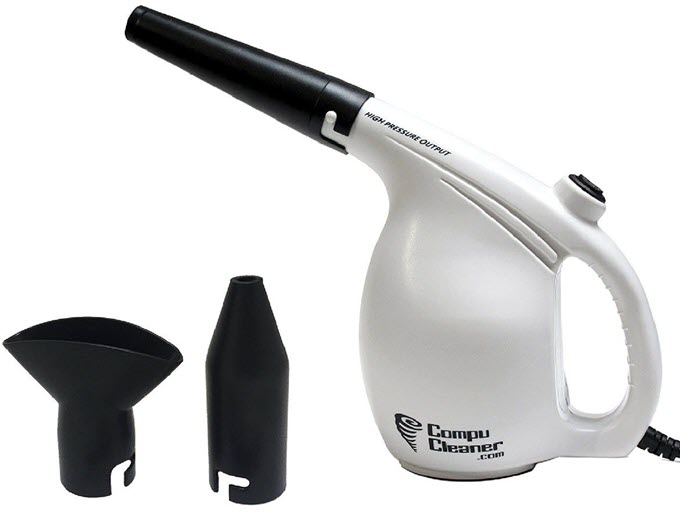 CompuCleaner 2.0 is a compact and super lightweight air duster (1.8 pounds) and comes with a 9 feet long cord. It generates an airflow of 70 CFM and comes with three nozzle attachments to clean different items and for different situations. It has two speed adjustments, high and low that can be triggered using the switch located on the top of it. CompuCleaner 2.0 is a great alternative to compressed air cans and is a must-have device for cleaning your desktop computer, electronics, cabinets, and also for household cleaning. It is available in white and black color options.
Pros: Good build quality, Good performance, Speed Adjustments, Ultra Lightweight, Cheapest of all.
Cons: Only three nozzle attachments, A bit louder.
CompuCleaner 2.0 Electric Air Duster Specifications
Power
500 Watts
Airflow
70 CFM
Cord Length
9 Feet
Speed Settings
2 (High / Low)
Weight
1.8 lbs
Attachments
3 nozzle attachments
Buy CompuCleaner Electric Air Duster
See also:
Final Words
Keeping your computer clean is a very good habit and it is now made super easy and super-fast to do using these Electric Dusters. These electric air dusters are also very much affordable, portable, and reliable, and can be used for household cleaning too. You can pick any of the above-mentioned electric air dusters according to your choice and requirements. I can say with utmost confidence that you really cannot go wrong with any of them, but if you still have got any queries regarding them then please ask by leaving a comment below.
(*This post may contain affiliate links, which means I may receive a small commission if you choose to purchase through the links I provide (at no extra cost to you). Thank you for supporting the work I put into this site!)