(*This post may contain affiliate links, which means I may receive a small commission if you choose to purchase through the links I provide (at no extra cost to you). Thank you for supporting the work I put into this site!)
Intel 9th generation processors are mainly a refresh of the Intel 8th Gen. Coffee Lake Processors. The latest Intel 9th Gen Core series processors pack extra performance, higher clock speeds, and better thermals. Top Intel 9th Gen Core series processors include Core i9-9900K, Core i7-9700K, and Core i5-9600K. Core i9-9900K is the top-of-the-line 9th gen processor, followed by Core i7-9700K and then by Core i5-9600K. All these processors are built on the 14nm fabrication process and use Soldered Thermal Interface Material (STIM) between the Die and the Integrated Heat Spreader (IHS).
Previously, Intel was using crappy thermal paste between die and IHS in 8th generation processors and that was resulting in much higher temperatures even under no overclocking. This resulted in anger among users and forced Intel to use Soldered thermal paste in its top 9th generation processors. STIM provides much better heat conductivity or thermal transfer and thus allows higher overclocking, and it also keeps the processor much cooler even during normal rated clock speeds.
Check out: Best Thermal Paste for CPU & Overclocking
These 9th generation CPUs support all Intel 300 series motherboards based on Z370, H370, B360, and H310 chipsets and LGA 1151 Socket. However, the new flagship 300 series chipset designed for 9th gen processors is Z390. This chipset includes some new features such as USB 3.1 Gen 2 ports, Integrated Wi-Fi & Bluetooth and supports all 9th gen CPUs out of the box. So, if you are looking to build a gaming PC or high-performance desktop using Intel 9th gen core series processors then it is better to use the Z390 motherboard. Let us now get started with the details and specifications of the latest 9th generation Core series processors from Intel. All these are K series processors which means they are unlocked for overclocking, and they also include support for Intel Optane Memory.
Read also:
[Best Processor for Gaming & Overclocking]
If you are looking for the fastest gaming processor then the answer is Intel Core i9-9900K. It is the first consumer end CPU from Intel that comes with 8 Cores. This is the Intel flagship desktop processor and the top-of-the-line CPU in the 9th gen series. The processor comes with a base clock speed of 3.6 GHz and a Turbo Boost of 5.0 GHz, which is incredible because it is the first processor to offer 5.0 GHz speed out of the box. However, the turbo frequency is dependent on the cooling provided, the power provided by the motherboard, and the chip. It comes with 16 MB cache memory and Intel UHD Graphics 630. It is quite faster than AMD Ryzen 7 2700X which is AMD's top-of-the-line processor for the consumer segment.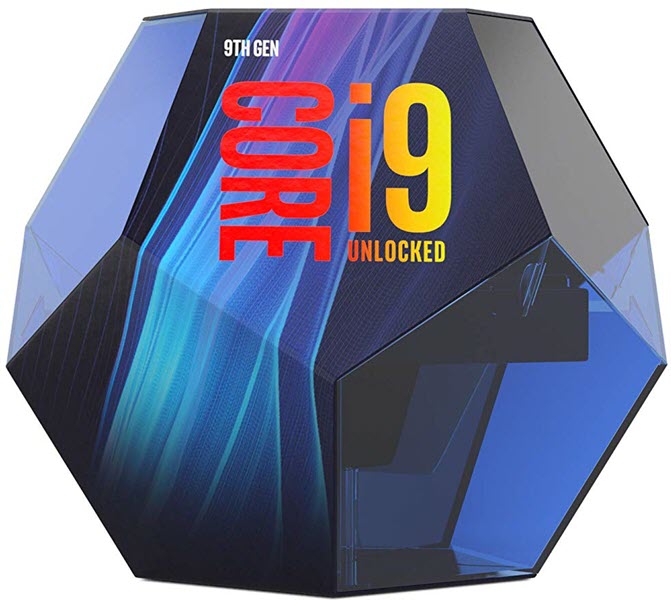 Intel Core i9-9900K supports Hyper-threading as it can execute or process 16 threads in parallel. For maximum performance in games, this processor should be paired with a high-end graphics card for extracting maximum performance or frame rate (FPS) in games and to avoid bottle-necking due to GPU. I would highly suggest using this processor with GeForce RTX 2080 Ti or RTX 2080 graphics cards which are the fastest graphics cards from Nvidia at present. Also, you would need a 144Hz monitor to experience higher frame rates in action otherwise it would be of no use. Besides gaming, this processor also delivers excellent performance in various other multi-threaded applications for video encoding, video editing, online streaming, compression, graphics design, and other workstation tasks.
The processor has a TDP of 95W and you will require a good CPU cooler if you want to touch the 5 GHz turbo mark or want to overclock it further for extra performance. It is definitely the best gaming processor right now but is also on the expensive side, but if you are an enthusiast without any budget issues and want the best CPU for your gaming build then you should definitely go for it.
Must Read: Best CPU Coolers for Core i9 9900K
Intel Core i9-9900K Processor Specifications
Clock Speed
3.6 GHz / 5.0 GHz (Base / Turbo)
Cores / Threads
8 Cores / 16 Threads
Cache Memory
16 MB
Socket Type
LGA 1151
Integrated Graphics
Intel UHD Graphics 630
Hyper-Threading
Yes
TDP
95W
Buy Intel Core i9-9900K Processor
[Best Core-i7 Processor for Gaming & OC]
Intel Core i7-9700K is also an Octa-core processor but it can process only 8 threads in parallel and does not support Hyper-threading. This is a bit of a downstep from Intel because its predecessor Core i7-8700K does support hyper-threading and can execute 12 threads simultaneously. However, Core i7-9700K is still faster than Core i7-8700K because of the extra two cores and higher clock speed. The processor has got a base clock speed of 3.6 GHz, a Turbo speed of 4.9 GHz and comes with 12MB cache and Intel UHD Graphics 630 integrated graphics.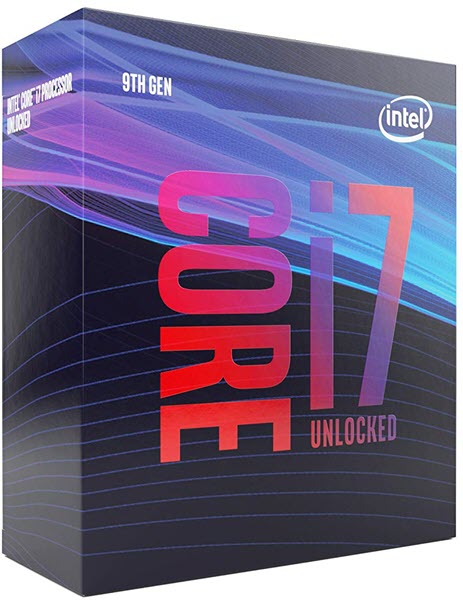 This is also a very fast processor and delivers very good performance, especially in games. It is faster than AMD Ryzen 7 2700X in gaming but loses out slightly when it comes to performance in multi-threaded applications. However, the processor can be overclocked to the 5 GHz mark or a bit higher and you can extract every extra bit of performance from it. It is still the fastest Core i7 processor that you can buy for your gaming PC. It also has a TDP of 95W and I would suggest you get a good CPU cooler for it if you plan on overclocking to 5GHz or higher. So, if you do not want to spend extra money on Core i9-9900K but still want one of the fastest processors for gaming then it is totally worth it.
Intel Core i7-9700K Processor Specifications
Clock Speed
3.6 GHz / 4.9 GHz
Cores / Threads
8 Cores / 8 Threads
Cache
12 MB
Socket
LGA 1151
Graphics
Intel UHD Graphics 630
Hyper-Threading
No
TDP
95W
Buy Intel Core i7-9700K Processor
[Best Budget Processor for Gaming & OC]
If you are on a budget but still want a fast gaming processor then you must get Intel Core i5-9600K. The processor is very similar to its predecessor Core i5-8600K because both of them come with 6 cores and 6 threads, 9MB cache, and do not support hyper-threading. However, the newer Core i5-9600K comes with a higher base and turbo clock of 3.7 GHz and 4.6 GHz and is a bit faster than Core i5-8600K. The processor does include onboard graphics which is Intel UHD Graphics 630.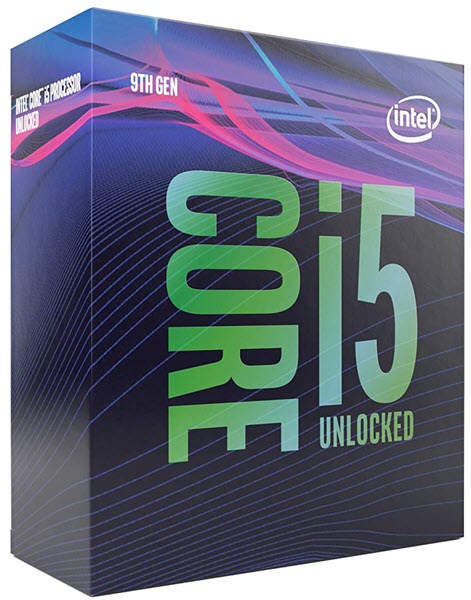 Intel Core i5-9600K does beat Ryzen 5 2600X and even Ryzen 7 2700X in gaming but in multi-threaded applications and workloads it leaves behind by a decent margin, especially when compared to the high-end Ryzen 7 2700X. However, the processor is still very powerful and can be used to build a multi-purpose PC that is geared more towards gaming. It also has a TDP of 95 Watts and can be overclocked to 5GHz or a bit higher too when paired with a good CPU Cooler. By overclocking it to 5GHz you can expect much better performance in gaming as well in other applications. So, if you want the best value-for-money 9th generation processor for gaming then it is very hard to beat Core i5-9600K. Highly Recommended by me.
Intel Core i5-9600K Processor Specifications
Clock Speed
3.7 GHz / 4.6 GHz
Cores / Threads
6 Cores / 6 Threads
Cache
9 MB
Socket
LGA 1151
Graphics
Intel UHD Graphics 630
Hyper-Threading
No
TDP
95W
Buy Intel Core i5-9600K Processor
See also:
Final Words
In the end, I would only like to say that these are the top processors for gaming right now and if you are planning on building a high-performance gaming PC then you should definitely get one of these, according to your budget and needs. Also, these processors have got good overclocking potential because of STIM and can be overclocked to 5GHz or higher even on a good CPU air cooler. This results in a substantial amount of performance increase in gaming as well as in multi-threaded applications. If you have got any queries or doubts regarding them then please ask here by leaving a comment below