Who could have thought that the favorite gaming mouse of all time, Logitech MX518 can make a comeback? Yes, the day has finally come when we have a brand new Logitech MX518 mouse, which is even better than before. Logitech MX518 was originally launched in 2005, and very quickly it became the No.1 choice of weapon for gamers. The main reason why it was a huge success is due to the fact that it has got great build quality, was very comfortable to hold, and offered incredible performance in games as well in other applications.
Also, the design on the top of the mouse was very eye-catching because it gives a feeling of dented look, which was very deceptive and cool. I think it is the most praised and hugely popular mouse and no other mouse can ever defeat the title that it holds. I personally had this mouse for about 10 years and it is still working as well as new. The only issue that it gave me after this long time is the double click issue in the left micro switch, which I replaced with a new one and now it is working flawlessly.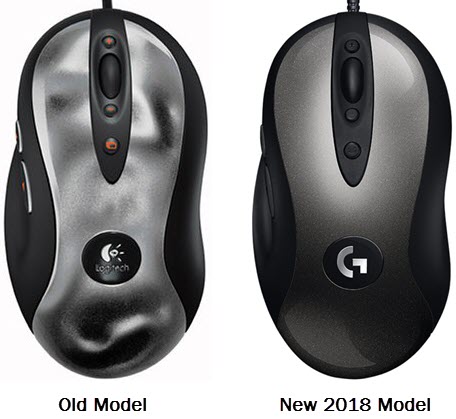 Now, after a long time, Logitech has launched the revamped version of the MX518 mouse by giving it a slightly new look and completely new hardware. The full name of the new MX518 mouse is Logitech MX518 Legendary Gaming Mouse, which you can find written on the box itself. Here in this post, I am going to tell you all about this new Logitech MX518 Legendary Gaming Mouse with its complete specifications.
Check out:
Logitech MX518 Legendary Gaming Mouse Review
Here are my thoughts on the latest Logitech MX518 mouse taking into account all the factors.
Design & Build Quality
The new Logitech MX518 mouse retains the same design and shape as the older MX518 mouse. The size, thumb grooves, and buttons, all are the same compared to the older mouse. The main difference that you will notice is that it does have a new Logitech G logo and the dented color pattern scheme on the top of the mouse is gone and is replaced by a gray silverfish color scheme (Nightfall color scheme). The new Logitech MX518 legendary mouse weighs about 101 grams which is almost the same as the older MX518 mouse which weighs at 106 grams. The build quality of the mouse is great and the sides have rubberized textured plastic that allows for better gripping.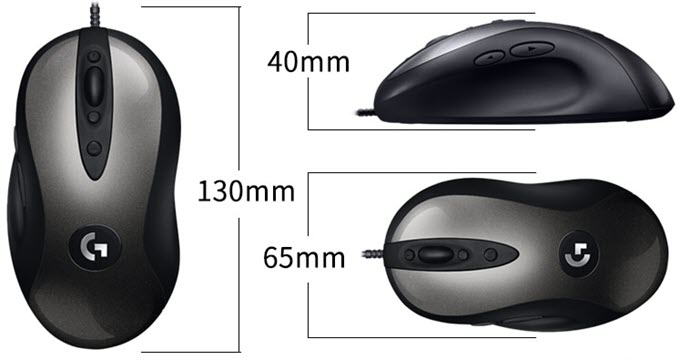 Just like the classic MX518 mouse, this new mouse is also very comfortable to hold, but it does not have an ambidextrous design and is built for right-handed users only. The bottom of the mouse is exactly the same with three mouse feet that are rated for a life expectancy of more than 250Km (kilometers). The mouse consists of 8 buttons that are programmable using the Logitech gaming software. On the top, there are left and right-click buttons, a scroll wheel button, one plus sign, and one negative sign button above and behind the scroll wheel for changing DPI on the fly, and an extra button behind it for customization. The left-hand side of the mouse has forward and back buttons that are easily accessible by your thumb. The scroll wheel is smooth but it would be nice if Logitech has provided some grip over the surface.
Sensor & Performance
The heart of this new Logitech MX518 Legendary Gaming Mouse is the HERO 16K Sensor which is one of the most advanced and accurate sensors ever built. It can achieve resolution of up to 16000 DPI and 400+ IPS with zero smoothing, filtering, or acceleration. HERO stands for High Efficiency Rated Optical and is also used in the high-performance Logitech Wireless Gaming Mice because of its remarkable power efficiency. The sensor is up to 10X power efficient compared to other sensors from Logitech, Razer, Steelseries, etc.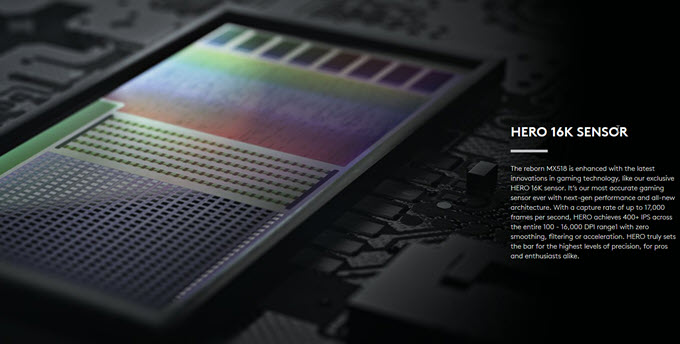 The mouse has a Polling Rate of 1ms or 1000Hz or 1ms and offers great performance in games without any lag. This is because of its low polling rate, HERO sensor, and in-built 32-bit ARM processor. You can also change the DPI on the fly (400, 800, 1600, 3200, and 6400) using the DPI buttons (with + and – sign) located on the top of the mouse. The scroll wheel has remained unchanged with its smooth surface which I think should have been improved by giving it a textured surface for better control and grip. The main buttons i.e. left and right use OMRON switches that are rated for a 50 Million Clicks lifespan.
Features & Software
The mouse comes with onboard memory on which you can store up to 5 profiles using the Logitech Gaming Software (LGS) or Logitech G HUB. The software also allows changing various other aspects of the mouse that include changing DPI and customizing the various buttons of the mouse. The cable is 7 feet long and is lightweight, flexible, and unbraided. One thing that is lacking in this mouse is the RGB or LED Indicator which I think could have been a great addition. The mouse officially supports Windows 7, Windows 8 / 8.1, Windows 10, and macOS 10.11 or later operating systems but can also work on Chrome OS.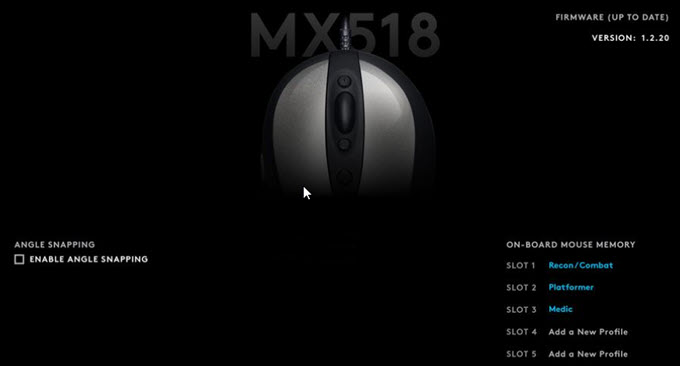 Download Logitech Gaming Software
Logitech MX518 Specifications (NEW 2018 Model)
Logitech MX518 2018 Mouse Specifications
Dimensions
131x73x43mm
Weight
101 grams
Resolution
100 – 16000 DPI
Sensor
HERO 16K, Optical
IPS
400 IPS
Report Rate
1000Hz / 1ms
No. of Buttons
8 Programmable buttons
Interface
USB 2.0
Features
HERO Sensor, Classic MX518 Design and Shape, On-the-Fly DPI change, Logitech Gaming Software support, 400 IPS, 32-bit ARM processor, Onboard Memory for Storing up to 5 Profiles, updated Logitech G logo, 50 million clicks button life, >250KM PTFE Feet life, Zero smoothing, filtering or acceleration, Max. acceleration: > 40 G
OS Compatibility
Windows 7 / 8 / 10 or higher, Mac OS 10.11 or higher
Comparison of Old and New Logitech MX518 Mouse
| | | |
| --- | --- | --- |
| | Logitech MX518 [Old Model] | Logitech MX 518 [New 2018 Model] |
| Size and Shape | MX 518 Classic Shape | Same as the older model |
| Weight | 106 grams | 101 grams |
| Sensor | MX Optical Engine | HERO 16K |
| Polling Rate | 125Hz (8ms) | 1000Hz (1ms) |
| Max. Resolution | 1600 DPI / 1800 DPI | 16000 DPI |
| No. of Buttons | 8 (customizable) | 8 (customizable) |
| Left / Right Button Life | 8 million clicks | 50 million clicks |
| Feet Life | 250 Km | >250 Km |
| Logitech Software support | Yes | Yes |
Where to Buy?
Right now, you can buy Logitech G MX518 Gaming Mouse at aliexpress, ebay.com, and maybe at some other Chinese online sites. You may also check it on amazon too.
Buy Logitech MX518 from AliExpress
Buy Logitech MX518 from Amazon
Logitech MX 518 Alternatives
Here are some good alternatives to the Logitech MX 518 that are worth considering. All the below-mentioned mice are wired mice and can serve as a viable replacement for the Logitech MX518.
Final Words
The launch of Logitech MX 518 in a new avatar has indeed put a smile on the face of many gamers. It is also great to see that the mouse retained all of its physical characteristics including its shape, design, and weight. The only major improvement is on the hardware side with the inclusion of a better sensor, switches, and processor. As the name suggests, Logitech MX 518 is indeed a legendary mouse and always will be. Also, it will give a tough fight to all the modern-day gaming mice from other brands. If you have any doubts or queries regarding this mouse then please ask by leaving a comment below.
(*This post may contain affiliate links, which means I may receive a small commission if you choose to purchase through the links I provide (at no extra cost to you). Thank you for supporting the work I put into this site!)