Memory or RAM (Random Access Memory) is one of the most important and crucial components of a computer. Without RAM, a computer cannot even start, let alone function. The requirement of RAM for a computer generally depends upon the operating system installed and the applications or games to be run on it. For example, the minimum RAM requirement for Windows 10 operating system (64-bit) is 2GB but you will require at least 4GB for its proper running and if you want to run the latest AAA games on it then you should have at least 8GB RAM installed. So, it is always better to have slightly more RAM than required on your PC or Laptop to prevent slowdown of your computer and for future games and applications. However, sometimes the RAM usage can get pretty high even if you have a sufficient amount of RAM installed in your computer. If your RAM usage gets above 80% then you can experience slowdown and intermittent lags and it may cause your applications to crash abruptly leading to loss of your work. Various reasons can lead to high RAM usage and almost all of them are software-related. A slow and sluggish computer because of high RAM usage ruins the whole working or gaming experience and can be utterly frustrating. So, here I am going to share some tips that can help you to lower your RAM usage.
Fix High RAM Usage [Causes & Solutions]
Below are some of the top tips and tricks to lower the RAM usage of your PC or Laptop.
Kill / Disable unwanted background tasks or processes
The first and foremost thing to do is to kill, close, or disable any unwanted services or applications running in the background. You can monitor the running background applications and services using the Windows in-built Task Manager or using a good third-party software like Process Explorer. If you think any service or application is unnecessarily running in the background or you don't need them then you can disable it or close it. If you are not sure about any service or program that runs in the background then you can search it on the web to know more about it so that you do not disable any important service related to the Windows normal functioning.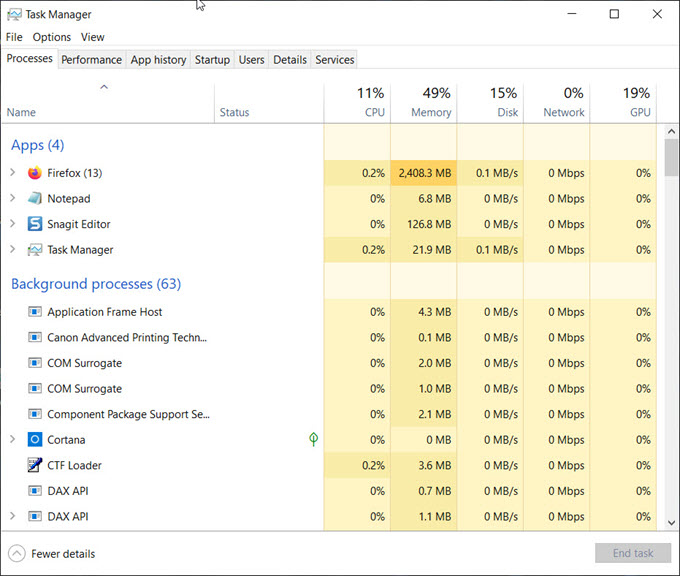 Use a Lightweight Antivirus and Firewall
Using a lightweight Antivirus and Firewall having a small CPU and Memory footprint can help a lot. I have seen that some Antivirus and Firewall programs are very resource hungry and can make even a good PC quite sluggish. For Antivirus, I would recommend ESET NOD32 Antivirus and for Firewall, Windows 10 in-built is more than enough for most of the users.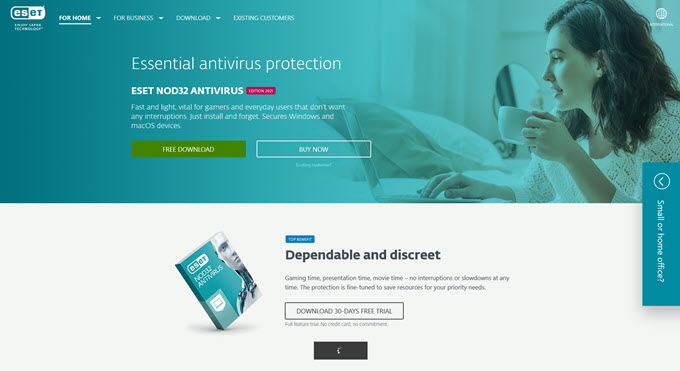 Use an Efficient & Optimized Internet Browser
Modern-day internet browsers like Google Chrome can eat memory like anything if you open multiple tabs. For such browsers, even 32GB RAM is not enough as they have enough appetite to eat more memory. So, you should always use an internet browser that is efficient in handling computer resources and consumes less memory relatively. I have quite a good experience with Mozilla Firefox with resource consumption but even with it if you open a large number of tabs consecutively then the RAM usage goes quite high and you may experience a slowdown of your computer So, keeping your browser tabs low or under moderate level also helps in reducing RAM usage even if you use an efficient browser.
Get Rid of Malware or Malicious Software
If your computer is infected with some kind of malware, adware, or any other malicious software then you may experience high RAM usage as some of these malicious programs do eat your RAM and CPU, and these malicious programs can slow down your computer significantly. From my experience, the best Anti-virus and Anti-malware available as of now are ESET NOD32 Antivirus or Internet Security and Malwarebytes Anti-malware.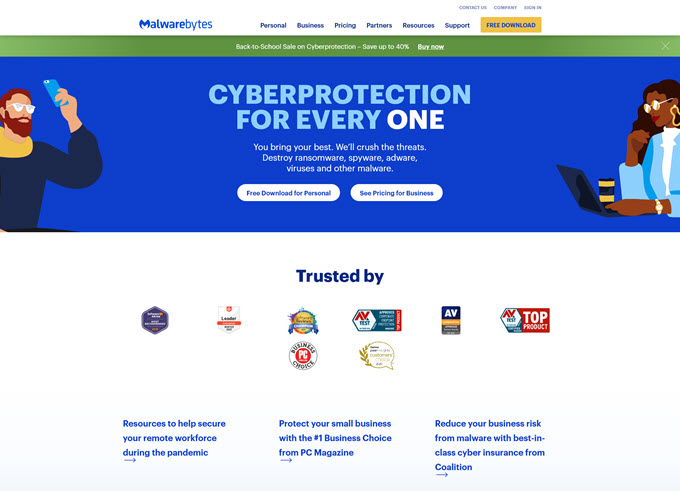 Switch to Simple or Lightweight Windows Theme
Switching to a simple and lightweight Windows theme can also reduce your memory usage. It is particularly more useful for computers that have less RAM installed and use a modern operating system like Windows 10. In Windows 10, you can switch to a lightweight Windows theme by right-clicking on the Desktop and going to Personalize->Themes, and then select the Windows (light) theme.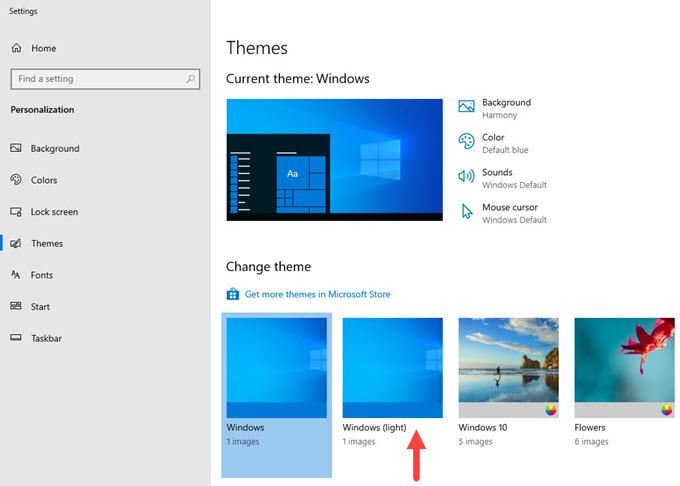 Allocate less memory to Integrated graphics
If you are on integrated graphics then some motherboards do allow you to specify the memory (RAM) allocated to the onboard graphics. Well, it may not help that much but it is an option that you may consider to free up some RAM. You can do this by going to the BIOS and under integrated peripherals or onboard/video memory setup, you can change the RAM that is to be allocated for Video adapter use. Below you can see such video RAM allocation in the BIOS setting.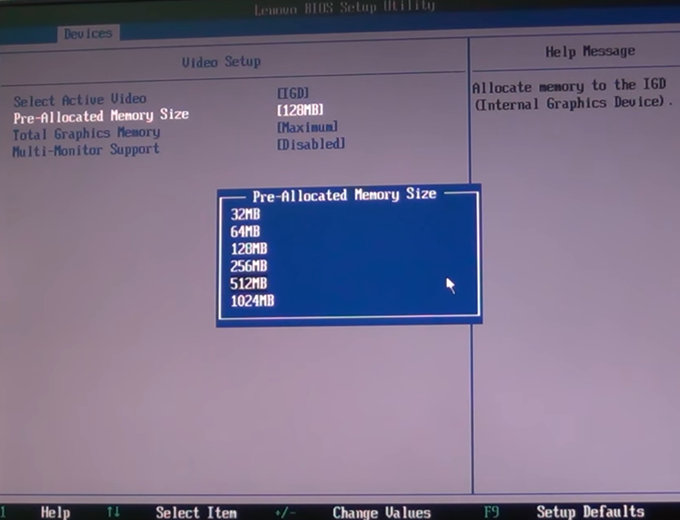 Windows Update / Patch
Make sure that your Windows is patched and has received all the necessary performance updates from Microsoft. Sometimes, a buggy update may cause the operating system to consume more memory than usual and can degrade the performance of your computer. So, it is better to remain up to date with your Windows updates and monitor the computer performance with each update.
System Optimizer Software
Well, memory optimization software like RAM Booster, etc. are a thing of the past but if you are facing serious memory issues then there are some good System optimizer software that you can help to speed up your computer to some extent. Here are some such software that you can try:
Restoro
Ashampoo WinOptimizer
CCleaner
Avira System Speedup
Wise Memory Optimizer
System Mechanic Ultimate Defense
Install more RAM
If you have tried everything and nothing is working then it is time to upgrade RAM to a larger capacity because most likely you are short on RAM.
Check out:
Queries?
If you have any queries regarding RAM usage and how to lower RAM  usage then you can your questions in the comment box below.
(*This post may contain affiliate links, which means I may receive a small commission if you choose to purchase through the links I provide (at no extra cost to you). Thank you for supporting the work I put into this site!)