The rise in the value of cryptocurrencies (bitcoin, ethereum, etc.) has created a shortage of graphics cards worldwide. This sharp and steady increase in the value of the cryptocurrency mining currencies such as Ethereum, Monero, etc. has pushed up the sale of graphics cards (both Nvidia and AMD) to the limits, causing scarcity of them. Miners all around the world have bought graphics cards in bulk from all corners, whether online or from vendors, thereby making the situation very bad for the gamers or the gaming community.
Now, it has become nearly impossible to buy a new graphics card for gamers because they are mostly out of stock on online sites such as Amazon, Newegg, etc., and even if there are some left then they are selling at two to three times their MSRP or retail rates. Earlier this situation was not that bad because previously only AMD graphics cards were affected such as Radeon RX 460, RX 470, RX 480, RX 570, RX 580, RX Vega 56, and RX Vega 64 but now Nvidia graphics cards are also affected. Forget about GeForce GTX 1060, GTX 1070, GTX 1080, and GTX 1080 Ti because now you won't even find budget mid-range graphics cards such as GTX 1050 and GTX 1050 Ti in stocks or selling at their usual retail prices. The only graphics cards that you may find in stock right now at their usual prices would be the entry-level graphics cards (GeForce GT 710, GT 730, GT 1030, Radeon RX 550), which are not good enough for gamers.
So, the question here arises what to do in this current situation and how to find a good graphics card in this new world of cryptocurrency mining? Well, we can either wait till things become normal again, but if you do not have patience then you can follow these below-mentioned tips to get a good graphics card and build your gaming PC in this crazy era of cryptocurrency mining.
Check out:
Tip to Find Graphics Card when Shortage due to Mining [For Gamers]
Here are some good tips that will help you to hunt for a good graphics card or to build a gaming PC.
Buy a Pre-Built Gaming PC
If you thinking of buying or building a new PC for gaming then buying a Pre-built gaming PC makes a lot of sense nowadays, because you will get the desired GPU or Graphics Card with the gaming PC itself and the total cost of the gaming PC will also be in your budget. Pre-built gaming PCs have become very affordable these days and you can easily satisfy your gaming and graphics card needs with a good branded pre-built gaming PC. Yes, you will not be able to get every component according to your desire but it would not be bad either. The quality of pre-built gaming computers has improved a lot and they are as reliable, fast, and sturdy as a custom gaming build.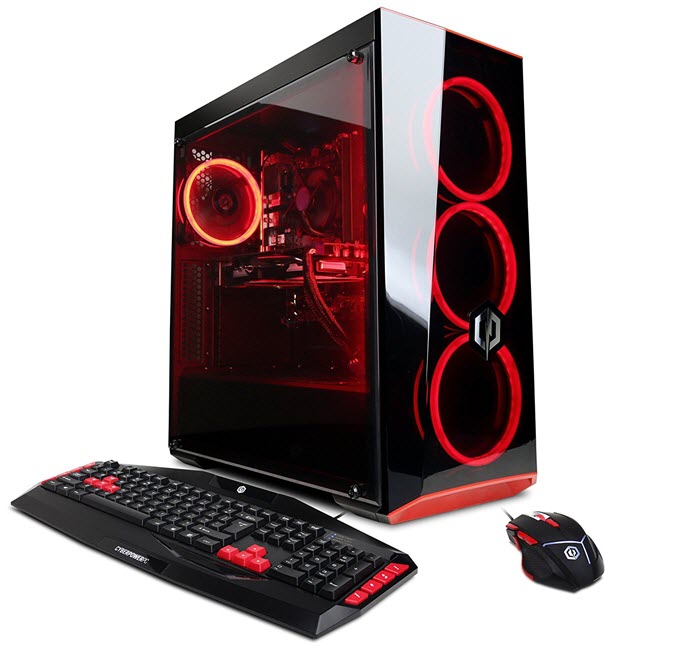 Check out: Top Pre-Built Gaming PCs Brands
This tip is only applicable to users who want to build their new gaming PC because if you are in process of upgrading your graphics card then it will not be a wise decision to invest this much money in a pre-built gaming computer only for getting a better graphics card. You may check out the various pre-built gaming PCs with different graphics cards by going through the links given below.
List of Pre-Built Gaming PCs with different Graphics Cards
Check out these amazing Pre-Built Gaming PCs with different Graphics Cards. These pre-built gaming computers are quite affordable and will satisfy your gaming needs.
You may also check out some good gaming laptops by going to the links given below:
Find Refurbished Graphics Cards
Buying a refurbished graphics card also makes a lot of sense these days, because new graphics cards are either out of stock or they are super expensive. If you can find a good refurbished graphics card at a decent price then it would be a great deal for you. Refurbished graphics cards are not that bad and if you find a good one then it will last a lifetime. I have also covered a complete guide on buying a refurbished graphics card, which you can find below.
See also: Complete Guide on Buying Graphics Card
Find Older Generation Graphics Cards
You may also search for some good older generation graphics cards such as GTX 960, GTX 970, GTX 750 Ti, etc. because they are still very powerful and are good enough for playing the latest games at 1080p. If these cards are available at their usual prices or MSRPs then buying them for gaming would be a wise decision, when there is such a drought of graphics cards in the current market. If these cards are also highly overpriced then I would suggest you skip them.
Find Graphics Cards on Classified sites
You may also search for a good deal on graphics cards on classified websites such as craigslist, Olx, etc. because some miners may want to sell their graphics cards if they are not getting enough profit from mining cryptocurrencies. So, you can check these online classified websites and try your luck on them.
Check Stocks using Special Sites
It is very hard and time-consuming to search each and every online e-commerce website to check whether your desired graphics card is in stock or not. To help you out on this, there are some special websites such as nowinstock.net and zoolert.com that can show you the stock status of your desired Nvidia or AMD graphics card with their prices for all the major online eCommerce sites or online stores. These sites are helpful and can also save your time and efforts to a great extent. You may not find the graphics card at their retail or MSRP but using these sites, you can at least buy them if the price suits you.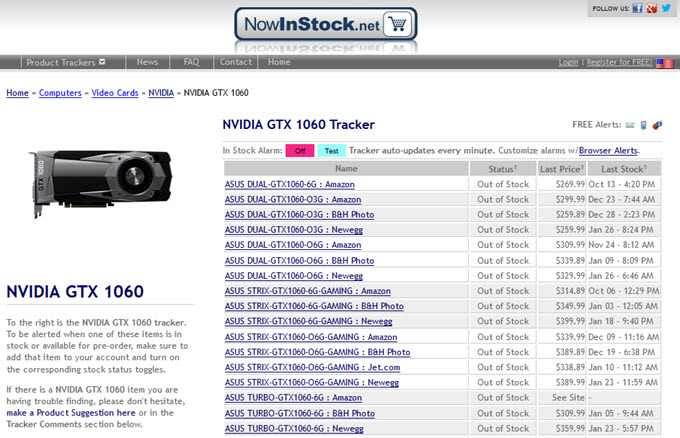 Also Check out: Best GPU Comparison Websites [for Nvidia & AMD Graphics Cards]
Tip: If you are not in a hurry and can wait then you may also increase your current graphics card performance to some level by going through the tips mentioned below.
Final Words
In the end, I would like to say that the above-mentioned tips are just workarounds, that can help you to search and find your desired graphics card in such difficult times. Even the graphics card manufacturers or experts cannot tell or predict that when this situation will become normal again and the stock and the prices will become as good as before. If you really want to build a PC for gaming now then the best option is to buy a pre-built gaming PC as it would be cheaper and you will get the desired graphics card along with it. If you have any suggestions regarding this mining situation or want to ask something then please leave a comment below.
(*This post may contain affiliate links, which means I may receive a small commission if you choose to purchase through the links I provide (at no extra cost to you). Thank you for supporting the work I put into this site!)