If you want to buy a good graphics card for gaming but have a strict budget then a refurbished graphics card can fulfill your needs. Also getting a good deal on a refurbished graphics card is very important otherwise you may be risking your hard-earned money. Refurbished Graphics Cards are graphics cards that are returned by the customer for no reason or they may have developed some minor fault in their warranty period which is now fixed permanently. If there was some fault in the card then it is fixed and the card is tested to make sure that it is working fine with full glory.
All refurbished graphics cards are cleaned, tested, re-packed, and then labeled as refurbished for sale. These graphics cards also come with a warranty which generally depends on the condition of the card and the manufacturing date. Some older generation graphics cards (with older GPU architecture) are also sold as refurbished products. These refurbished graphics cards are cheaper than brand new graphics cards and attract a lot of attention from users who are on a serious budget. A refurbished graphics card may also be known as a used graphics card in some cases.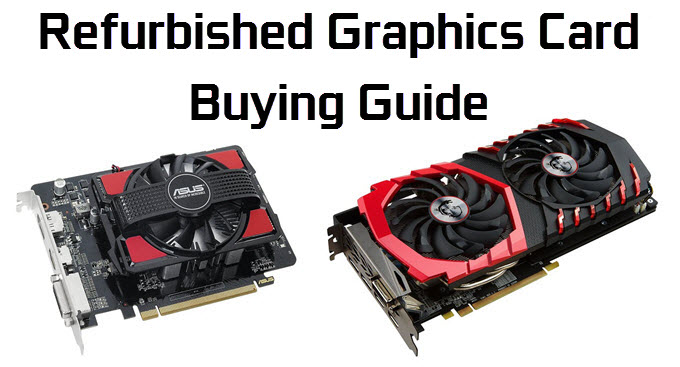 There are also some risks associated with refurbished graphics cards which include a very short warranty period and they may also have a lower life span depending on the previous condition of the card. Generally refurbished GPUs or graphics cards run fine without any issues but there is always a debate among users that whether they should buy a refurbished graphics card or not. So here in this post, I am going to list down the various factors that you should keep in mind when buying a refurbished graphics card and how to get the best deal on refurbished graphics cards online or offline.
Types of Refurbished Graphics Cards
New Cards returned by customers for no reason
Cards returned as part of an exchange program
Cards returned because the box was damaged in shipping
Cards returned because of minor defects but are now fixed
Cards returned because of minor scratches, color, or cosmetic defects
Older working graphics cards made to look new
Must Read:
Refurbished Graphics Card Buying Guide, Tips & Advice
The question that most of the users asked is Is it safe to buy a refurbished graphics card? To answer this, here I am providing you with the complete guide on buying a refurbished graphics card with top tips. Also here you can find out how to find the best deal or best-refurbished graphics card for your gaming build.
Price Difference
If the price difference between a refurbished graphics card and a new graphics card (both with the same GPUs) is not huge then it is not generally advisable to go for a refurbished card. The price difference should be 20 to 50 dollars or greater (depending on the graphics card's original price) in order to get the best value for money and get the same performance from the refurbished graphics card otherwise it is better to buy the new graphics card which will give you more warranty and peace of mind.
Graphics Card / GPU Model
Graphics Card Model or GPU is also an important factor when buying a refurbished graphics card because if you buy too old model then you won't be able to get that much performance in the latest games with decent frame rates. So just remember that if you want to buy an older model of graphics card then it should not be older than two generations. This applies to both Nvidia and AMD graphics cards. If you are unsure about the older graphics card performance then you can see its benchmarking scores for gaming and computation on the internet.
Seller
Check the seller feedback, rating, and reviews when buying a refurbished graphics card online. If the seller has good ratings and reviews then it is pretty safe to buy a refurbished graphics card from it. You may also contact the seller and ask about the card's condition and its history.
Warranty
Warranty is also one of the most important factors when buying a refurbished graphics card. Check out how much warranty the refurbished graphics card is carrying i.e. whether it is in days, months, or years. More warranty means, more peace of mind and you don't have to worry too much about that graphics card.
See also:
Final Words
Buying a Refurbished Graphics Card has its own pros and cons. If you can find a refurbished graphics card with the latest GPU at a low price then you can certainly save some money and get the same performance as the new one. But if you are an unlucky one and your refurbished graphics card fails after some time then you cannot do anything about it as it does have a very short warranty period. Here you will be losing twice your money because you may have to buy another card (obviously a new one) which will cost you more than the refurbished one. If you still have some queries on refurbished graphics cards or graphics cards then feel free to ask me by leaving a comment below.
(*This post may contain affiliate links, which means I may receive a small commission if you choose to purchase through the links I provide (at no extra cost to you). Thank you for supporting the work I put into this site!)