Graphics card is one of the most important for a gaming PC and also for a workstation PC. Buying a graphics card can be difficult sometimes as there are many models available and each one has its different features and specifications. If you are a novice user or new to graphics cards then you may have a large number of questions or queries regarding them that whether they will work or be compatible with your PC or not. So, to help you with these here I am going to answer the most common questions that many users have in their mind when buying a graphics card. Below you can also check out the important resources related to buying and upgrading the graphics card.
Must Read:
Top Graphics Cards Queries with Answers [FAQs]
Here are the top frequently asked questions for graphics cards.
Q1. Is this graphics card compatible with my motherboard?
Modern-day graphics cards come with a PCI-E x16 connector and if you have a PCI-E x16 slot on your motherboard then the card should work with your motherboard. There may be some cases in which a very old motherboard may not support a newer graphics card but chances of this are very rare. You may also consult your motherboard manual or the motherboard manufacturer's website to know about the compatibility with different graphics cards. In the below image, you can see the PCI-E x16 slot on a motherboard.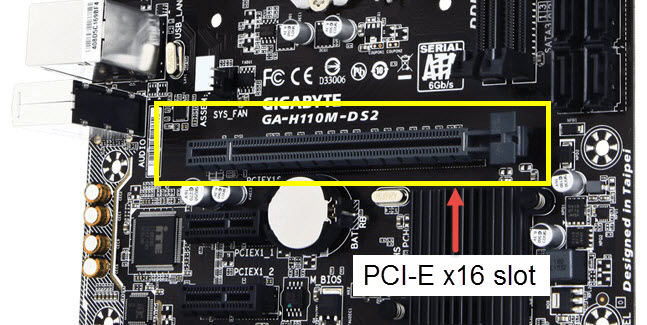 Must Read: How to Find Graphics Card Compatibility with your PC
Q2. Can my PCIe 3.0 graphics card work on the PCIe 2.0 motherboard or vice versa?
Yes, PCIe 3.0 x16 graphics card works on PCIe 2.0 x16 slot on the motherboard, and PCIe 2.0 x16 graphics card can work on a motherboard having PCIe 3.0 x16 graphics card slot. PCI-Express 3.0 / 3.1 bus or interface does offer higher bandwidth but the real gaming performance between PCI 3.0 x16 and PCIe 2.0 x16 connection is not that much and in some cases, it is the same. However, if your PCIe 2.0 / 3.0 x16 slot on your motherboard supports reduced lanes i.e. x4 or x8 then you will surely get significantly lower performance in games at higher resolutions and graphics settings. In the below table you can check out the bandwidth offered by various PCIe revisions.
| | |
| --- | --- |
| PCIe Version | Bandwidth (x16) |
| PCIe 1.0 | 4 GB/s |
| PCIe 2.0 | 8 GB/s |
| PCIe 3.0 | 15.8 GB/s |
| PCIe 4.0 | 31.5 GB/s |
| PCIe 5.0 | 63 GB/s |
Q3. Does the motherboard with DDR3/DDR4 RAM support the GDDR5 graphics card?
Your system memory or RAM has nothing to do with graphics card video memory or VRAM. So, it does not matter whether the motherboard has DDR2, DDR3, or DDR4 RAM when buying a graphics card. Graphics Card memory (VRAM) is integrated into the graphics card itself and it works separately in coordination with the GPU. This means graphics card memory is independent of the motherboard or CPU working and it is not a compatibility factor in accordance with motherboard RAM. The only thing that matters is that your motherboard should have a PCI-E x16 slot whether it is PCIe 2.0 or PCIe 3.0 or PCIe 3.1 revision or higher.
Q4. Do I have to change my PSU for a new graphics card?
Well, it depends on the graphics card you are getting. If you are getting a graphics card having a 400W PSU recommendation and you are only having 300W or 400W PSU then you have to get a better Power Supply for it. It is always better to get a slightly higher wattage PSU than what is recommended by the manufacturer on their website, because of the power consumption by other components, case fans, and also for future upgrades.
Mid-range and high-end graphics cards do require 6-pin / 8-pin PCIe power connectors, so keep this in mind when upgrading your PSU. However, you may also use 6-pin / 8-pin adapter cables for powering your graphics card if your power supply lacks 6-pin / 8-pin PCI-Express power connectors. You can check out the guide below on how to buy a perfect PSU for your graphics card.
Must Read:
Q5. 2GB / 4GB graphics card, which is faster?
A 4GB graphics card may or may not be faster than a 2GB graphics card having the same GPU. An entry-level graphics card with higher memory i.e. 4GB or more does not make any sense because it does not have that amount of firepower (GPU power) to run the latest games on high graphics settings at 1080p. Therefore, for entry-level graphics cards, it is better to go for lower video memory i.e. 2GB or so as higher video memory cards will not give any better performance in the case of entry-level graphics cards.
However, for mid-range and high-end graphics cards, it is better to go for more video memory i.e. 4GB or more if you want to play the latest demanding games @1080p, 1440p, or higher at maximum graphics settings. More is the video memory of the card, the higher resolution you can play on given that the GPU is powerful enough to run the game at high graphics settings. You can also check out a detailed article on how much video memory you need for gaming by going to the link given below.
Must Read: How much Video Memory do your need in Graphics Card for Gaming?
Q6. Can I play the latest games on entry-level / budget graphics cards?
If you have an entry-level graphics card under 50 dollars then forget about running the latest games on it, but if you have the latest graphics card at around 100 dollars then you might be able to play the latest games on low-medium settings at 720p / 900p or 1080p resolution depending on the card and game. So, if you are on a budget but want to run and play the latest games then you should be ready to invest 100 to 150 dollars (or $200) on a graphics card.
Check out:
Q7. Will my processor bottleneck my graphics card?
If you have a powerful mid or high-end graphics card and an old dual-core processor then it is an issue and your processor will hold you back in games, especially CPU-intensive games & latest games, and you will not get the full performance out of your graphics card. So, it is better to choose your new graphics card according to the processor you currently have or to upgrade your processor to a better one, but it can prove expensive for some users because you might have to change your motherboard and RAM too with the new processor.
Check out: How to Find the Right Processor for Gaming PC
Q8. Single Fan vs Dual Fan graphics card, which one to buy?
You can find graphics cards with the same GPU in both single fan, dual fan, or triple fan variants. Single fan graphics cards are a bit cheaper than multiple fan graphics cards having the same GPU. Dual Fan / Triple graphics cards offer better cooling and thus can have better-overclocking potential compared to the graphics cards with single fans. So, it is just up to your personal preference and the budget you have to make this decision that which variant you want to buy i.e. one with a single fan or dual fans. If you are not planning on overclocking your graphics card then it is better to opt for a single fan graphics card.
Q9. Can I Overclock my Graphics Card?
Yes, you can overclock your graphics card but every graphics card has different overclocking potential. The performance in games after graphics card overclocking varies too as some graphics cards can get a 5 – 10% performance increase and some can have a 15 to 25% increase in performance. Also, you need better cooling to push it to higher frequencies both in the GPU and the memory clock department. There are some special graphics card overclocking tools that you need to overclock your graphics card GPU core and video memory. You can check out the guide below on how to overclock your graphics card to get extra performance out of it.
Check out: How to Overclock your Graphics Card for Better Performance
Q10. How to find my graphics card technical details or specifications?
You can easily check all the technical specifications and details of your graphics card using GPU info tools. These graphics card information tools are available for free and are very easy to use. You can check out the best graphics card information tools by going to the link given below.
Check out: Best Graphics Card Information Utilities or Tools
Q11. I don't have a 6-pin / 8-pin PCIe connector on my PSU for the graphics card.
If your new graphics card comes with 6pin / 8pin PCI-E connectors and your PSU does not have it then you can use 6pin / 8pin PCI-E adapter cables that come with a 4-pin Molex connector or SATA connector at one end which you can directly plug into your power supply.
Q12. My Graphics Card lacks VGA connector/port.
Most modern-day graphics cards lack the older VGA port output and come with DVI, HDMI, or DisplayPort. So, if you have a monitor that has only a VGA port then you can use adapters like DVI to VGA adapter, HDMI to VGA adapter, and can still use that graphics card with your monitor.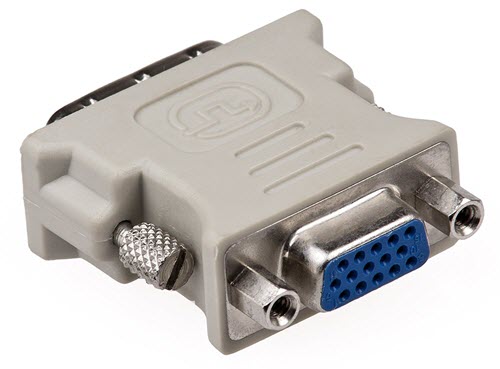 Q13. Nvidia vs AMD graphics card, which one to buy?
Well both Nvidia and AMD offer very good graphics cards but I am more biased towards Nvidia because they have a greater range of graphics cards, especially in the budget and mid-range departments. However, these things change with time as at one-point Nvidia may be ahead and at some point, AMD can be on the top. You can find a detailed comparison of both these companies from the link given below.
Check out: Nvidia vs AMD Graphics Cards Comparison
Q14. Which Graphics Card Manufacturer to choose from?
There are various graphics card manufacturers or brands for graphics cards. Some of the popular graphics card manufacturers or brands are Asus, MSI, Gigabyte, EVGA, and Zotac. You can find a graphics card with the same GPU from different brands at different prices. Graphics cards from popular and top brands are generally more expensive than lesser-known brands or Chinese brands. If you are on a budget then you can go for a brand that provides the best deal on a particular graphics card, given that the brand is genuine and not fake.
Must Read:
Any More Queries?
If you have got any more queries or doubts regarding graphics cards or their compatibility with your PC then you can ask me your queries by leaving a comment below.
(*This post may contain affiliate links, which means I may receive a small commission if you choose to purchase through the links I provide (at no extra cost to you). Thank you for supporting the work I put into this site!)