If you are thinking of building a budget gaming PC using the latest AMD Ryzen processors then you are at the perfectly right place. There is no doubt that AMD Ryzen processors offer the best value for money compared to the Intel processors. You can build a pretty powerful budget gaming PC using the latest AMD Rzyen processors and AMD Radeon graphics cards for playing games at medium-high settings at 1080p resolution with comfortable frame rates. So here in this post, I am going to build a budget AMD gaming PC for 1080p gaming.
Must Read: Build Budget Gaming PC under 500 dollars
Best Components for Budget AMD Gaming PC
Here the best budget components that you will need to build a budget AMD gaming PC. These computer components are from reputed brands and offer the best value for your money.
Processor
AMD Ryzen 3 1200
AMD Ryzen 3 1200 is one of the best budget processors for building an affordable gaming PC. Ryzen 3 1200 is the most affordable and entry-level processor in the Ryzen 3 processor series from AMD. This is Quad-core processor that comes with a total cache of 10MB (8MB L3 + 2MB L2). It has got Base clock of 3.1 GHz and Boost clock speed of 3.4 GHz. The processor also comes with XFR (Extended Frequency Range) technology and can up its turbo clock speed to further 50 MHz (max.) automatically if the cooling provided is sufficient. This processor is built on the Zen Core Architecture and comes with AMD Wraith Stealth CPU Cooler.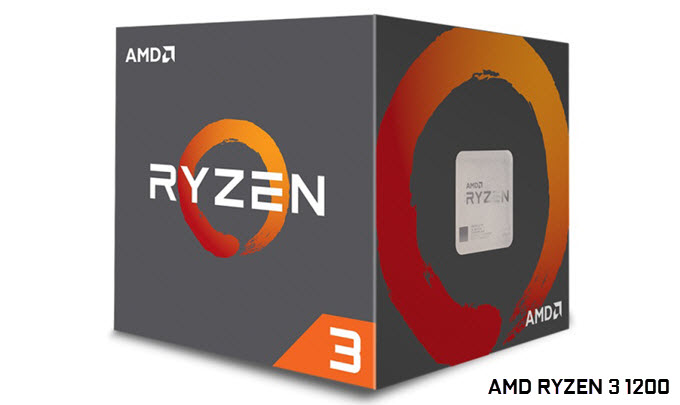 It is an unlocked processor (with unlocked multiplier) and you can overclock it further for more performance by using a better cooler. The closest competitor of this budget Ryzen processor is Intel Core i3-7100 which is a dual core processor but is not-overclockable because it is a locked processor. The processor is VR Ready and supports dual Channel DDR4 RAM up to 2667 MHz. You can play all the latest games on 1080p comfortably when you couple this CPU with a budget mid-range graphics card.
AMD Ryzen 3 1200 Specifications
Clock Speed
3.1 GHz (3.4 GHz Turbo), XFR +50MHz
No. of Cores
4, Quad-core
Cache Size
8 MB
Socket Type
AM4
TDP
65W
Buy AMD Ryzen 3 1200 Processor
Motherboard
ASUS PRIME A320M-K Motherboard
You need an AM4 Socket motherboard to support AMD Ryzen 3 processors, so here I have picked ASUS PRIME A320M-K Motherboard which is a budget AM4 Socket motherboard based on the AMD B320 Chipset. The motherboard support AMD AM4 Socket AMD Ryzen / 7th Generation A-series/ Athlon Processors and DDR4 RAM up to 32GB.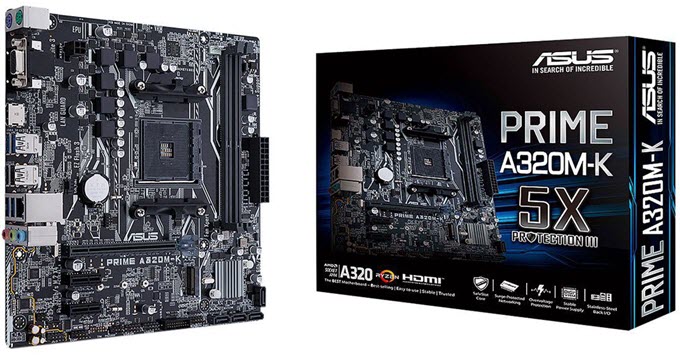 This mATX (micro-ATX) motherboard comes with one PCIe 3.0 x16 graphics card slot and M.2 Socket for SATA and PCIe NVME Solid State Drives (SSD). The motherboard comes with fast speed USB 3.0 ports, 8-channel HD audio, Gigabit LAN. This motherboard does support overclocking but I would not advise doing it on a budget motherboard. The Operating System supported by this motherboard is Windows 10 64-bit.
ASUS PRIME A320M-K Motherboard Specifications
Socket Type
AM4
Chipset
AMD B320
RAM Support
DDR4 3200 (OC) x 2, up to 32GB
Slots
PCIe x16 X 1, PCIe x1 X 2, M.2 Socket 3 x 1
Ports
SATA3 x 4, USB 3.0 x 6, USB 2.0 x 6
Form Factor
Micro-ATX
Buy Asus Prime A320M-K Motherboard
RAM
Ballistix Sport LT Gray 8GB DDR4-2400
For this budget AMD gaming PC, I have selected Ballistix Sport LT Gray 8GB DDR4-2400 RAM which is gaming-grade memory and you can get it at a pretty affordable price too. This DDR4 comes with a low profile heat sink and remains cool during gaming and intensive memory operations. Overall it is a reliable and fast RAM for gaming from Crucial which is a highly reputed manufacturer for RAM and memory products.

Ballistix Sport LT Gray 8GB DDR4-2400 Specifications
RAM Type
DDR4
Capacity
8GB
Clock Speed
2400 MHz
Warranty
Limited Lifetime
Buy Ballistix Sport LT 8GB DDR4 RAM
Hard Drive
WD Blue 1TB SATA III HDD
You need at least 1TB of hard drive for installing games and for storing videos, music and documents. Here I have selected WD Blue 1TB SATA III Hard Disk which is 7200 RPM 3.5-inch hard drive having 64MB cache. This is a reliable hard drive and offers tons of storage space for all your needs.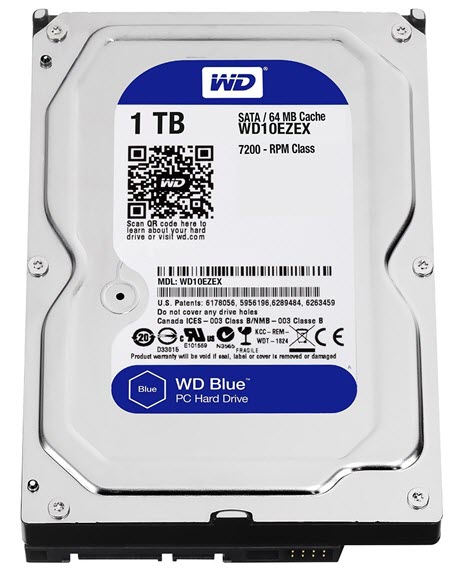 WD Blue 1TB SATA Hard Drive Specifications
Storage Capacity
1TB
Spindle Speed
7200 RPM
Cache Size
64MB
Warranty
2-year
Graphics Card
Gigabyte Radeon RX 560 OC 2G
Graphics Card is the heart of any gaming PC and here I have picked Gigabyte Radeon RX 560 OC 2G graphics card that comes with 1024 Stream Processors and 2GB GDDR5 memory. This is an OC edition of Radeon RX 560 with a slightly higher GPU clock. This is a compact graphics card and for cooling there is a 90mm fan on top of the aluminum heatsink. You can set the graphics card in OC mode using Aorus Graphics Engine One-click Graphics Card Overclocking Software.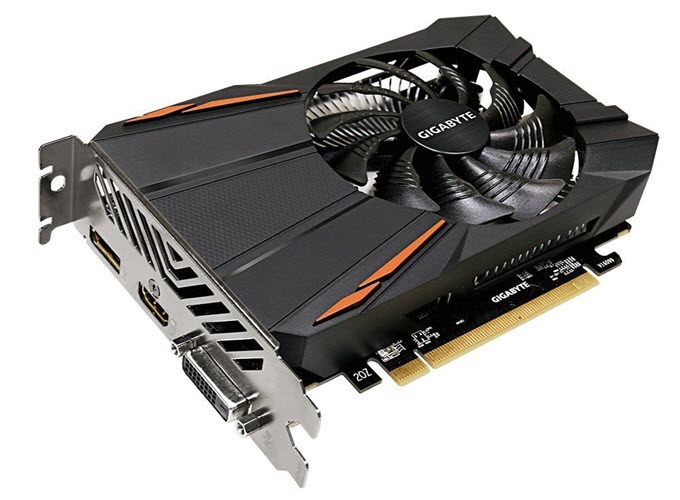 On this card you can play modern games at medium-high settings at 1080p resolution at comfortable frame rates. The card does not require PCIe external power connectors and it only needs a 400W PSU for its working. Display connectivity options include DVI, HDMI and DisplayPort.
Check out: Best Radeon RX 560 Graphics Cards for 1080p Gaming
Gigabyte Radeon RX 560 OC 2G Specifications
Stream Processors
1024
GPU Clock
1199 MHz (OC mode)
Memory Clock
7000 MHz
Memory Size
2GB GDDR5
Memory Interface
128-bit
Bus Interface
PCI Express 3.0
DirectX
12
OpenGL
4.5
Output Ports
DVI, HDMI, DisplayPort
Buy Gigabyte Radeon RX 560 OC 2G
Power Supply
EVGA 430 W1 80+ White
To power this budget AMD Ryzen gaming PC, I have chosen EVGA 430 W1 power supply. This is one of the best budget PSUs and has got 80+ White Certification. This is a 430 Watt power supply and comes with one 8-pin PCI-Express power connector for graphics cards. The current on the single 12V Rail of this PSU is 34A which is enough for this budget gaming PC. The 120mm fan is pretty quiet and it also keeps the PSU from getting hot under heavy load.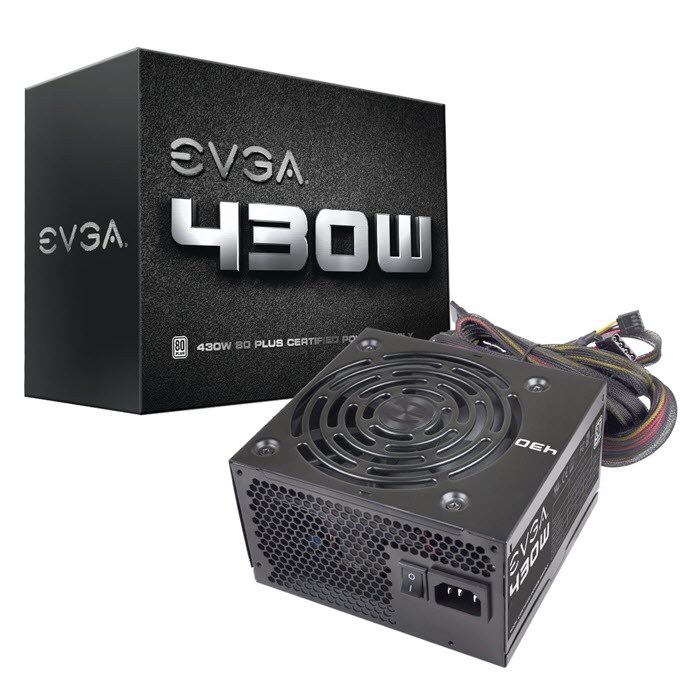 The build quality of this PSU is pretty good and it has got all sleeved cables. The power supply also comes with all the protection features including OVP (Over Voltage Protection), UVP (Under Voltage Protection), OCP (Over Current Protection), OPP (Over Power Protection), SCP (Short Circuit Protection), and OTP (Over Temperature Protection).
EVGA 430 W1 PSU Specifications
Wattage
430W
12V Rail
34A
Fan Size
120mm [Sleeve Bearing]
80 Plus Certification
White
PCI Express Connector
8pin (6+2) x 1
Warranty
3 year
Case
Corsair Carbide Series 100R
To accommodate all this components, I have chose Corsair Carbide Series 100R Mid-Tower case. This is a high-quality and very simple yet elegant looking case for building a budget or mid-range gaming PC. For cooling, the case comes pre-installed with one 120mm front case fan and optionally you can install extra fans on top and rear for achieving better airflow and cooling.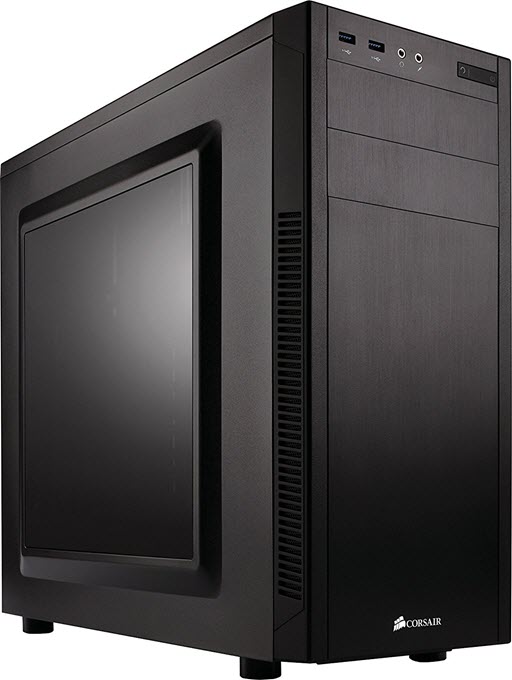 This case can accommodate up to 414mm long graphics card and 150mm tall CPU cooler. On the front side panel you get two USB 3.0 ports and audio ports. The case also has enough space for installing hard drives and SSDs. Other features of this case include tools free drive installation, cable management, transparent side panel and dust filters.
Corsair Carbide Series 100R Case Specifications
Form Factor
Mid-Tower
Front Ports
USB 3.0 x 3, Audio ports
Fans
Front: 120/140mm x 2 [120mm included]

Top: 120mm x 2

Rear: 120mm x 2

Drive Bays
5.25" x 2, 3.5in/2.5in (Combo) x 4
Features
Tools free Drive installation, Cable routing and management, Thumbscrew side panels, Transparent side panel window, Dust filters
Buy Corsair Carbide 100R Mid-Tower Case
See also: Build High-end AMD Ryzen Gaming PC for 4K Gaming
Final Words
This budget AMD gaming PC will definitely fulfill all your gaming needs without putting a deep hole in your pocket. It has got all the branded and high quality components at an affordable price range. If you have got any queries regarding this budget Ryzen build then you can ask me your queries by leaving a comment below.
(*This post may contain affiliate links, which means I may receive a small commission if you choose to purchase through the links I provide (at no extra cost to you). Thank you for supporting the work I put into this site!)