If you have a budget of 500 dollars then you can build a decent mid-range gaming PC. A 500 dollar gaming PC offers you a good mix of high performance and great value. Earlier in this blog, I have written a post on how you can build a budget gaming PC under 300 dollars but here I am going to tell you about building a gaming PC under 500 dollars for mid-level gaming.
A gaming PC under 500 dollars budget will let you play latest games on high settings at 1080p and older games & mid-level games at very high/ultra settings on 1080p resolution. Here I am going to list down the best & latest components that you will need to build a 500 dollar gaming PC.
See also: Build Budget AMD Ryzen Gaming PC for Gaming
Best Components for 500 dollar Gaming PC
Here is the list of major components that you will need to build a gaming PC under 500 dollars. There is no monitor and input devices in this list but only the major components that go inside your computer case.
Processor
Intel Core i3-7100 @ 3.90 GHz
For a 500 dollar gaming PC you can afford to have a good core i series processor. Here I have chosen Intel Core i3-7100 processor which is the latest 7th generation core series Kaby Lake processor. This is a dual core processor that has maximum clock speed or frequency of 3.90 GHz and it comes with 3MB cache. This processor is built on the 14nm architecture thus it has lower power consumption.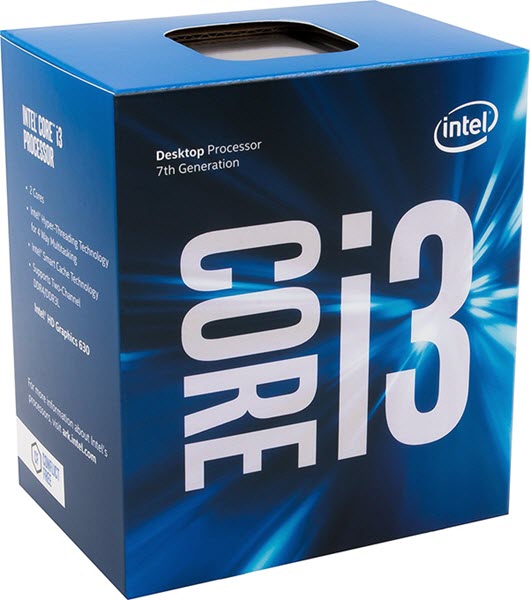 This seventh generation LGA 1151 processor is pretty powerful and when paired with a good mid-range graphics card then you can play almost all the latest games at 1080p resolution. Intel Core i3-7100 supports DDR4 / DDR3L memory and Intel Hyper-Threading & Intel Virtualization technology. It comes with Intel HD Graphics 630 but we won't be utilizing that because we are building a gaming PC and will use a powerful mid-range graphics card.
Intel Core i3-7100 Kaby Lake Specifications
Clock Speed
3.90 GHz
No. of Cores
2
Cache Size
3 MB
Socket Type
FCLGA1151
Graphics
Intel HD Graphics 630
Buy Intel Core i3 7100 Processor
Motherboard
Gigabyte GA-H110M-A
For a Seventh generation core series or kaby lake processor you will need a Socket 1151 motherboard. Here I have selected Gigabyte GA-H110M-A motherboard which is a basic and affordable motherboard based on the Intel H110 Express Chipset. This motherboard supports both 7th / 6th Generation Intel Core Processors.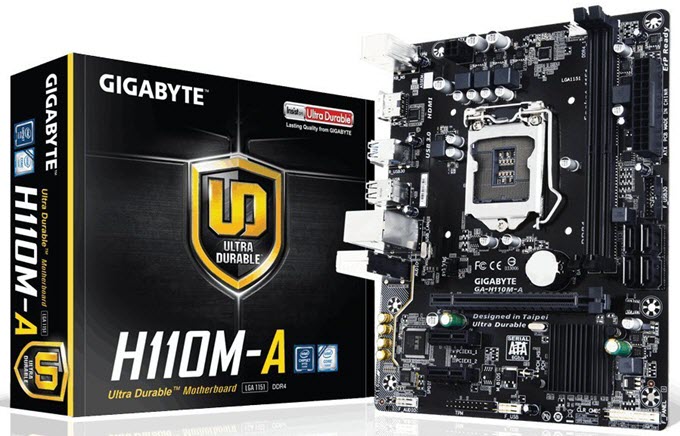 This motherboard has two DIMM slots that can support maximum of 32GB of DDR4 memory in dual channel mode. It is a micro-ATX motherboard and can fit in most of the cases. It also has high speed USB 3.0 ports both on the back and on the front as header. The motherboard comes with Realtek 7.1 channel audio and onboard LAN. This motherboard does not support overclocking because overclocking is only supported in the Z series motherboards. For the graphics cards, it does have high-speed PCI Express x16 slot based on the PCI Express 3.0 standard. Overall it is a good & solid motherboard for building a budget gaming PC.
Also see: Best Budget Kaby Lake Motherboards
Gigabyte GA-H110M-A Specifications
Socket Type
LGA 1151
Chipset
Intel H110
RAM Support
DDR4 (up to 32GB), up to 2133 MHz
Slots
DIMM x 2, PCIEX16 x 1, PCI Express x1 x 2
Ports
4 x USB 3.0, 6 x USB 2.0, 4 x SATA 6Gb/s
Form Factor
Micro ATX
Buy Gigabyte GA-H110M-A Motherboard
RAM
Ballistix Sport LT 8GB DDR4
For a 500 dollar gaming PC 8GB RAM is enough for most of the games. You can upgrade the RAM anytime in the future to 16GB when you have more money in your hands. Here I have picked Ballistix Sport LT 8GB Single DDR4 RAM that has maximum speed of 2400 MT/s. This is a high performance gaming memory that is quite affordable too. The memory is fitted with a heat spreader for better cooling.

This DDR4 RAM from Crucial supports Intel XMP profiles and four channel memory architecture. In the future you can buy another module to run both of them in dual channel mode for an extra bit of performance.
See also: Top Budget DDR4 RAM for Gaming PCs
Ballistix Sport LT 8GB Single DDR4 Specifications
RAM Type
DDR4, 288-pin
Maximum Speed
2400 MHz
Warranty
Limited Lifetime
Buy Ballistix Sport LT 8GB DDR4 RAM
Hard Drive
Western Digital Blue 1TB
A good 1TB hard disk is more than enough for a mid-level gaming PC. Here for the hard drive, I picked WD Blue 1TB SATA HDD that offers a great combination of both performance and storage capacity. WD Blue 1TB from Western Digital is a 7200 RPM hard disk that comes with 64 MB cache. It supports SATA 6 Gbps interface for fast data transfers. The hard drive is relatively quiet and does not heat up much. This is a very reliable hard drive and is trusted by many users from all parts of the world.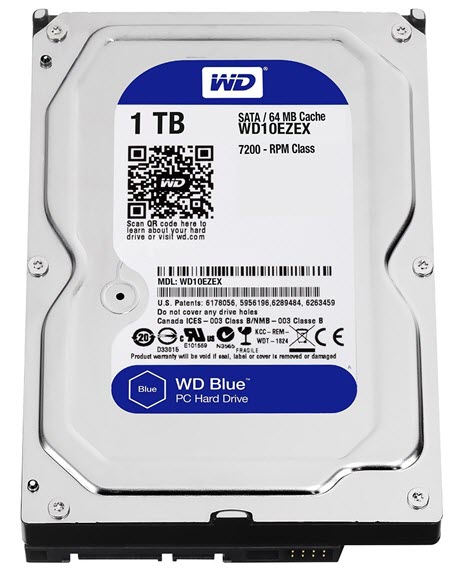 WB Blue 1TB HDD Specifications
Storage Capacity
1 TB
Spindle Speed
7200 RPM
Cache Size
64 MB
Warranty
2 year
Graphics Card
ZOTAC GeForce GTX 1050 Ti Mini
Let us now come to the most important component of a gaming PC which is a graphics card. For a $500 gaming PC you can get a powerful mid-range graphics card. Here I have chosen ZOTAC GeForce GTX 1050 Ti Mini graphics card that comes with 768 CUDA Cores and 4GB GDDR5 video memory. GeForce GTX 1050 is a powerful mid-range graphics card from Nvidia that is built on the latest Pascal GPU architecture.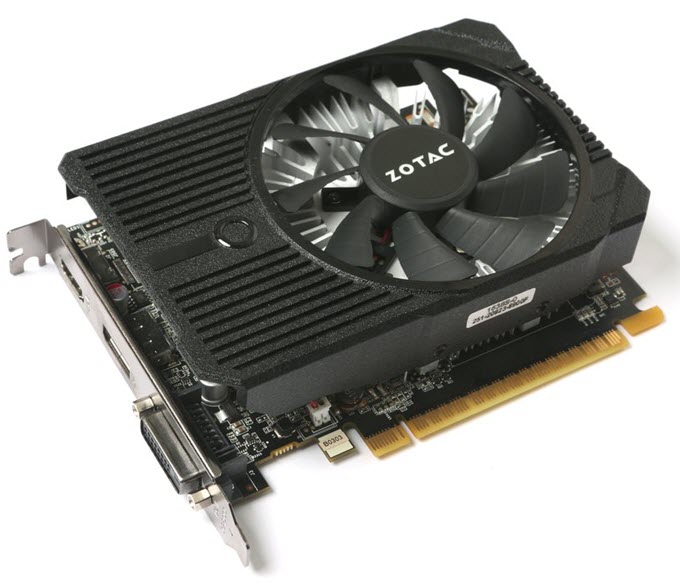 ZOTAC GeForce GTX 1050 Ti Mini is a compact graphics card that can also fit in mini-ITX cases. The card comes with a single 90mm fan and sunflower heatsink. It is a powerful little card and on this, you can play latest games on medium-high settings on 1080p with 60+ frame rates. The card comes slightly overclocked but you may overclock it further for greater performance using good overclocking softwares. Another great thing about this card is that it does not require external power from the PSU. It draws all its power from the PCI Express x16 graphics slot and requires only a good 300W power supply for its working. Also ZOTAC GeForce GTX 1050 Ti Mini is priced lower than other GTX 1050 Ti cards from brands like Asus, MSI, Gigabyte, etc.
Also Read: Best GeForce GTX 1050 Ti Cards for 1080p Gaming
ZOTAC GeForce GTX 1050 Ti Mini Specifications
CUDA Cores
768
GPU Clock
1303 / 1417 MHz
Memory Clock
7000 MHz
Memory Size
4 GB GDDR5
Memory Interface
128-bit
Bus Interface
PCI Express 3.0
DirectX
12
OpenGL
4.5
Output Ports
DVI, HDMI, DisplayPort
Buy Zotac GeForce GTX 1050 Ti Mini
Power supply
EVGA 430W PSU
To power all the above-mentioned components you will need a good branded power supply. For the power supply, I have selected EVGA 430W power supply which is a very good budget power supply having a maximum power rating of 430 Watts, and it comes with 80 Plus White Certification.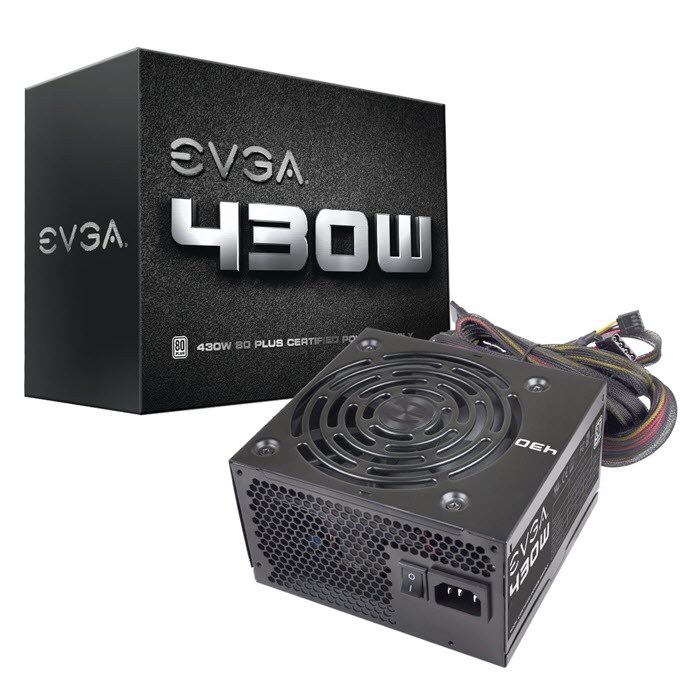 EVGA 430W has got a single 12V Rail with 34A current listed on it. It can power this 500 dollar gaming PC very well. It comes with all sleeved cables and has got an 8pin (6+2) PCI-E connector for graphics cards requiring external power. There is a 120mm fan which is very silent and is very effective in keeping the PSU components cool.
EVGA 430W PSU Specifications
Wattage
430W
12V Rail
34A, Single
Fan Size
120mm
80 Plus Certification
White
PCI Express Connector
8pin (6+2)
Warranty
3 years
Case
Deepcool TESSERACT SW
For all the above-mentioned components you will need a solid and roomier PC case. For a mid-range gaming PC a mid-tower case would be a good choice as it has enough space for all the components and you can even add some more things in the future without having to upgrade your case. Here for the case, I have chosen Deepcool TESSERACT SW.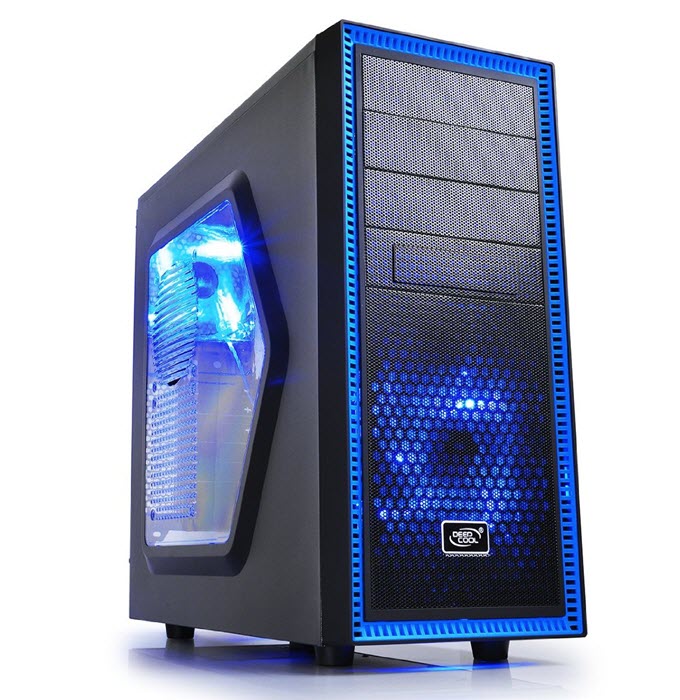 Deepcool TESSERACT SW is a great mid-tower gaming case that comes with two pre-installed blue LED fans at the front and rear. This computer case has got lots of space and great ventilation. This case can accommodate 310mm long graphics card and up to six fans, two fans on top, two on sides, one each at rear and front. On the front panel, it has got dust filters to reduce the amount of dust entering the case. On top of the case you will find USB 3.0 / USB 2.0 and Audio ports. The side panel is transparent which gives a good view of all of your components along with the blue light from the fan.
The PSU sits on the bottom of the cabinet which gives a good amount of space for other components and for ventilation. The case has got a total of 7 expansion slots and there is always enough room if you to add any other components in the near future. Various other features include tool-free installation, support for 120mm liquid cooler installation, fully metal mesh design for better cooling and cable management.
Deepcool TESSERACT SW Case Specifications
Form Factor
Mid-Tower ATX
Front Ports
USB 3.0 x 1, USB 2.0 x 1, Audio & Mic
Fans
1 x rear, 1 x front, 2 x side, 2 x top
Features
Tool free installation for ODD/HDD, Dust filter on front, 310 video card support, CPU liquid cooler support, Blue LED fans, transparent side window.
Buy Deepcool TESSERACT SW Case
Final Words
Adding up the price of all the components mentioned above, the total budget of this gaming PC will come at 500 dollars or lesser. If you have any questions regarding any of the components for building a 500 dollar gaming PC then you can ask me by leaving a comment below.
(*This post may contain affiliate links, which means I may receive a small commission if you choose to purchase through the links I provide (at no extra cost to you). Thank you for supporting the work I put into this site!)