Is a 200 dollar gaming PC possible? Well, the answer to this question Yes but to a limited extent. A gaming PC under 200 dollars will let you play basic and older games at good graphics settings with playable frame rates and the latest games at the lowest settings at low resolution.
You can have a decent gaming PC under 300 dollars but for a gaming build under 200 dollars you have to make some big compromises. This cheap 200 dollar gaming PC will be great for kids and casual gaming. So here in this post, I am going to tell you how you can build an ultra low budget gaming PC under 200 dollars using the best available budget components.
See also: Build Best Gaming PC under 500 dollars
Best Components for a Cheap $200 Gaming PC
Here are the best budget components that you will need to build a cheap 200 dollar gaming PC. It only includes the components for the CPU and not the monitor, optical drive, keyboard and mouse.
Processor
AMD A8-7600 @ 3.1 GHz
For such a low budget 200 dollar gaming PC you have to compromise on lots of things. The processor here I have chosen will serve the purpose of the graphics card as well to cut down the cost. So here I have picked AMD A8-7600 processor (codenamed Kaveri) that is the AMDs A-series APU (Accelerated Processing Unit) desktop series processor. This is a powerful Quad-Core processor clocked at 3.1 GHz and comes with 4MB L2 cache and Radeon R7 Graphics.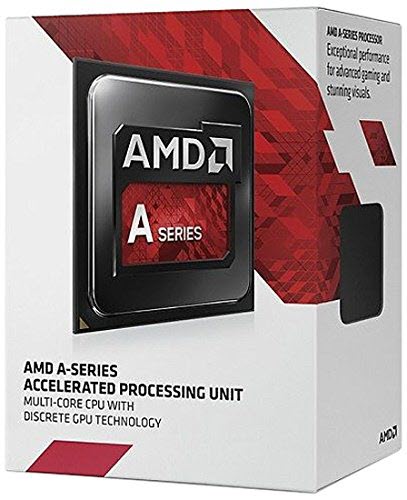 AMD A8-7600 is one of the best processors having powerful integrated graphics. The Radeon R7 GPU in this processor comes with 6 cores and 384 stream processors. The graphics core clock is 720MHz and it supports DirectX 12 and OpenGL. It can run older and mid-level games like Farcry 3, Skyrim, CSGO at the high setting and latest games on low settings. It is an FM2+ socket processor and supports only DDR3 RAM.
Check out: Best Budget APUs for Building Cheap Gaming PC & HTPC
AMD A8-7600 Kaveri Processor Specifications
Clock Speed
3.1 GHz (3.8 GHz Turbo)
No. of Cores
4 (Quad core)
Cache Size
4MB
Socket Type
FM2+
Graphics
Radeon R7
Buy AMD A8-7600 Kaveri Processor
Motherboard
Gigabyte GA-F2A68HM-H
For the AMD A8-7600 Kaveri processor, I have selected the Gigabyte GA-F2A68HM-H motherboard that comes with FM2+ Socket type and is based on AMD A68H chipset. It supports AMD A-series and AMD Athlon series processors. This is a basic micro-ATX motherboard but it comes with all the necessary features that you would require for gaming and faster connectivity.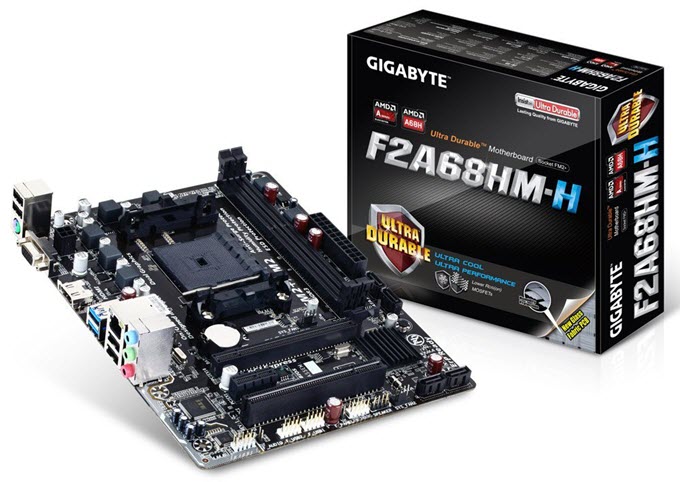 This motherboard supports DDR3 memory up to 64GB in dual channel mode, AMD Memory Profile (AMP)/Extreme Memory Profile (XMP) and comes with PCI Express x16 slot and USB 3.0 ports. The motherboard also comes with onboard Realtek Audio and Gigabit LAN.
Gigabyte GA-F2A68HM-H Motherboard Specifications
Socket Type
FM2+
Chipset
AMD A68H
RAM Support
DDR3 2400 (OC) up to 64GB, Dual Channel support
Slots
DIMM x 2, PCI-Ex16 x 1, PCI-Ex1 x 1, PCI
Ports
SATA 6Gb/s x 4, 2 x USB 3.0, 8 x USB 2.0
Form Factor
Micro=ATX
Buy Gigabyte GA-F2A68HM-H Motherboard
RAM
Crucial 2GB DDR3 RAM
To cut down cost under 200 dollars here I have selected 2GB DDR3 memory from Crucial that has a maximum speed of 1600 MHz. This is a basic and reliable RAM that also delivers good performance. You can always upgrade the RAM in the future when you have more money with you.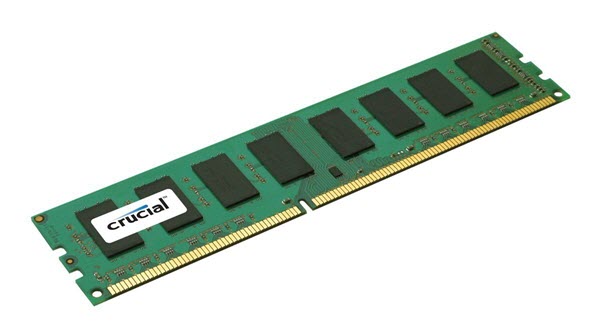 Crucial 2GB DDR3 RAM Specifications
RAM Type
DDR3, 240 Pin
Maximum Speed
1600MHz
Warranty
Limited Lifetime
Hard Drive
Western Digital Caviar Blue 320GB OEM
For a cheap gaming PC under 200 dollars a 320 GB hard disk will be more than enough for your data storage needs. Here I have picked Western Digital (WD) Caviar Blue 320GB OEM hard disk that is fast, reliable and offers a decent amount of storage space. This is a 7200 RPM SATA II HDD that comes with 8MB cache and features like WhisperDrive technology and IntelliSeek. This hard drive supports SATA 3 Gb/s interface and has a cool and quiet operation. You can add an extra hard drive or SSD anytime in the future if you want more storage space or faster performance.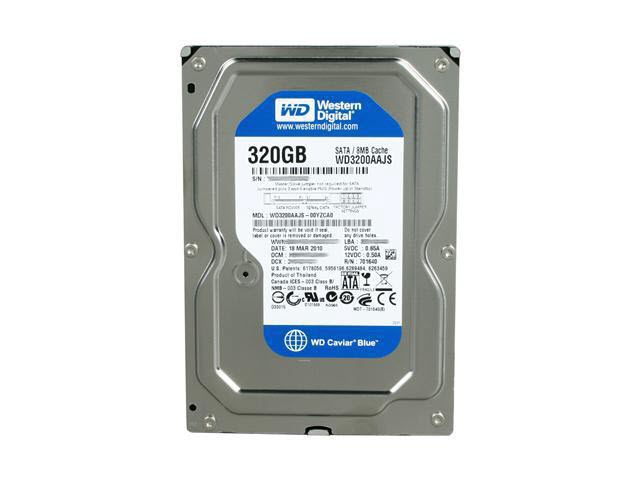 Western Digital Caviar Blue 320GB OEM Specifications
Storage Capacity
320 GB
Spindle Speed
7200 RPM
Cache Size
8MB
Warranty
2 year
Buy WD Caviar Blue 320GB Hard Drive
Graphics Card
We won't be using any dedicated graphics because that would increase the cost of this gaming build too much. As stated above, for the graphics we are using AMD A8-7600 APU processor that comes with powerful Radeon R7 discrete GPU onboard. It is fairly powerful and you will be able to enjoy a decent amount on gaming on it with playable frame rates. If you have money in the future then you can get one of the best budget graphics cards by going through the link below.
Must Read:
Power supply
APEVIA ATX-VS450W PSU
A decent PSU will be more than enough to power this 200 dollar gaming PC. So here I have selected APEVIA ATX-VS450W 450W Power Supply which is a cheap and reasonably good 450W power supply. It comes with all the connectors you need except the PCI Express ones. The PSU has generous 32A current on its 12V Rail which I think is enough for this cheap 200 dollar gaming build. There is a 120mm present that is surprisingly quiet and does a great job in keeping the PSU components cool.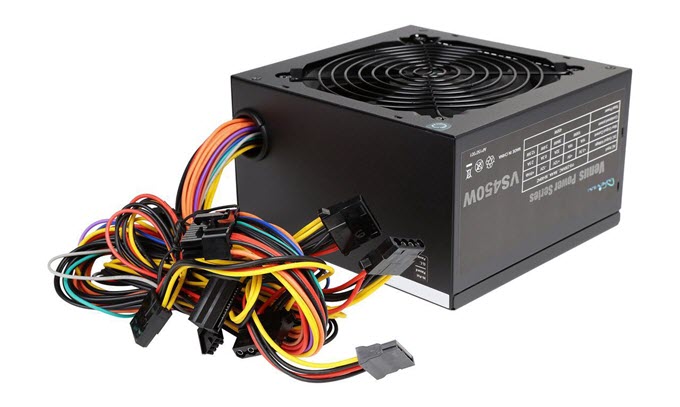 APEVIA ATX-VS450W Specifications
Wattage
450W
12V Rail
32A
Fan Size
120mm
80 Plus Certification
NA
PCI Express Connector
None
Warranty
1 year
Case
Rosewill FBM-01 Mini Tower Case
For Case, I have selected the Rosewill FBM-01 Micro ATX Mini-Tower computer case. This is the same case that i picked for the 300 dollar gaming PC earlier in this blog. This is a great value for the money PC case and it comes with a 120mm front intake fan and 80mm rear fan for better ventilation.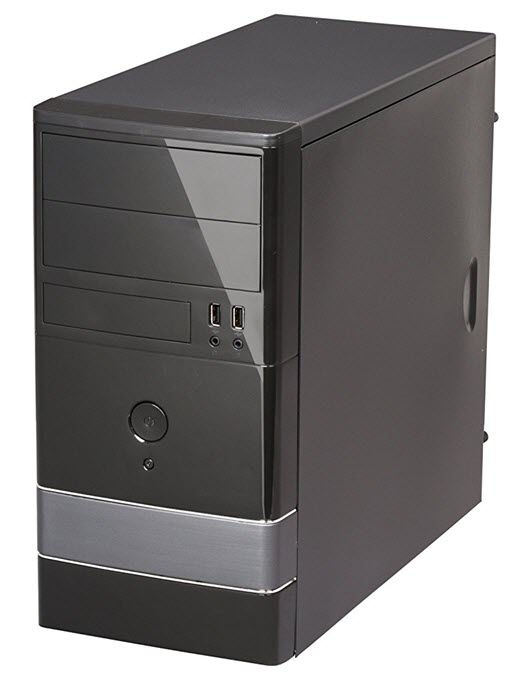 This case can accommodate micro-ATX & mini-ITX motherboards and a discrete graphics card. The side panel has a vent for graphics card cooling. On the front you can find audio ports and two USB 2.0 ports. This mini-tower case is pretty spacious as it has got 4 expansion slots, two External 5.25″ and two Internal 3.5″ Drive Bays. The construction quality of the case is pretty decent and it can fit standard ATX power supplies.
Rosewill FBM-01 Mini Tower Case Specifications
Form Factor
MicroATX Mini-Tower
Front Ports
Audio, USB 2.0 x 2
Fans
120mm front fan x 1, 80mm rear fan x 1
Features
Good Ventilation, Steel Construction, Advanced Air guide design
Buy Rosewill FBM-01 Mini-Tower Case
See also: Best Graphics Cards under 200 dollars for 1080p Gaming
Final Words
The total cost of this cheap gaming PC will come at around 200 dollars. This gaming rig is not meant for high-end gaming but is powerful enough to enjoy most of the older and mid-level games at decent graphics settings. This cheap gaming PC is great for kids & casual gamers and you can also do all your regular work on this PC.
(*This post may contain affiliate links, which means I may receive a small commission if you choose to purchase through the links I provide (at no extra cost to you). Thank you for supporting the work I put into this site!)