If you are into game streaming and looking to build a budget streaming PC for game streaming then here I am going to tell you on how to do so. Game streaming has become very popular with the rise of game streaming platforms such as Twitch.tv and YouTube later on. Now gamers from all over the world can stream their games live and showcase their gaming skills on the internet. It is fun to watch the gaming live-stream as much as the movies.
It is better to use a dedicated PC for game streaming because you do not have to face any performance issues or hiccups on your gaming PC or the streaming PC itself. Also, you may also use your streaming PC for video editing or normal work. You can also use this dedicated game streaming PC with your Gaming Console for live streaming purposes. A streaming PC requires a powerful processor with more cores and threads and does not need that much of graphics power. You can easily get away with integrated graphics for a PC for game streaming only.
If you want to stream from a gaming console i.e. Xbox or PlayStation then you require a video capture card to capture the game video from the console and then stream it on to the internet. Here in this post, I am going to build an affordable twitch streaming PC so that you can broadcast your live gameplay online to millions of viewers all over the world. You can also record your games and then broadcast afterward when you feel like. This game streaming build will let you stream games at 1080p with around 60 FPS and can also be used for streaming on other gaming platforms such as HitBox, Beam, Azubu, Bigo Live, Afreeca, Disco Melee, Gosu Gamers, Facebook game streaming, YouTube game streaming, etc.
P.S. – You will need softwares like Open Broadcaster Software (OBS) or XSplit to stream live gameplay on Twitch servers. You can also record your gameplay using these softwares and then stream it later.
Budget Streaming PC Build Components
Here are the best budget components that you will need to build a good video game streaming PC at an affordable price.
Processor
AMD Ryzen 5 2400G
The most important component of a streaming PC is the CPU because it does all work that involves transcoding of the rendered images or video by the graphics card to the video format specified by the game streaming sites. The CPU I have chosen here is AMD Ryzen 5 2400G which is a second-generation Ryzen processor built on 14nm manufacturing process using Zen architecture. This is technically an APU which means it comes with inbuilt GPU along with the CPU.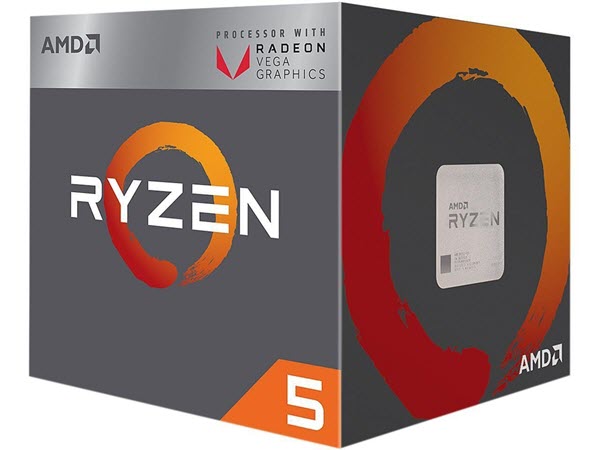 AMD Ryzen 5 2400G is a 4-core / 8 thread processor that has got base clock of 3.6 GHz and boost clock speed of 3.9 GHz. It comes with a total of 6MB cache and powerful Radeon Vega 11 Graphics. Currently, this processor has the best integrated graphics which is powerful enough to run even the latest games at decent settings. This is an unlocked processor and you can overclock it to higher frequencies using better cooling or CPU Cooler. It supports DDR4 RAM up to 2933MHz in dual channel mode.
It is based on AM4 Socket and comes with Wraith Stealth Cooler. The power consumption stands at 65W TDP which I think is on the lower side only. This quad-core CPU is powerful enough to stream videos at 1080p resolution and is also great for building a powerful HTPC. Also, we don't need a discrete graphics card with this processor and it will save us quite a bit of money too.
AMD Ryzen 5 2400G Processor Specifications
Clock Speed
3.6 GHz / 3.9 GHz (Base/Boost)
No. of Cores
4 Cores / 8 Threads
Cache Size
6MB (L2+L3)
Socket Type
AM4
Graphics
Radeon Vega 11 Graphics
TDP
65W
Buy AMD Ryzen 5 2400G Processor
Motherboard
Gigabyte GA-AB350M-DS3H
This is a Micro-ATX AM4 Socket motherboard with the high-end AMD X370 chipset. I am not using the latest AMD X470 motherboards here because they are quite expensive and may exceed your budget. This motherboard supports AMD Ryzen & 7th Generation A-series/ Athlon Processors and Overclocking for achieving higher performance. This is more than just a basic motherboard and comes with advanced features and ports without being heavy on your pocket.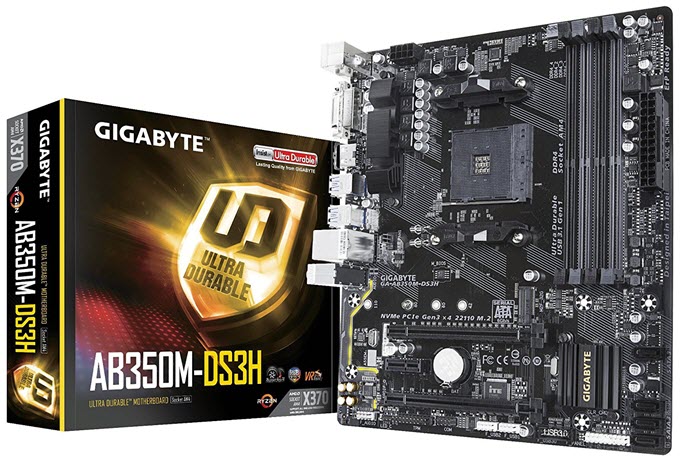 It comes with two PCI-E x16 slot for the graphics card, one PCIex1 slot for expansion cards, one M.2 port for M.2 SATA and NVMe PCIe solid state drives and supports 64GB DDR4 RAM up to 3200 MHz through overclocking. Display connectivity options include DVI and HDMI ports. You can check out its major specifications and features from the table given below.
Gigabyte GA-AB350M-DS3H Motherboard Specifications
Socket Type
AM4
Processor support
Supports AMD Ryzen & 7th Generation A-series/ Athlon Processors
Form Factor
Micro ATX
Chipset
AMD X370
RAM Support
DDR4 3200, up to 64GB, Dual Channel
Slots
DIMM x 4, PCI-E x16 x 2, PCI-Ex1 x 1, M.2 x 1 (SATA and PCIe x4/x2 SSD)
Ports
SATAIII x 4, USB 3.1 x 6, USB 2.0 x 8, DVI-D, HDMI
Features
UEFI BIOS, Onboard 8 channel audio, Realtek GbE LAN, Overclocking support, RGB Fusion LED support, Smart Fan 5, Hybrid Fan Headers, VR Ready
Buy Gigabyte GA-AB350M-DS3H Motherboard
RAM
Ballistix Sport LT 8GB DDR4
This is a budget DDR4 gaming RAM from Crucial. It supports Intel XMP 2.0 and can reach speeds up to 2666MHz. Here I am using 8GB single module because you can easily add another one if you want to upgrade in the future. Ballistix Sport LT DDR4 is low profile RAM that comes with an aluminum heatspreader for better cooling and heat dissipation. For now, 8GB RAM is more than enough for a game streaming PC build.

Ballistix Sport LT 8GB DDR4 RAM Specifications
RAM Type
DDR4, 288-pin
Capacity
8GB
Clock Speed
2666 MHz
Warranty
Limited Lifetime
Buy Ballistix Sport LT 8GB DDR4 RAM
SSD (Optional)
Crucial MX500 250GB SSD (2.5-inch)
It is better to have an SSD, especially for a boot if you want your OS and programs to load faster and snappier in working. The SSD here I recommend is Crucial MX500 250GB SATA 2.5-inch SSD that offers a great balance between performance and price. It has got Read and Write speed of 560 MB/s and 510 MB/s respectively which is almost the same as of the Samsung 860 EVO SSD. It has an endurance rating of 100TBW and comes with a 5-year warranty.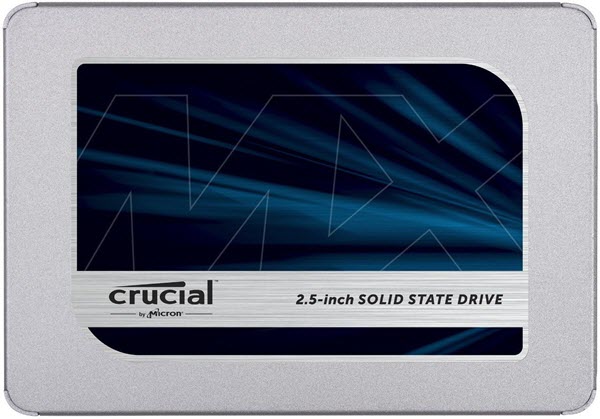 Crucial MX500 250GB SATA 2.5-inch SSD Specifications
Capacity
250 GB
Form Factor
2.5-inch
Read / Write Speed
560 / 510 MB/s
Interface
SATA 6Gb/s
Warranty
5 year
Buy Crucial MX500 250GB SATA 2.5-inch SSD
Hard Drive
WD Blue 1TB
For storing your game streaming videos and other files a good 1TB hard drive is enough for the purpose. Here I have picked WD Blue 1TB HDD which is a 7200 RPM hard drive and comes with 64MB cache. This is a very reliable regular hard disk that is also good on performance. If you want a 2TB hard drive then go for the Seagate Barracuda 2TB HDD because then the 2TB version of WD Blue has a spindle speed of 5400 RPM only.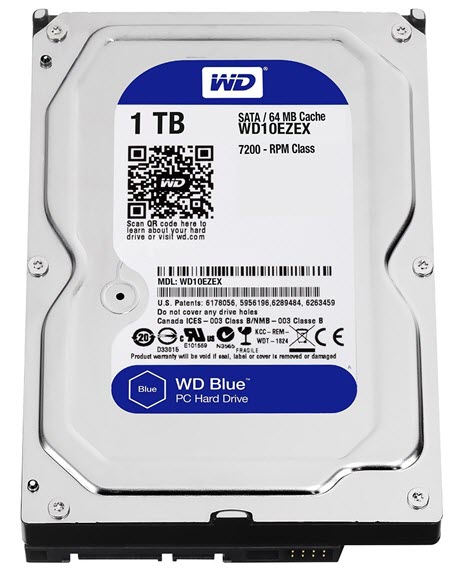 WD Blue 1TB Hard Drive Specifications
Storage Capacity
1TB
Spindle Speed
7200 RPM
Cache Size
64MB
Warranty
2 year
Graphics Card
You don't need a dedicated graphics card here because the onboard Radeon Vega 11 Graphics on AMD Ryzen 5 2400G APU processor is more than enough for this budget streaming PC.
Check out: Best Graphics Cards under 100 Dollars for Gaming
Video Capture Card (For Consoles)
If you are streaming from gaming consoles such as Xbox or PlayStation then you need a Video or Game capture card for it. You can check out some of the good video capture cards from the link given below.
Check out: Best Video / Game Capture Cards (Internal)
Power Supply
EVGA 400 N1 PSU
A decent 400 Watt PSU is more than adequate for this gaming streaming PC. Here I have chosen EVGA 400 N1 PSU which is a budget power supply and comes with a single 12V Rail that has 30A current on it. It has got a single 120mm silent fan and comes with all the cables and connectors that you need including 6-pin / 8-pin PCI-Express power connectors.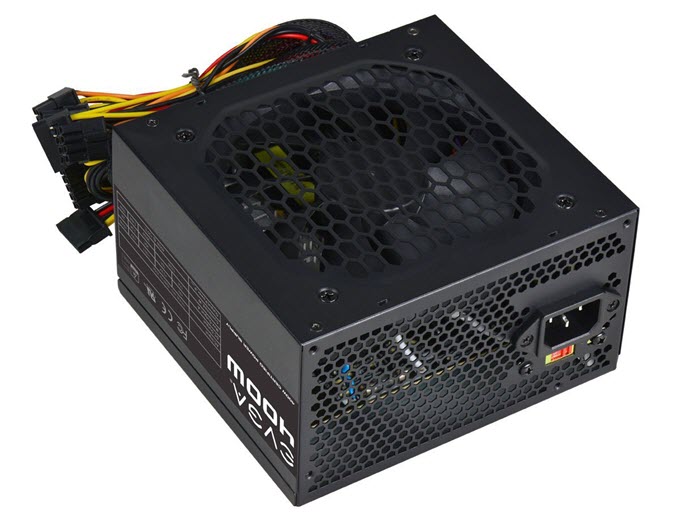 The various protection features include OVP (Over Voltage Protection), OPP (Over Power Protection), and SCP (Short Circuit Protection). You can also look at some other budget power supplies from the link given below.
Must Read: Best Budget Power Supply for Gaming PC
EVGA 400 N1 Power Supply Specifications
Wattage
400W
12V Rail
30A, Single Rail
Fan Size
120mm
80 Plus Certification
NA
PCI Express Connector
1x 8pin (6+2), 1x 6pin
Warranty
2 year
PC Case
Rosewill SRM-01 Mini-Tower
You don't need an expensive computer case for this streaming build as a good cheap PC case will do the job well enough. Here I have selected Rosewill SRM-01 Mini-Tower case that can support up to Micro ATX sized motherboards. This is a small form factor case and can easily fit all the components for this game streaming setup.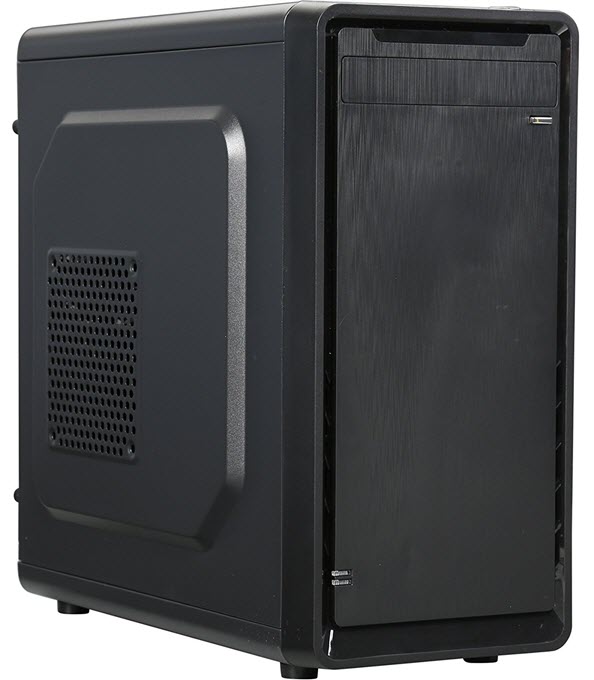 It is just regular normal looking case that offers two internal 3.5″ / 2.5″ drive bays, and for cooling it comes with one 80mm rear fan preinstalled but you can optionally install one 120mm case fan at the front. On the front panel, you will get one USB 3.0 port, one USB 2.0 port, and audio ports. The case can accommodate 300mm long graphics card and standard ATX PS2 power supply. The build quality is average and it is one cheapest computer cases in the market with decent quality.
Rosewill SRM-01 Mini-Tower Case Specifications
Form Factor
Mini-Tower
Motherboard Support
Mini-ITX, Micro -ATX
Drive Bays
2.5" / 3.5" x 2
Front Ports
USB 3.0 x 1, USB 2.0 x 1, Audio
Expansion Slots
4
CPU Cooler Height
140mm
Graphics Card Length
300m
Fans
Front: 120mm x 1

Rear: 80mm x 2

Side: 120mm x 1

Features
Tool free drive installation, Sleek and Slim design
Buy Rosewill SRM-01 Mini-Tower Case
Final Words
This budget game streaming PC will let you showcase your gaming talent on game streaming sites such as Twitch and you can also do other tasks such as video editing on it. It is also powerful enough to run less demanding games and eSports titles on decent graphics settings if you want it as a secondary gaming PC for some purpose. If you have got any doubts or queries regarding it then please leave a comment below.
(*This post may contain affiliate links, which means I may receive a small commission if you choose to purchase through the links I provide (at no extra cost to you). Thank you for supporting the work I put into this site!)