If you have a shortage of space at your place but want a gaming PC then building a small form factor gaming PC is a very good idea. An SFF gaming PC will give you a good balance between space and performance as it is compact enough to fit in tight places and powerful enough to run the latest games on respectable graphics settings. Today it is possible to build a powerful small form factor gaming PC for 1080p or 1440p gaming because now you can find powerful mini-ITX motherboards, small form factor graphics cards, and spacious SFF Mini-ITX cases. So, here in this post, I am going to build a powerful small form factor gaming PC on a budget that can let you play the latest games on 1080p resolution with high graphics settings @50 – 60 FPS.
Must Read:
Best Components for Budget SFF Gaming PC
Here are the latest components that you will need to build an affordable small form factor gaming PC for 1080p gaming.
Processor
Intel Core i3-8100 Processor
The processor I have chosen for this compact small form factor gaming build is Intel Core i3-8100 Processor. This is an 8th generation Coffee Lake processor built on 14nm manufacturing processor having LGA 1151 socket. It is an entry-level coffee lake processor but is powerful enough for 1080p gaming when paired with a good mid-range graphics card. It is a quad core processor that has got clock speed of 3.6 GHz and comes with 6MB cache. The power consumption of this CPU is rated at 65W TDP which I think is decent enough. It comes with Intel UHD Graphics 630 but we won't be using it because we are building a gaming PC and not a normal work PC.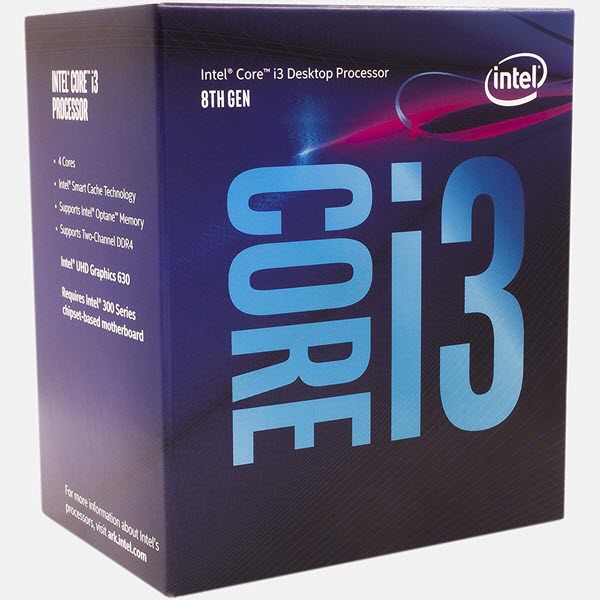 The processor comes with the stock cooler (heatsink & fan) and we will be using that only because it does not make any sense for going for an aftermarket CPU cooler for a small form factor gaming PC in limited budget. However, if you want better cooling then you can go for low profile CPU coolers that may offer slightly better performance than the stock cooler.
Intel Core i3-8100 Processor Specifications
Clock Speed
3.6 GHz
No. of Cores
4 Cores / 4 Threads
Cache Size
6MB
Socket Type
LGA 1151
Graphics
Intel UHD Graphics 630
TDP
65W
Buy Intel Core i3-8100 Processor
Motherboard
Gigabyte B360N WIFI Motherboard
You will need LGA 1151 Socket Mini-ITX motherboard supporting 8th generation Intel Coffee Lake processors. Here I have selected Gigabyte B360N WIFI Motherboard which is a Mini-ITX motherboard based on the Intel B360 chipset and supports the latest 8th generation processors from Intel. This is a small motherboard but it does not compromise on features and comes with one PCI-E 3.0 x16 slot, one M.2 slot for SATA SSDs and NVMe M.2 SSDs, USB 3.1 ports and supports DDR4 2666MHz RAM up to 32GB.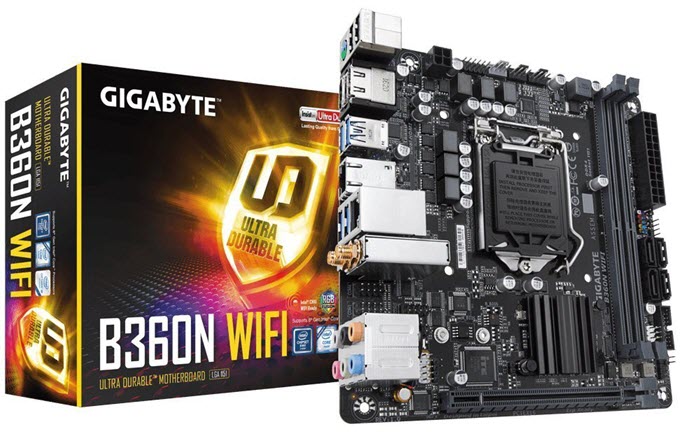 The motherboard also comes with integrated Intel Wi-Fi. Other features include Dual UEFI BIOS, Intel Optane memory support, Onboard 8 channel Audio, Dual Intel Gigabit LAN, RGB Fusion LED support, Hybrid fan headers. It is s great motherboard for building a mid-range SFF gaming PC and is not that expensive either.
Gigabyte B360N WIFI Motherboard Specifications
Socket Type
LGA 1151 (Supports 8th Gen Intel Core Processors)
Form Factor
Mini-ITX
Chipset
Intel B360
RAM Support
DDR4 2666MHz, up to 32GB, Dual Channel support
Slots
DIMM x 2, PCI-E x 16 x 1, M.2 x 1 (for SATA and PCI-E x4 SSD)
Ports
SATA III x 4, USB 3.1 Gen 1 x 6, USB 2.0 x 4
Features
Intel CNVi 802.11ac Wave2 2T2R WIFI, Onboard 8 Channel Audio, Dual Intel Gigabit LAN, Dual UEFI BIOS, Intel Optane Memory Ready, RGB FUSION supports RGB LED strips in 7 colors, Hybrid Fan Headers, Smart Fan 5
Buy Gigabyte B360N WIFI Motherboard
RAM
Ballistix Sport LT Red 8GB DDR4
A gaming PC would need at least 8GB of RAM and here I have picked Ballistix Sport LT Red 8GB DDR4 RAM which is a budget DDR4 gaming RAM from Crucial. Here I am using a single 8GB module only but if you need more RAM for the latest games then you can add another 8GB stick to your motherboard, which I think will be sufficient even for the latest upcoming demanding games.

This is a low profile DDR4 RAM that comes with Red Heat spreader and can support frequency up to 2666 MHz through Intel XMP 2.0 profile. It is a reliable and stable RAM that provides very good performance in gaming and in other applications. It supports dual channel mode and is optimized for Intel systems.
Ballistix Sport LT Red 8GB DDR4 RAM Specifications
RAM Type
DDR4, 288-Pin
Capacity
8GB
Clock Speed
2666MHz
Warranty
Limited Lifetime
Buy Ballistix Sport LT 8GB DDR4 RAM
SSD (Optional)
Crucial MX500 250GB 2.5-inch SSD
Well, I think SSD is a must for the newer generation systems and especially for the boot drive as it can make your Windows load in a couple of seconds and also makes it super smooth in working. If you are short on budget then you may skip the SSD and can go for HDD only but I highly recommend to get an SSD for a boot drive for windows installation, especially for Windows 10 which is a resource hog.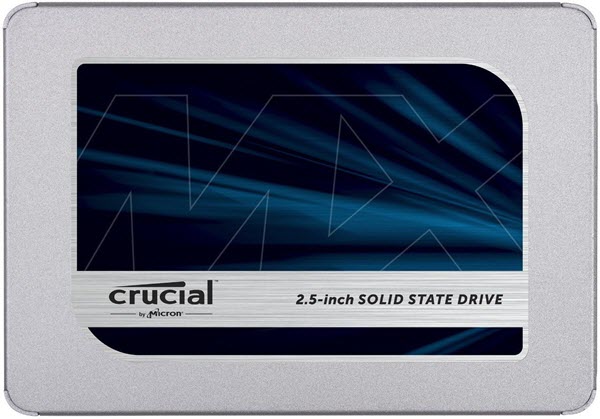 Here I have picked Crucial MX500 250GB 2.5-inch SATA SSD which is a very fast and reliable SSD. It has got Read / Write speed of 560 MB/s and 510 MB/s and comes with Micron 3D NAND technology. This 2.5-inch 250GB SATA SSD has got an endurance rating of 100TBW and has got 5 years warranty under its belt.
Crucial MX500 250GB 2.5-inch SATA SSD Specifications
Capacity
250GB
Form Factor
2.5-inch
Read / Write Speed
560 MB/s / 510 MB/s
Interface
SATA 6Gb/s
Warranty
5 years
Buy Crucial MX500 250GB 2.5-inch SSD
Hard Drive
WD Blue 1TB HDD
For storing games, documents, and other files, I think 1TB hard drive is enough. Here I have chosen WD Blue 1TB which is a SATAIII 7200 RPM hard drive and comes with fast 64MB cache. This is a very reliable and popular hard drive for regular use. If you are not getting an SSD due to budget constraints then you have to install your Windows OS on this HDD only.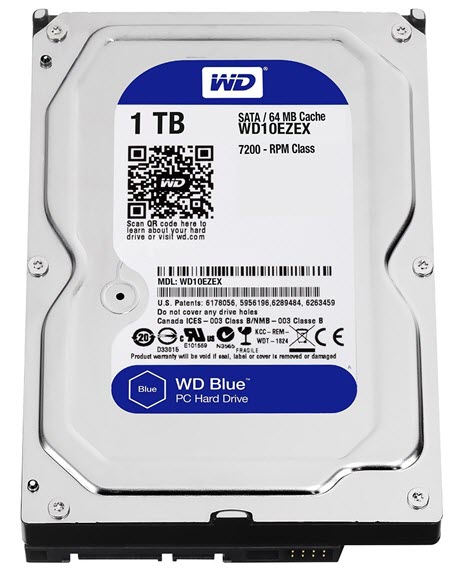 WD Blue 1TB Hard Drive Specifications
Storage Capacity
1TB
Spindle Speed
7200RPM
Cache Size
64MB
Interface
SATA III
Warranty
2 year
Graphics Card
ZOTAC GeForce GTX 1050 Ti Mini
Now comes the most important component of a gaming PC which is a graphics card. The card I have picked here is ZOTAC GeForce GTX 1050 Ti Mini which is a powerful small form factor graphics card. On this card, you can easily play the latest games on high settings at 1080p with comfortable frame rates. The card is only 145mm in length and can fit in 99% of the mini-ITX cases or SFF cases.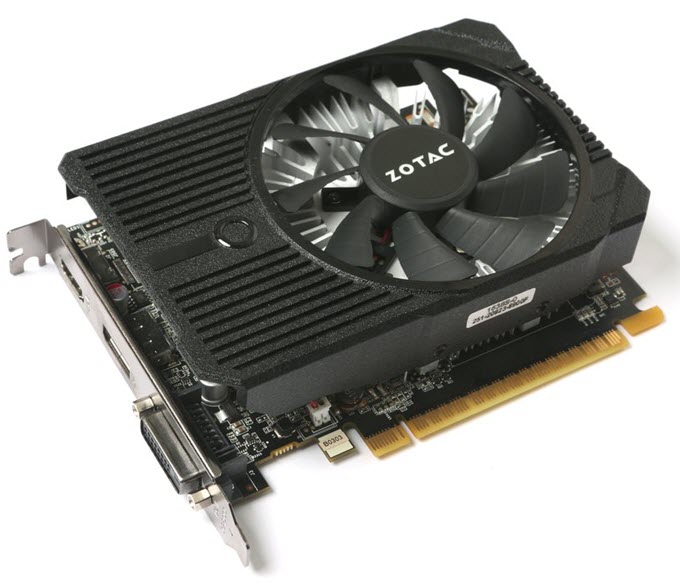 The card is based on Pascal GPU architecture from Nvidia and comes with 768 CUDA Cores and 4GB GDDR5 memory having interface of 128-bit. The card has dual slot design and uses a 90mm fan for cooling. It is a non-OC card and operates at GTX 1050 Ti stock frequencies but you may overclock it slightly using Zotac's Firestorm GPU overclocking software or other good overclocking utilities for the graphics card. The card does not require 6-pin/8pin external power connectors and requires only a 300W PSU for its working. Connectivity options include DVI, HDMI and DisplayPort.
ZOTAC GeForce GTX 1050 Ti Mini Specifications
CUDA Cores
768
GPU Clock
1301 / 1417 MHz (Base/Boost)
Memory Clock
7 GHz
Memory Size
4GB GDDR5
Memory Interface
128-bit
Bus Interface
PCI Express 3.0
DirectX
12
OpenGL
4.5
Output Ports
DL-DVI, HDMI, DisplayPort
Buy ZOTAC GeForce GTX 1050 Ti Mini
Power Supply
EVGA 400 N1 PSU
A 400W PSU is enough to power this small form factor gaming build and here I have selected EVGA 400 N1, 400 Watts Power Supply. This is a budget PSU and can power this SFF gaming PC very well. It comes with single 12V rail and a current of 30A on it. It comes with all the connectors and cables that you need including 8-pin and 6-pin PCI-E connector cables for graphics cards.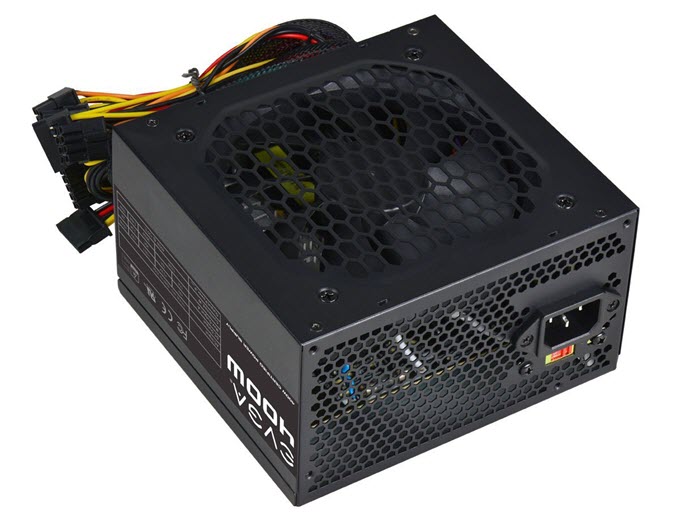 The PSU comes with 120mm fan and is pretty silent in operation. It has got heavy-duty protection features that includes OVP (Over Voltage Protection), OPP (Over Power Protection), and SCP (Short Circuit Protection). You may also check out some other good budget PSUs for gaming by going to the link given below.
Check out: Best Budget Power Supply (PSU) for Gaming PC
EVGA 400 N1 Power Supply Specifications
Wattage
400W
12V Rail
30A, Single Rail
Fan Size
120mm
80 Plus Certification
NA
PCI Express Connector
1x 8pin (6+2), 1x 6pin
Warranty
2 year
PC Case
Thermaltake Core V1 Mini-ITX Cube Case
The PC case that I have chosen here is Thermaltake Core V1 which is a small form factor Mini-ITX Cube Case. This is a very small case but it spacious enough to accommodate all the above-mentioned components with ease. This is an attractive looking mini-ITX cube case and has solid build quality. It comes with a big 200mm front fan and you can optionally install two 80mm fans at the rear. Front I/O ports include two USB 3.0 ports and audio ports.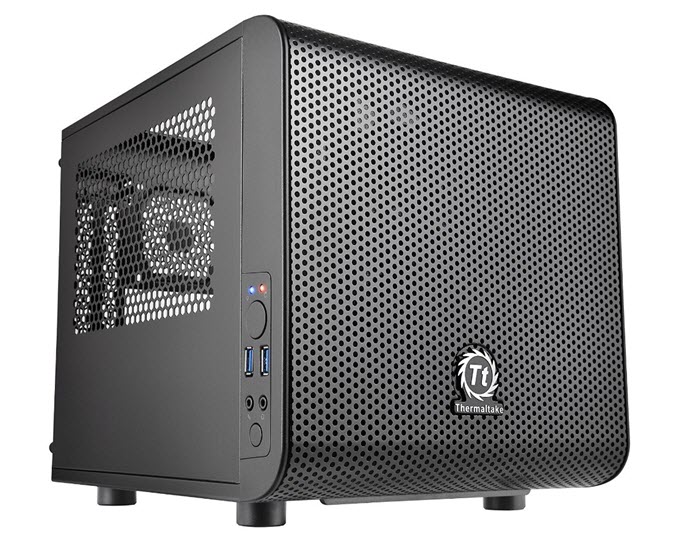 This is a Thermaltake Tt LCS Certified case and it can support up to 285mm long graphics card, 140mm tall CPU cooler and 140mm radiator. The case panels are interchangeable and one of them is a transparent panel. Other features of this compact cube case include removable PSU filter, tool-free drive installation, cable management and adjustable shockproof rubbers on the bottom panel to prolong PSU usage.
Thermaltake Core V1 Mini-ITX Cube Case Specifications
Form Factor
Mini-ITX Cube Case
Motherboard Support
Mini-ITX
Drive Bays
3.5'' x 2, 2.5'' x 2
Front Ports
USB 3.0 x 2, HD Audio x 1
Expansion Slots
2
CPU Cooler Height
140mm
Graphics Card Length
285mm
Fans
Front: 1 x 120mm or 1 x 140mm or 1 x 200mm

Rear: 2 x 80mm

Features
Transparent Window Panel, Interchangeable Side Panel, Tt LCS Certified, 140mm / 120mm Radiator support, Cable management, Tool free drive installation, 180mm PSU support, PSU dust filter,
Buy Thermaltake Core V1 Mini-ITX Cube Case
Final Words
In the end, I would like to say that this is one of the smallest gaming PC that you can build for 1080p gaming on a budget. It is really very compact in size and is powerful enough to game at 1080p. This SFF gaming PC is definitely better than the present generation gaming consoles and you can have more fun on this mini gaming PC compared to consoles. It is also very affordable to build and will last more than the gaming consoles. Also, you can also upgrade it with a better graphics card to run more demanding games in the future. If you have any queries regarding it then please ask me your questions by leaving a comment below.
(*This post may contain affiliate links, which means I may receive a small commission if you choose to purchase through the links I provide (at no extra cost to you). Thank you for supporting the work I put into this site!)