If you are wondering what the Rebrand, Re-badge, and Refresh terms associated with graphics cards mean then you are at the right place. These terms are closely related to each other and there is a lot of confusion about what they really mean in the context of graphics cards. If you are a graphics card user or are in process of buying a new graphics card then you should know about them so that you can make a wise decision when buying a new graphics card or upgrading it for your gaming PC.
There is a very thin line between them and most people use them interchangeably without knowing the actual difference between them. So, here I am doing to demystify both these terms i.e. Rebrand / Rebadge and Refresh for graphics cards. It is also important to note that they are not used with all graphics cards but only for some graphics cards and these terms are used with both Nvidia and AMD graphics cards.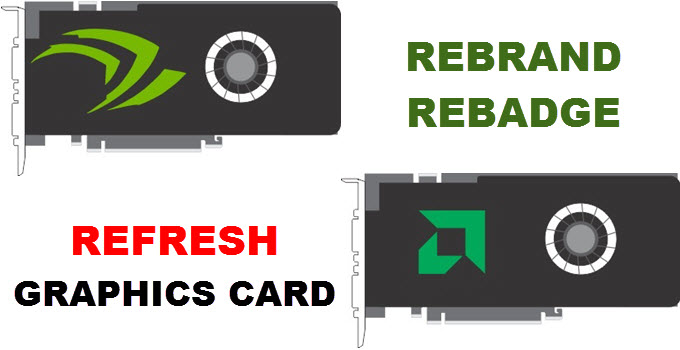 Rebrand / Rebadge Graphics Card
Rebranding or Rebadging of graphics cards means selling the same graphics card with a totally different name or branding under the impression of a newly launched product. For example, selling a GTX 680 graphics card with new branding and name under GTX 770. The new rebranded graphics card will have a different name but the same GPU chip, GPU architecture, and the number of Shaders / Stream Processors / Cores as the older one. Both rebranded and original graphics cards will have the same features and almost the same level of performance. The rebranded card may feature a new cooler and output ports for connectivity.
The GPU clock speed and Memory clock speed may or may not differ on the rebranded graphics card but most of the time memory configuration remains the same in both the cards. Also, the power consumption can be slightly different too but not that much. The price of the new re-branded graphics card can be a little higher or lower than the original one depending on the graphics card manufacturer. So, overall rebranding is just new packaging and the renaming of older graphics cards to sell them as a newly launched product. Rebrand and Rebadge mean the same thing. Below are some of the rebranded or rebadged graphics cards from Nvidia and AMD.
Note: Rebranding of graphics cards should not be confused with the different brands of graphics cards from various third-party graphics card manufacturers or board partners.
Some Rebranded Graphics Cards from Nvidia
The Format is Original->Rebranded
GeForce 8800 GT -> GeForce 9800 GT
GeForce GTX 660 Ti -> GeForce GTX 760 Ti OEM
GeForce 510 OEM -> GeForce 605 OEM
GeForce GT 520 -> GeForce GT 610, GeForce GT 620 OEM, GeForce GT 705 OEM
GeForce GT 530 OEM -> GeForce GT 620
GeForce GT 440 -> GeForce GT 730 (DDR3), GeForce GT 630 (DDR3)
GeForce GT 545 -> GeForce GT 640 OEM Rebrand (GF116)
GeForce GTX 560 SE -> GeForce GT 645 OEM
GeForce GT 630 Rev. 2 -> GeForce GT 730 GDDR5
GeForce GTX 680 -> GeForce GTX 770 (GK104)
GeForce GTX 670 -> GeForce GTX 760 Ti OEM
Some Rebranded Graphics Cards from AMD
Radeon HD 8570 OEM -> Radeon R5 240 OEM, Radeon R7 240 (OLAND)
Radeon HD 8670 OEM -> Radeon R7 240
Radeon HD 7770 GHz Edition -> Radeon R7 250X (Cape Verde XT)
Radeon HD 7850 -> Radeon R7 265
Radeon HD 7870 -> Radeon R9 270 (Pitcairn XT)
Radeon HD 7870 GHz Edition -> Radeon R9 270X (Pitcairn XT)
Radeon HD 7950 -> Radeon R9 280
Radeon HD 7870 -> Radeon R7 270/270X
Radeon HD 7970 GHz Edition -> Radeon R9 280X
Radeon R7 250 -> Radeon R7 350 OEM, Radeon R7 340 OEM
AMD Radeon R7 360 -> Radeon RX 455 OEM
Refresh Graphics Card
A refresh means that the newer graphics card comes with some improvements and features over the older one. It is an updated version of the older graphics card and offers better performance, power efficiency, features, and resolved bug fixes that were present in the older graphics card. Both the graphics cards will have the same GPU architecture but the GPU present in the refreshed one will be a slightly updated variant of the older one. GPU manufacturers may unlock extra cores in the newer card and thus making it more powerful. The manufacturing process in the refreshed GPU can also be smaller e.g. from 14nm to 12nm. Also, you will definitely get higher GPU and Memory clock speeds in the refreshed graphics card. However, the memory size and configuration may or may not remain the same as GPU manufacturers may put more memory on the refreshed graphics card. Just like rebranded or rebadged graphics card, a refreshed graphics card is also sold as a newly launched product with a different brand name.
The refresh card may come with better overclocking potential, power management features, improved efficiency, and newer technology support. Also, the drivers are better optimized for the newer refresh variant. The power consumption of the refreshed graphics card can be a bit on the higher side because of higher clock speed and other additions. It may also get a new board design and a cooler. Generally, refreshed video cards are priced a bit higher compared to their older or existing variants. A refresh is just like a revision where some minor improvements are made over the previous GPU or graphics card.
It is to be noted that rebrand is used for a particular graphics card but refresh can be used for single as well as for the complete graphics card family or series. For example, the Radeon RX 500 series is a complete refresh of the older Radeon RX 400 series from AMD. The RX 400 and RX 500 series cards are built on the Polaris GPU architecture but RX 400 uses Polaris 10 series GPU and RX 500 ones use Polaris 20 series GPU which is an updated version or revision of the older Polaris 10 GPU. For example, Radeon RX 480 uses Polaris 10 chip while the Radeon RX 580 is built using the Polaris 20 chip.
Check out: Graphics Cards Components Explained
Some Refreshed Graphics Cards (Nvidia & AMD)
The format is Original -> Refreshed
GeForce GTX 480 -> GeForce GTX 580 (Fermi)
GeForce GT630 -> GeForce GT 740 (Kepler GK107)
Radeon HD 7790 -> Radeon R7 260, Radeon R7 260X
Radeon R7 260 -> Radeon R7 360
Radeon R7 265 -> Radeon R7 370
Radeon R9 285 -> Radeon R9 380
Radeon R9 290 -> Radeon R9 390
Radeon R9 290X -> Radeon R9 390X
Radeon RX 460 (Polaris 11) -> Radeon RX 560 (Polaris 21)
Radeon RX 470 -> Radeon RX 570
Radeon RX 480 -> Radeon RX 580
Rebrand / Rebadge vs Refresh Similarities
The main thing that is common between rebranded and refresh graphics cards is that both these types of graphics cards have the same GPU architecture as the cards from which they are derived. You can compare the graphics card and GPU specs by using the graphics card comparison websites and can find out more about them.
Check out: Reference vs Non-Reference Graphics Cards
Rebrand / Rebadge vs Refresh Difference
Rebrand / Rebadge is taking an older graphics card preferably from the previous generation and selling it as a newer product under different names. The newer card will have the same GPU chip and architecture and maybe some clock speed changes while the core specs remain the same. On the other hand, a refresh is an updated version of the previous generation graphics card with some minor enhancements related to features, performance, and efficiency. The GPU chip will be the revision of the previous chip with a different code name but will have the same GPU architecture.
Important Note: A graphics card with a completely different GPU architecture is not a rebranded, rebadged, or refreshed card. It is a completely new product having its own identity. For example, two graphics cards G1 and G2 with the same number of CUDA Cores or Stream Processors but with different GPU Architectures (GA1 and GA2) do not qualify as Rebrand, Rebadge, or Refresh. They are totally different graphics cards with no connection or correlation between them except that one will be a successor of another in terms of GPU architecture or family.
Must Read: Most Common Graphics Card Queries Answered
Why do GPU Manufacturers do this?
All the GPU manufacturers and chip makers i.e. Nvidia and AMD use these tactics (rebrand/rebadge and refresh) to cut their costs and increase the life-cycle of a product because new chip design and architecture cost a lot of money, resources, and time. Also, if they don't launch a new product in the market after a period of time then their reputation takes a hit and they will be the risk of losing customers because other manufacturers can take advantage of this situation by launching new products  (rebranded or refreshed) at the same time.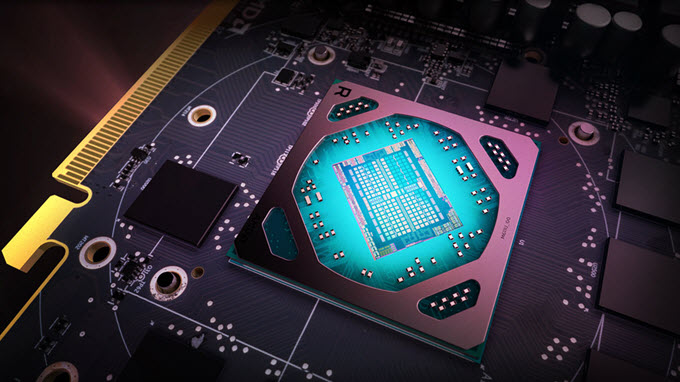 So, to tackle this they recycled their older products or technologies and pack them as newer ones with a different brand name e.g. a high-end graphics card from the previous generation can be sold as mid-range graphics in the current generation with a different name, cooler, and slightly different specs. It also allows them to clear their older stock of chips and sell them at the same price as before. Well, this may sound unethical sometimes but it is a very common tactic used by many chip manufacturers and we cannot blame them unless they are doing it more often or for a longer period of time and delaying completely new products for a long duration.
See also:
Final Thoughts
Well, I have tried my best to explain these Refresh / Rebadge and Refresh terms associated with graphics cards. They are a bit confusing because they may be confused with each other even by some of the professionals in the tech business. If you have anything to say, suggest something, or have any queries then please leave a comment below.
(*This post may contain affiliate links, which means I may receive a small commission if you choose to purchase through the links I provide (at no extra cost to you). Thank you for supporting the work I put into this site!)