Choosing the right SSD for your PC or Laptop can be a little tricky or somewhat harder decision to make for some users. It is because solid-state drives are available in different sizes, and capacities and they do differ widely in terms of price and performance too. Moreover, compatibility and lifespan also play an important factor and should be taken into account when buying a solid-state drive for your computer.  So, if you are in a state of confusion and unable to decide what SSD to get for your PC or Laptop, then here I am going to guide you on this subject so that you can make an informed decision easily.
Factors to Consider before Buying an SSD
Below are the most important factors that you must consider or take into account before making an SSD purchase for your Desktop or Laptop.
Interface (SATA vs. PCI-Express)
Solid State Drives are available in two types of interfaces, SATA and PCI-Express. The SATA SSDs use the SATA bus for their communication, and the PCI-Express SSDs use the PCI-E bus for data transfer or communication. The maximum bandwidth supported by SATA SSD is 6Gbps (750 MB/s) for the SATA III interface or standard. For PCI-E express SSD, it is 4GB/s or 32Gbps for PCIe 3.0 x4 and 8GB/s or 64 Gbps for PCIe 4.0 x4 standard. PCI-Express solid-state drives are most commonly known as NVMe solid-state drives. The most commonly available NVMe solid-state drives support PCIe 3.0 x4 interface while some of the latest and fastest SSDs support the PCIe 4.0 x4 interface. SATA SSDs plus into SATA port and NVMe PCIe SSDs require an M.2 slot or PCIe card for their working.


Physical Size / Form Factor
The size or form factor of a solid-state drive does play an important role when you are looking to buy an SSD for your laptop or desktop. Below are the most popular SSD sizes and how they differ from each other in various aspects other than just dimensions.
2.5-inch Form Factor
The most popular size for a SATA SSD is the 2.5-inches. A 2.5-inch SATA SSD has physical dimensions the same as a 2.5-inch hard drive used in laptops. However, the 2.5-inch SATA SSD is much lighter in comparison to the 2.5-inch hard drive. A 2.5-inch solid-state drive can be used in Desktop PCs, Laptops, Notebooks, and Netbooks.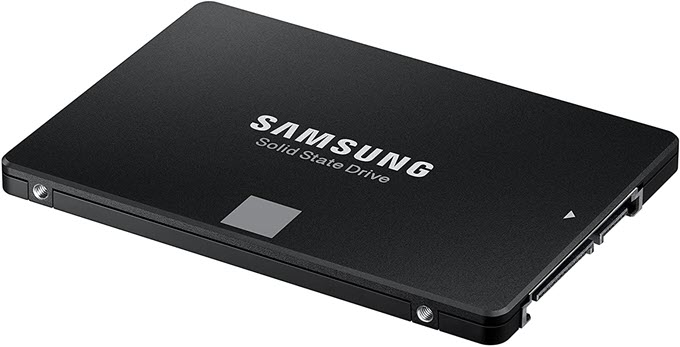 M.2 Form Factor
M.2 is a smaller form factor for solid-state drives. M.2 solid-state drives are available in three sizes that are 22110, 2280, 2260, 2242, and 2230. Here the first two digits indicate the with of the SSD in millimeters or mm, and the remaining indicates its length in mm, e.g., in the case of 2280, the width of the SSD is 22mm and the length is 80mm. 2260, 2242, and 2230 are super compact form factors, and there are very few SSDs available in these sizes. The most common or popular M.2 form factor is 2280. Most of the motherboards and laptops support up to 2280 M.2 SSD form factor.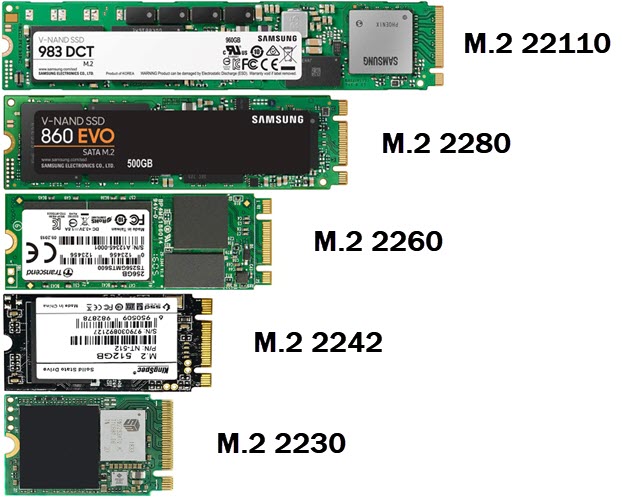 Both SATA and NVMe PCI-E solid-state drives are available in the M.2 form factor, but there is one distinction between them which can be used to identify an M.2 SATA SSD from an NVMe one. In M.2 SATA SSD, there are two notches at the connector end, but in M.2 PCIe, there is only a single notch at the connector end. An M.2 SATA can be used in PCs, Laptops, and Netbooks if the motherboard comes with M.2 slot and supports M.2 SATA / NVMe solid-state drives.


Tip: If your motherboard does not come with an M.2 slot for NVMe SSDs then you can use M.2 PCIe adapters for installing an NVMe drive in your PC.
mSATA
Mini-SATA or mSATA solid-state drive is an older and smaller form factor for use in laptops/notebooks only through the mSATA slot. An mSATA SSD is 30mm in width and 50.95mm in length. These drives are not common these days, but you can still buy an mSATA SSD if your laptop has an mSATA slot.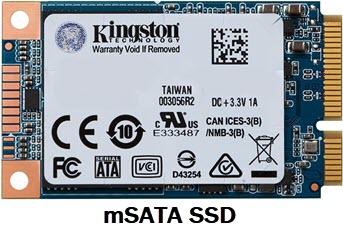 Storage Capacity
The storage capacity of solid-state drivers has increased tremendously over a couple of years. Nowadays, you can find an SSD with up to 4TB capacity, which was not possible a while ago. However, the price of SSD remains quite high when we compare it to hard drives of similar size. Most of the users use SSD for the boot drive for OS, and they generally go with a 128GB or 250GB capacity SSD. However, if you want to go with the SSD only for your complete system, then you can find 2TB capacity solid-state drives in both 2.5-inch and M.2 form factors (SATA & NVMe) easily.
Speed / Performance
When it comes to performance, then NVMe solid-state drives are the fastest. The best PCIe 3.0 NVMe SSDs are about six times faster than the fastest SATA SSDs. The top-performing PCIe Gen 3 NVMe SSDs have a sequential read speed of up to 3500 MB/s and a write speed of up to 3300 MB/s. On the other hand, the best SATA SSDs have read speed up to 550 MB/s and write speed up to 520 MB/s. In NVMe solid-state drives, PCIe Gen 4 SSDs are about 40% faster than PCIe Gen 3 SSDs and have read speed of up to 5000 MB/s and write speed of up to 4400 MB/s. Super-fast NVMe solid-state drives can get pretty hot during intensive and continuous operation and can throttle down to around 50% of their rated speeds if they overheat. To cool down the NVMe drive, you can install an M.2 heatsink for faster heat dissipation. It should also be noted that different models or brands of SATA and NVMe solid-state drives have different read/write speeds because expensive ones are faster than the budget ones.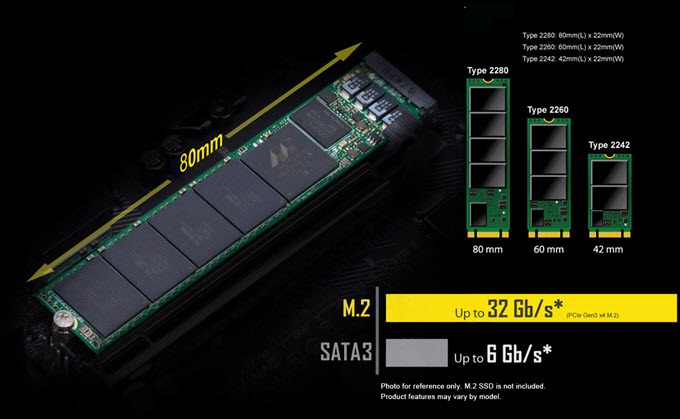 Lifespan (TBW Rating)
Unlike a hard drive, solid-state drives have a limited number of writes. It means data on SSDs can be written/rewritten to a limited extent or period, and when it is over, then you can face data corruption or data write failure. The lifespan of an SSD is generally expressed in TBW rating, which stands for Terabytes Written or Total Bytes Written. For example, an SSD having an 80 TBW rating means that you can write up to 80 TB or 80000 GB data on it over time. Lower capacity solid-state drives have a lower TBW rating compared to their higher capacity counterparts. For example, a 250 GB Samsung 860 Evo SSD has a lifespan of 150 TBW, and a 500 GB one has 300 TBW. Also, different SSD models, from the same or even from different brands, do differ in lifespan, even if they have the same capacity. For example, a budget SSD like Kingston A400 240 GB, has a TBW rating of 80 TBW, and the Samsung 860 Evo 250 has an almost double lifespan at 150 TBW. In addition to this, the more the TBW rating of a drive, the higher will be its warranty.
Must Read: How to Calculate SSD Lifespan in Years
Brand & Model
There are many companies and brands of SSDs available. The ones with faster read/write speed, higher cache memory, and a better controller perform better than the cheaper or budget solid-state drives. Also, expensive SSDs offer more features that include software support, firmware upgrade, encryption, and a higher warranty.
So, Which SSD should you Buy?
The most important thing to keep in mind when buying an SSD for your PC and laptop is compatibility. It is because if you have purchased an M.2 NVMe SSD and your motherboard does not have an M.2 slot or does not support M.2 NVMe SSD, but only M.2 SATA SSD then you will end up wasting your money. So, make entirely sure that the SSD you are getting is compatible with your Desktop or Laptop motherboard and also fits perfectly in it.
2.5-inch vs. M.2 SSD
If you are unsure whether your motherboard has an M.2 slot or not, then you must get a 2.5-inch SSD because nowadays every motherboard does come with a SATA port. If you are buying a SATA SSD for a Desktop, then it is always preferable to buy a 2.5-inch SSD. If your laptop comes with an M.2 slot that supports both SATA & PCI-E SSDs, then it is better to get an M.2 SSD because the SATA port can be used for a Hard drive, and you can have the best of both worlds, i.e., snappy OS and bigger data storage. However, if your laptop does not come with an M.2 slot but you want to upgrade to an SSD, then you have to replace your current hard drive with a bigger capacity SSD (500GB or more).
For desktop, if you want to use an NVMe SSD but your motherboard does not come with an M.2 slot (with PCIe SSD support) but has an extra PCIe x4 or higher PCIe slot then you can use M.2 PCIe Expansion Card for it. Some of the higher-end cards do support up to four PCIe NVMe SSDs using the PCIe x16 interface or slot on your motherboard.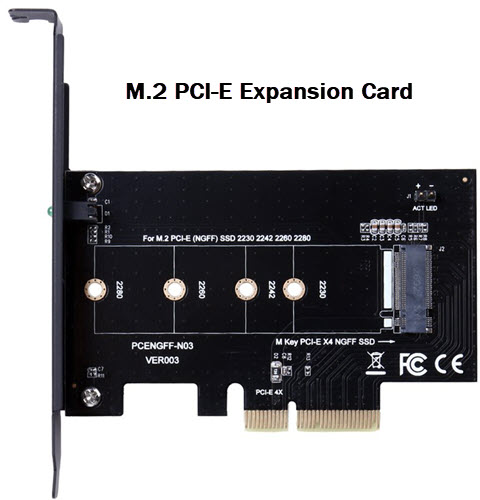 For Budget-Conscious Buyers
If you are on a budget, you should get a budget 2.5-inch SATA SSD and forget about the NVMe PCI-Express solid-state drives. Some reasonable budget SSDs are Kingston A400, Samsung 860 QVO, and SanDisk SSD Plus.
For Gaming
If you want an SSD for a gaming PC, then a decent 2.5-inch SATA SSD should be enough. It will reduce game loading times and maybe stuttering, which can be very frustrating with games with large maps. For gaming, a 500GB or 1TB SSD should be ideal because nowadays, game installs take too much space, and I have seen some games like Gears of War 4 taking above 100 GB space for installation.
For Work PC
If you are a professional and are into video editing, computer modeling, design (CAD / CAM), and photo editing getting an NVMe SSD will be better, given that your motherboard supports it. It can help in increasing productivity to a reasonable extent.
For Enthusiasts
For enthusiasts, NVMe solid-state drivers are the way to go, and that too is the PCIe Gen 4 ones.
For Laptop
If your laptop has an M.2 slot, then better get the M.2 SSD (SATA or NVMe). If it does not, then the only option left is the 2.5-inch SATA SSD.
Queries?
If you still have any doubts regarding which SSD is right for you, then you can ask me your queries in the comment section below.
(*This post may contain affiliate links, which means I may receive a small commission if you choose to purchase through the links I provide (at no extra cost to you). Thank you for supporting the work I put into this site!)