There is no doubt that mechanical keyboards are superior, reliable, and offer a better typing and gaming experience compared to rubber dome or membrane-based keyboards. However, selecting the right mechanical keyboard can be a tiring task because there are a variety of mechanical switches available from different brands and each switch has its own characteristics or behavior. The selection of the right mechanical switch is very important because if you choose the wrong one then it can impact your productivity, comfort, and overall experience for your particular tasks. So, to help you with this I am going to present a comprehensive guide on finding the best mechanical keyboard switches for your specific work or task.
Parts of a Mechanical Keyboard Switch
Below are the main parts of a typical mechanical switch. A standard Cherry MX type switch consists of housing, stem, metal contact points, and a spring. The color of the Stem denotes the switch color e.g. in the image below, the Stem color is Red which means it is a Red mechanical switch.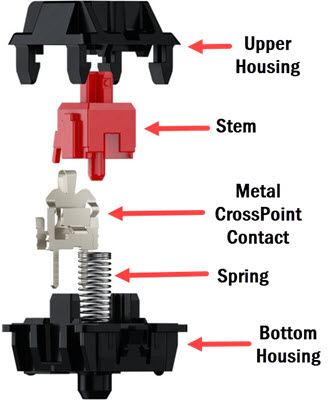 Mechanical Keyboard Switch in Action
Below you can see the working of a mechanical keyboard switch when it is pressed.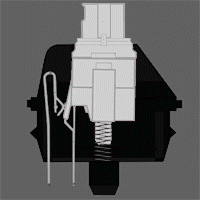 Important Terms Associated with Mechanical Keyboard Switches
Before we get started to know about the types of keyboard mechanical switches, you need to know about the various terms and parameters associated with mechanical keyboard switches, so that you can understand them better and can make a well-informed decision on finding the right mechanical keyboard for your specific requirement.
Behavior – Every mechanical switch type has its own unique feel, characteristics, and behavior. It means there is a difference in operating style of every mechanical switch and each type exhibits its unique behavior. A mechanical switch can be linear, tactile, or clicky.
Operating Force or Actuation Force – The operating force or actuation force is the minimum force required applied on the mechanical switch to register a keystroke on the computer. The point where the actuation happens is called the actuation point. The actuation force is different for different types of mechanical switches, e.g. the actuation force of a Red mechanical switch is less than Brown and Blue switches. The actuation force is generally measured in cN (centinewton) or gram force (gf), where 1 cN = 1.019716213 gf.
Pre-Travel Distance – The pre-travel distance is the distance traveled by the switch from its original or resting position to the actuation point position. The actuation point is typically found around the middle point or at half travel for most of the mechanical switches. The pre-travel distance is also different for different types of mechanical switches.  The pre-travel distance is measured in millimeters (mm).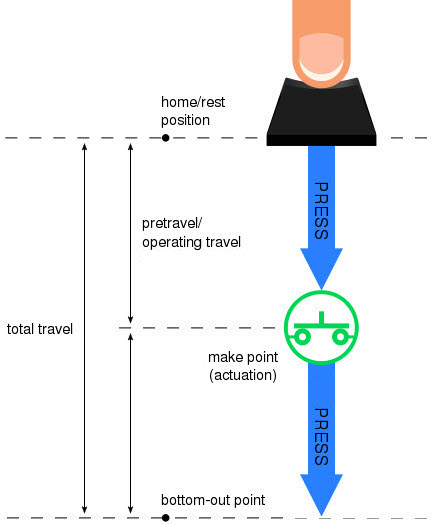 Total Travel Distance – It is the total distance traveled by the switch from its original or resting position to its fully depressed position or when the switch bottoms out. Like pre-travel distance, total travel distance also varies from one mechanical switch type to another. The total travel distance is also measured in millimeters (mm).
Life Span – The lifespan of a mechanical switch is the number of key presses or keystrokes a switch can bear (before failure) in its lifetime. The lifespan of almost all mechanical switches is in order of millions of keystrokes. For example, a traditional or standard Cherry MX Blue switch has a lifespan of up to 50 million Keystrokes.
Example: A Cherry MX Blue switch has a pre-travel distance of 2.2mm, a total travel distance of 4.0mm, and requires 60 cN operating force for actuation. On the other hand, a Cherry MX Speed Silver has a 1.2mm pre-travel, 3.4mm total travel, and requires 45 cN actuation operating force.
Mechanical Keyboard Switches Manufacturers & Brands
Here are the most common and popular brands of mechanical keyboard switches available from different manufacturers.
Cherry – One of the most popular and oldest manufacturers of mechanical switches. Cherry, a German computer peripheral-device maker is known mainly for its Cherry MX switches. Their mechanical switches are highly reliable, durable and deliver a great typing experience. The most popular Cherry MX switches are Cherry MX Blue, Cherry MX Brown, and Cherry MX Red switches but nowadays there are more varieties of Cherry MX switches available for specific needs or requirements. Most top brands like Corsair, Cooler Master, etc. use Cherry MX switches in most of their mechanical keyboards, especially the top-end ones. Cherry MX switches are comparatively expensive and so are their keyboards. Enthusiasts, hardcore gamers, and typists generally prefer mechanical keyboards with Cherry MX switches.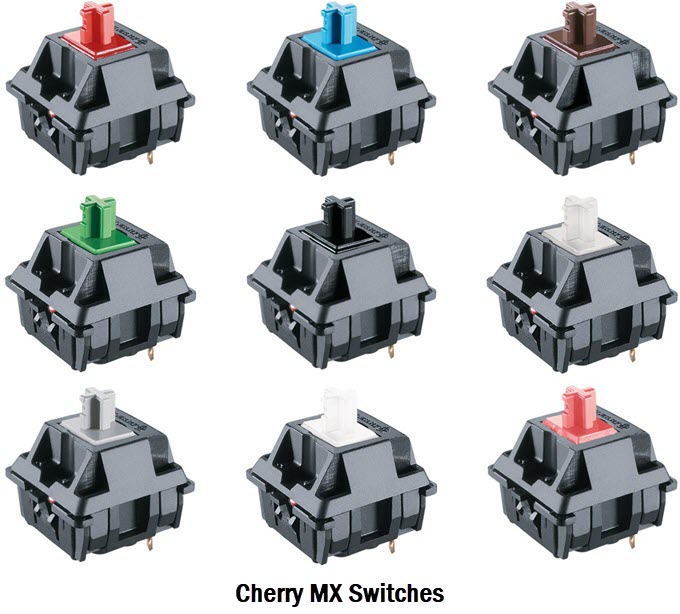 Kailh – Kaihua or commonly known as Kailh (Brand) is a Chinese manufacturer that not only makes mechanical switches for keyboards and mice but also makes buttons, sockets, and potentiometers. After Cherry, Kailh is one of the most popular manufacturers of mechanical switches and their switches cost cheaper than Cherry. Kailh offers a variety of mechanical switches that include blue, brown, red, silver, black, purple, etc. When it comes to quality and feel, Kailh switches come very close to Cherry and are sometimes preferred over the Cherry ones because not everyone has the budget to buy a mechanical keyboard with Cherry MX switches. Kailh also makes mechanical switches for popular gaming computer brands like Steelseries, Razer, and Logitech.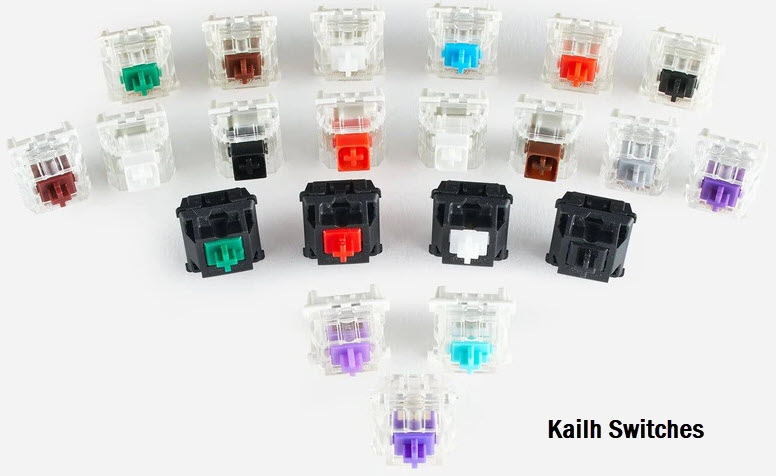 The Box switches from Kailh have a box-shaped stem and are IP56 dust and water-resistant. They are also RGB and SMD compatible and can fit MX keycaps.

Gateron – Another Chinese brand of mechanical switches that make Cherry MX Clones. Gateron mechanical switches are cheaper than Cherry MX and Kailh mechanical switches are targeted towards budget segment mechanical keyboards.  The most popular Gateron mechanical switches are blue, brown, red, yellow, and clear.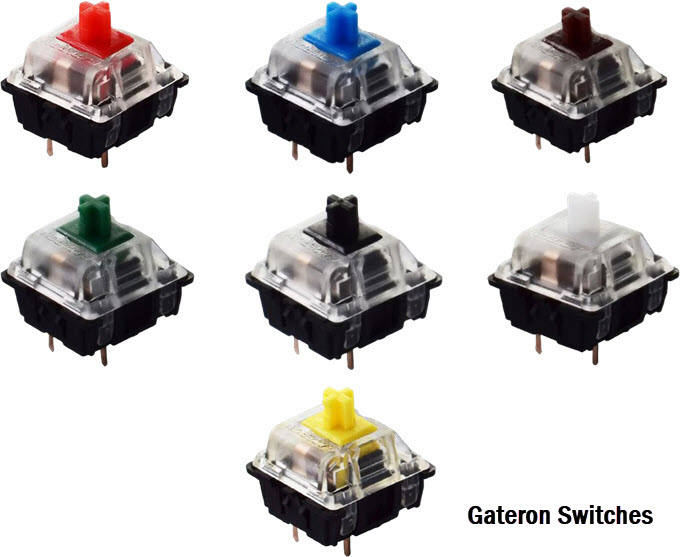 Greetech – Greetech is a Chinese electronics manufacturer that makes snap action, pressure, and keyboard switches. The mechanical switches from Greetech are Cherry MX clones and are pretty good in quality and feel. Like Kailh, Greetech also makes mechanical switches for Razer, which is one of the most popular gaming brands known for its gaming mice and keyboards. The most popular switches from Greetech are Razer Green, Yellow, and Orange.

HyperX – HyperX is the gaming brand of Kingston and is a relatively new player in the mechanical keyboard switches department. Recently, HyperX has come up with their Red, Aqua, and Blue switches that are basically Cherry MX clones of Cherry Red, Brown, and Blue switches, but with lower actuation points and travel distance.
Omron – A Japanese electronics company that makes a plethora of electronics components that include industrial robots, sensors, switches, industrial cameras, safety components, relays, control components, electric power monitoring equipment, power supplies and PLC, blood pressure monitors, digital thermometers, body composition monitors, pedometers, nebulizers, relays, switches, connectors, micro sensing devices, MEMS sensors, etc. Omron is mainly known for its mouse micro-switches. However, when it comes to keyboard switches then it makes Romer-G switches for Logitech and Gamma Zulu switches for Das Keyboard. Omron also makes other keyboard mechanical switches too and almost all of them have a proprietary design.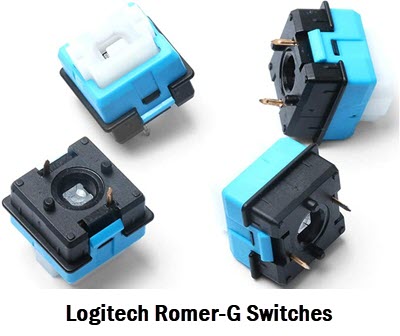 Outemu – One of the cheapest and budget-oriented mechanical switches that are mostly found in cheap or ultra-low-budget mechanical gaming keyboards. These switches are not good in terms of reliability, durability, feel, and over time they develop severe key chatter issues, which can be very frustrating and annoying for both gaming and typing.

Types of Mechanical Keyboard Switches
Here are the types of mechanical switches that you generally find in most mechanical keyboards. The stem color of a mechanical switch is the main parameter that identifies the switch type and provides information about the switch characteristics or behavior.
Linear Switches – Linear mechanical switches exhibit linear behavior or characteristics. These switches are not tactical and do not produce a clicky sound when pressed. Linear switches are fast compared to other switches and are mostly preferred for gaming purposes.
Tactile Switches – These mechanical switches offer a tactile feedback when the trigger happens. When pressing the tactile switch, you will experience a slight resistance or bump in the middle when the switch gets activated or actuation happens. Tactile switches are slower than linear switches but are faster than clicky ones.
Clicky Switches – Clicky mechanical switches produce a click sound when the switch gets pressed. A clicky mechanical switch is also tactile in behavior and gives both tactile and audible feedback compared to Tactile only switches. Clicky switches are slower than other switches, require more force for activation, and are mostly used for typing and coding.
Speed Switches – Speed switches are linear switches that have lower pre-travel distance, lower total travel distance, and require lower operating or actuation force. These switches are very fast to actuate and are preferred for eSports and fast-paced gaming. Speed switches come in silver color (stem part).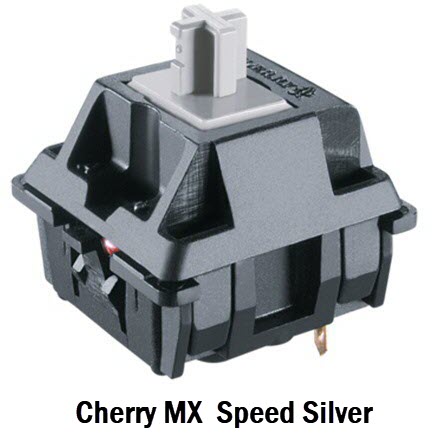 Silent Switches – Silent Switches are also linear switches having lower operating force but they are comparatively less noisy. These switches use some kind of damping in the housing that helps to minimize noise. The most common examples of silent switches are Cherry MX Silent Red and Cherry MX Silent Black.
Low Profile (LP) Switches – Low Profile switches are slim mechanical switches that have reduced height with extremely lower pre-travel distance. These switches are faster to actuate and are used in low-profile mechanical keyboards. Most low-profile switches are linear in characteristics but some may offer tactile or clicky feedback.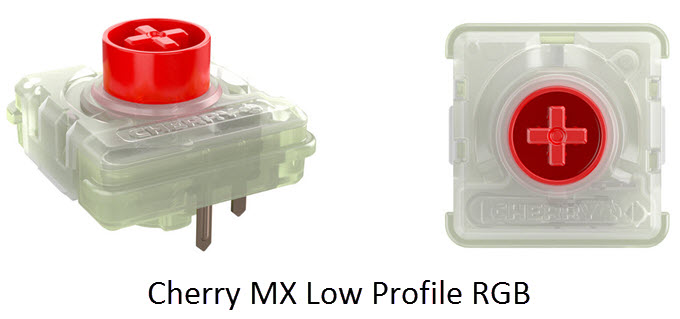 RGB Switches – RGB switches are the standard mechanical switches with transparent casing or housing that allows the RGB light to pass through. They also have a provision for mounting Surface Mounted (SMD) LEDs for RGB lighting. RGB switches can be linear, tactile, or clicky depending on their type. The most common types of RGB mechanical switches are red, brown, blue, and silver.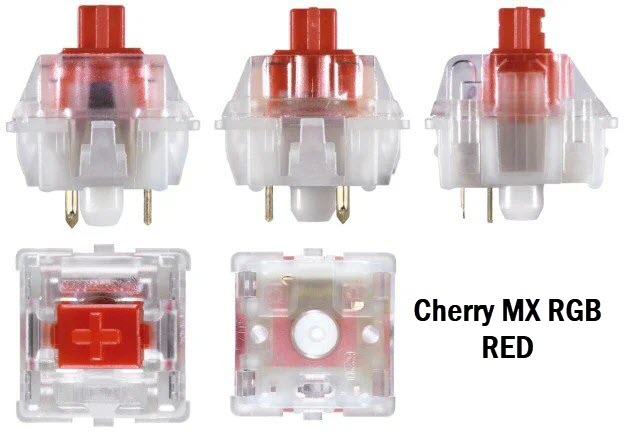 Proprietary Switches – Apart from traditional or standard Cherry MX design type switches, there are some other proprietary mechanical switches too like Romer-G switches for Logitech, Gamma Zulu switches for Das Keyboard, etc.
Unconventional Mechanical Switches
Below are some special or unconventional types of mechanical switches. In these switches, actuation happens not because of metal on metal contact but because of some other technologies involved.
Optical Switches – Optical switches are also mechanical switches and use light for actuation instead of metal on metal contact. They are said to be more reliable and can last longer. Some of the popular keyboard optical switches are Razer Optical switches, Corsair OPX RGB optical switches, Kailh Optical switches, and Gateron Optical switches.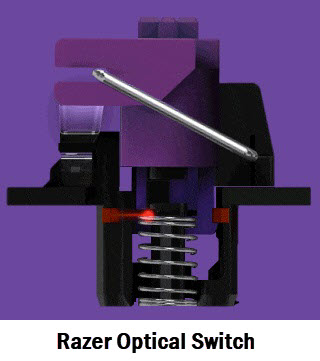 Topre Switches – Topre switches, a hybrid between a mechanical spring-based switch and rubber dome-based switch with a capacitive sensor. In these switches, the keypresses are registered or sensed electrically rather than physically (by closing a circuit). This is done to eliminate key bounce or key chatter, which is a common problem with traditional mechanical switches. The Topre keys require an actuation force of 45g (similar to Cherry MX brown switch) and are available in both silent and clicky variants. Topre Switches are the most expensive and are also one of the most reliable and durable switches around.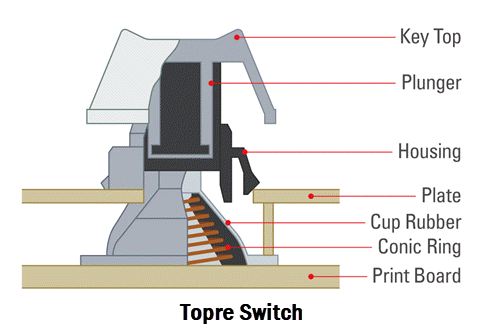 Mechanical Keyboard Switches Type & Classification
Classification of mechanical switches based on their stem color.
| | | |
| --- | --- | --- |
| Switch Type | Behavior / Characteristics | Best Suited For |
| Blue | Tactile and Clicky | Typing, Coding |
| Brown | Tactile | Typing and Gaming |
| Red | Linear | Gaming, Fast Typing |
| Black | Linear (Higher Operating Force) | Gaming and Typing |
| Silver (Speed) | Linear (Low Travel and Lower Operating Force) | Fast-Paced Gaming, eSports, FPS Gaming |
| Green | Tactile and Clicky (Higher Actuation Force except for Razer Green) | Gaming and Typing |
| Yellow | Linear and Silent | Fast Gaming and Typing |
| Orange | Tactile and Silent | Gaming and Typing |
| Purple | Tactile | Gaming and Typing |
| Aqua | Tactile | Gaming and Typing |
| White | Tactile and Clicky (Low Operating Force) | Fast Typing |
| Clear | Tactile (Mid Operating Force) | Gaming and Typing |
| Grey | Tactile (Higher Operating Force) | Gaming and Typing |
Important Note: The parameters like pre-travel, total travel, operating force, actuation point, and feel may vary from one switch to another even for switches with the same color. It is because of the difference in the quality of components (spring, plastic, metal) and design used by different manufacturers.
What mechanical switches to choose from?
So, if you are wondering what mechanical switches you should get for your specific requirements then below is the answer.
Typing – If you are a professional typist, coder, or looking for a mechanical keyboard solely for typing then it is better to go with the clicky switches like Blue, White, and Green. However, if clicky noise annoys you or others then you can go with tactile switches such as Brown, Black, Grey, etc. If you are a pretty fast typist and want switches that are light on operation then you should go with the White or the linear Red switches.
Office use – For office use, it is better to go with quiet switches such as Silent Red, Silent Black, Yellow or White Switches.
Gaming – For normal gaming, you can go with Red, Black or White switches. For eSports and fast-paced gaming when you have to register multiple keystrokes at a time and require frequent quick key tapping then you should opt for the Speed Silver switches.
Gaming and Typing – If you want a switch that can serve the purpose of gaming as well as typing very well then you should go with Brown, Green, White, Black, or Clear switch.
What Brand? – If you do not have any budget issues then it is better to go with a mechanical keyboard with the Cherry MX or even with the Razer or new HyperX switches. However, if you have budget issues then you can go with the Kailh, Greetech, or Gateron mechanical switches. The only mechanical switches that I want you to avoid are the Outemu switches because frankly, they are pretty bad in terms of durability and reliability.
See also:
Need Help?
If you are still confused about what switch to get for your specific needs then you can ask me in the comment box below.
(*This post may contain affiliate links, which means I may receive a small commission if you choose to purchase through the links I provide (at no extra cost to you). Thank you for supporting the work I put into this site!)