Graphics card is one of the most power-hungry components for any computer whether a gaming PC or a work PC. The power requirements of a graphics card depend on the GPU model used, because graphics cards with budget or entry-level GPUs consume less power, whereas mid-range and higher-end GPUs need significantly more power to operate. Entry-level or budget mid-range graphics cards draw their power from the motherboard's PCI-E x16 slot only, which can provide up to 75W of power to the graphics card, whereas powerful mid-range and high-end graphics cards are more power-hungry and require additional power from the PSU or Power Supply Unit in form of 6-pin and 8-pin PCIe connectors for their working.
It is very important to select the proper power supply for your graphics card because if you get an underpowered PSU then it will not be able to supply enough power to your graphics card and other components, causing restarts or can burn out too, and may cause damage to your other computer components including the video card. On the other hand, if you get a higher wattage or overpowered power supply then it will be just a waste of your money. Therefore, it is very important to find a proper balance between price and power consumption, so that you can buy the right power supply for your graphics card. So, here in this post, I am going to guide you on how you can choose a proper power supply unit (PSU) for your graphics card.
Check out:
How to Choose Proper PSU for Graphics Card
Here are the most important things that you must consider when getting a new PSU for your new graphics card.
Check Graphics Card Power Consumption
The first and foremost thing to do is to check your GPU or graphics card power consumption specified by the manufacturer on their website. All the GPU manufacturers or graphics card manufacturers list the power consumption and the recommended power supply for their graphics cards. For example, below you can see the recommended PSU for the Gigabyte GeForce GTX 1060 G1 Gaming 6G graphics card on Gigabyte's website. The recommended PSU specified for this card is 400W. You can look for this information for the graphics card you have or that you are going to buy. This will give you some idea about the wattage of the PSU that you will need for your graphics card or whole PC.

6-pin/8-pin PCI-E Power Connectors
If your graphics card requires external power connectors such as 6-pin or 8-pin PCIe connectors then you have to buy a power supply with these connectors included in it. Most budget-level graphics cards do not require external power from the PSU but powerful mid-range and high-end graphics cards do require 6-pin/8-pin PCI-E power connectors from the power supply. Also, it is better to buy a PSU with 6-pin/8-pin connectors even if your graphics card does not need them, because of future expansion. You can check this info on the graphics card manufacturer's website whether your graphics card needs 6-pin/ 8-pin power connectors or not.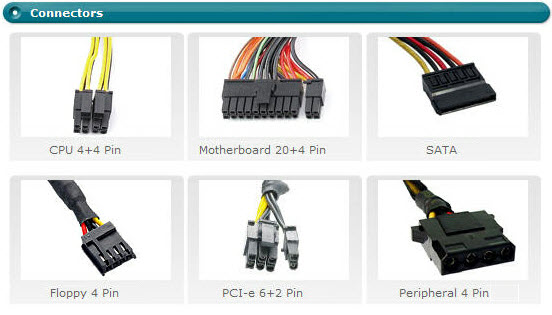 Check out: Best Low Power Graphics Cards without External Power
Look for Current on 12V Rail
Technically, the most important thing to look for in a PSU is the amount of current present on the 12V rail. 12 Volt Rail is the most important and it is the one that provides power to your main components that include a graphics card, processor, motherboard, hard drives, fans, etc. If you do not have sufficient current on the 12V rail of your power supply then you can face serious performance issues, restarts, and may end up burning your power supply and causing damage to your precious and expensive components. For a 400W PSU, it should be at least 30A, 40A for 500W, and so on. I am telling you this because I have seen many power supplies with higher wattages but very low current on the 12V Rail, so my advice is to avoid these cheap power supplies with a lower 12V rail current rating.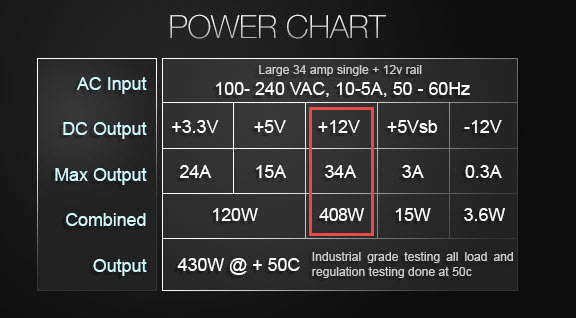 Tip: It is better to get a PSU with a single 12V rail over multiple or dual 12V rails because it is said that a single 12V rail provides better overall stability under heavy load.
Form Factor or Computer Case Size
Make sure the power supply you are getting should be able to fit in your computer case because you really don't want to face such issues afterward. For a normal ATX cabinet, a normal ATX PSU is good but for some mini-ITX cases, you need an SFX PSU and for slim low profile cases, you need a TFX PSU.
Go for Branded
Always go for a branded power supply if you care about the performance and lifespan of your computer components. Cheap Unbranded Chinese power supplies may attract you at first, but in the end, they are nothing but trouble. Branded PSUs may cost a little higher but they are very reliable and provides you with accurate current, voltage, and power that are needed for the long life of your PC hardware components. Some of the good brands of power supplies are Seasonic, Corsair, Cooler Master, Antec, EVGA, and Thermaltake.
Assess the Total Power Consumption of your PC
Lastly, you have to assess the total power consumption of your PC if you have more hard disks or case fans installed in your PC. You can do this by using power supply calculator tools available online or can ask here. If you have a normal PC with two case fans, and two hard drives then you can go with the same wattage power supply that is recommended by the graphics card manufacturer on their website. If you have extra components installed then you can add 100W to the PSU wattage which is recommended by your graphics card manufacturer.
Check out: Best Fanless PSUs for Building Silent PC
80 Plus Certification Rating
This is really not an important factor but if you have an 80 Plus Certification power supply then it will be more power-efficient compared to the ones without it. This means your PSU will draw less power compared to the PSU with the same wattage. The various 80 Plus certification ratings in decreasing order for a power supply are 80 Plus Titanium, 80 Plus Platinum, 80 Plus Gold, 80 Plus Silver, 80 Plus Bronze, and 80 Plus White.

See also:
Queries?
If you are still unsure of what capacity power supply you should get for your graphics card then you can ask your query by completely listing your budget and PC specs including the model of your graphics card. I will be happy to recommend you the best PSU for your graphics card or gaming needs.
(*This post may contain affiliate links, which means I may receive a small commission if you choose to purchase through the links I provide (at no extra cost to you). Thank you for supporting the work I put into this site!)