'PSU Fan Not Spinning' is a very common question asked by many users. Every PSU or Power Supply Unit comes with a fan to keep its internal components cool, especially when the PSU is operating at high loads. However, some Fanless PSUs do exist, but they are very rare and are also quite expensive compared to a PSU with a fan. Generally, these passive power supplies are not preferred for gaming and high load conditions, because they can get very hot under full load and they also rely on the PC case airflow for cooling. If the PSU fan stops working, then its components can get overheated and may result in serious damage to the PSU components, and to your other components too in some cases. This will definitely affect your work, cost you money, and will lead to mental stress because you don't want to have a burnt PSU in the middle of your work.
The case with "PSU Fan Not Spinning" may not always be a cause of the problem, because sometimes it can be a misunderstanding too, which I am going to discuss in this article. However, if it is a problem regarding hardware failure, then it is a serious issue and should be resolved as early as possible because you don't want to fry up your power supply and the other components inside your computer case. So, here I am going to list the various causes with their solutions for this 'PSU Fan Not Spinning' problem.
Read also: PSU Fan Up or Down? Find out here
Why is your PSU Fan Not Spinning?
Here are various causes with their proper fixes regarding the 'PSU Fan Not Spinning' issue, and they apply to all computer power supply units of any form factor or size, and from any brand that includes Corsair, EVGA, Thermaltake, Seasonic, Antec, etc.
Semi-Passive Cooling Mode
Nowadays, most mid-range and high-end PSUs offer a semi-passive cooling mode for quieter operation. In this mode, the fan would remain off or stop spinning under low loads or during idle, and when the load & the temperature of the PSU increases, the fan starts automatically to keep the PSU cool and prevents the components from overheating. These high-quality power supplies also come with a very quiet fan that is dead silent, even during full load, and can easily be mistaken for the fact that whether it is spinning or not. This semi-passive cooling mode is also called Zero RPM mode, Semi-Fanless mode, and 0dB mode, depending on the manufacturer of the PSU. For example, in some power supplies, the fan starts spinning at 30% load, for some at 40% load, and for some at 15% load, as it varies with the PSU manufacturer and the amount of cooling required for the particular model of the PSU. Below, you can see the fan curve graphs of some power supplies from different manufacturers that including Corsair, Cooler Master, and Seasonic.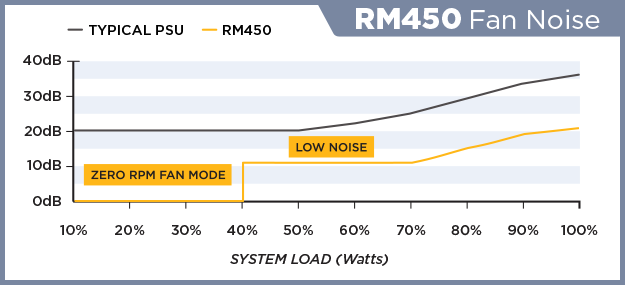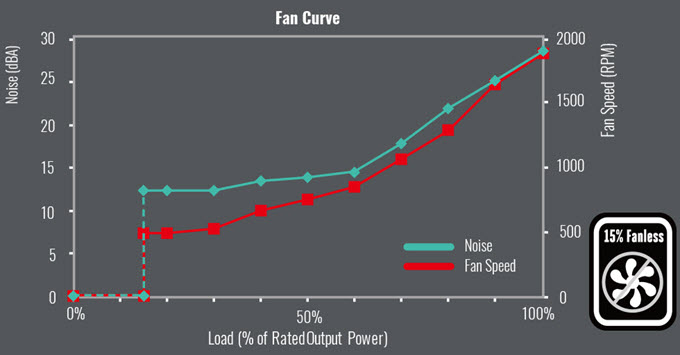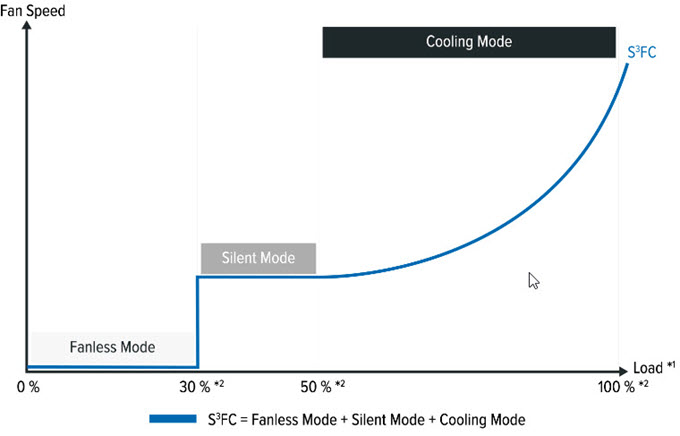 So, if your PSU does not spin during idle or during low load conditions, and starts spinning at higher loads, then there is nothing to be worried about as this is its normal way of working. However, if the fan does not spin at all at high load, especially when playing heavy demanding games or running benchmarks, then it is a sign of worry and you should take appropriate measures to fix this issue as soon as possible.
Faulty Fan
A faulty fan is one of the most common reasons for the 'PSU Fan not spinning' problem. The fan can become faulty either because it is jammed due to dust, or due to hardware failure that includes worn-out bearings, or because of some component failure in the fan. In all these cases, the best solution is to replace the fan with a new one. Yes, you can clean out the faulty that has been jammed due to dust and debris, but still, its performance will not be up to the mark and it will certainly make noise at some point in the future.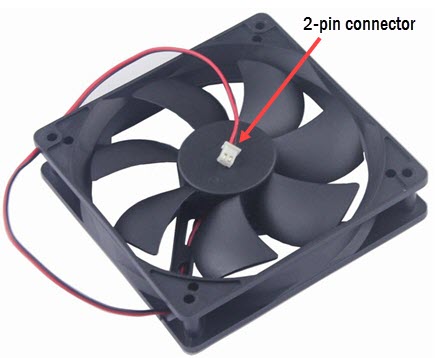 Most of the modern-day ATX PSUs come with 120mm, while smaller form factor SFX and TFX power supplies come with 92mm and 80mm fans respectively. You can easily find good-quality aftermarket fans online for your PSU. It is better to get a fan with good static pressure for your PSU for better cooling performance, as it pushes air with greater force. Most of the fans in PSU have a 2-pin connector, so you can either buy a 2-pin connector fan directly or can convert the 3-pin connector fan to a 2-pin connector by identifying the correct positive and negative wire. Generally, the red or yellow wire is positive, and the black wire is negative. If the fan on your PSU is soldered then you can either solder down the new fan, or you can join the wires by cutting the older fan wires from the middle.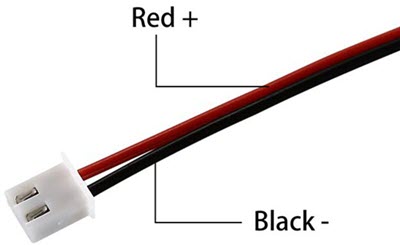 Check out:
Note: Proper care and precautions should be taken while opening the PSU because it contains high-power components that may have charge left in them, and you may electrocute yourself if you are being very careless. The main components that you should be worried about are the transformer and capacitors. However, if you are being watchful and know what you are doing, then replacing a PSU fan is a relatively easy task. If the PSU is new and is under warranty, then you can RMA it and get a free replacement.
PSU Fan making noise
If your PSU fan is making a whining or grinding noise then you can lubricate the fan bearings with a light oil e.g. machine oil. However, it is much better to replace the noisy PSU fan, because most probably, its bearings have worn out and it will trouble you again, even if you have lubricated it for once.
Other Reasons
Other reasons include the loose connection of the PSU fan connector to the 2-pin header (located on the PCB of the Power Supply) or some component failure (capacitor, resistor, etc.) in the circuitry that is involved with the running of the PSU fan.
PSU Fan Loud
If your PSU fan is annoyingly loud right from the beginning, when you first bought it, then it is better to replace the fan with a quieter one. You can replace it with Noctua fans, because they are one of the quietest fans in the market, and offers good overall performance.
See also:
Any queries?
If you have got any queries regarding this topic, then you can ask them in the comment section below.
(*This post may contain affiliate links, which means I may receive a small commission if you choose to purchase through the links I provide (at no extra cost to you). Thank you for supporting the work I put into this site!)