GPU fan not spinning is one of the most serious problems faced by some graphics card users. A GPU fan is used to cool down the heatsink of the graphics card and prevents it from overheating. Almost, all the graphics cards come with a heatsink and fan (HSF) combination for cooling. However, there are some passively cooled graphics cards too that come only with a heatsink (without a fan) for their cooling, but they are very few in number, and most of them are entry-level or budget graphics cards that can sustain passive cooling, because of their less heat generation. These cards are not for high-end gaming and are basically used in HTPC or for building a silent PC for work, and for light gaming. Moreover, some high-end graphics cards come with waterblock for custom liquid cooling and the hybrid ones employ an AIO cooler in combination with a blower-type fan.
A fan is an active cooling component of a graphics card and if it is not spinning at all or not spinning properly, then it is a serious issue that should be resolved as quickly as possible. If your fan fails to spin at a high load then your GPU and even VRAM & VRM will overheat and can throttle down to lower speeds or frequencies card, and in extreme cases, the card can shut down to prevent itself from any damage. In some serious cases, overheating may result in damage to some of the graphics card components. So, identifying the cause of this 'fan not spinning problem' should be your first priority, so that you can take appropriate steps to fix it. There can be several reasons or causes that may result in a graphics card fan not spinning. Some of them are related to hardware or software faults, and some of them can be due to some misunderstanding by the users. So, here I am going to list down list almost every possible cause for GPU fans not spinning problems along with their solutions.
Why GPU Fan is Not Spinning?
Here are the various reasons and their solutions for the 'graphics card not spinning' problem. In most cases, the GPU works when the fan is not spinning, but you can face some issues where both fan and GPU are not working, or when fans are working but GPU is not working. Below mentioned guide applies to both NVIDIA and AMD graphics cards.
Semi Passive Cooling Mode
Without getting into any panic mode, first, you have to check whether the fans of your graphics card are not spinning at all or they are spinning when playing a game or during a GPU-intensive workload. This is because some graphics cards come with semi-passive cooling mode, where the fans stop spinning during idle or in low load conditions unless a certain temperature threshold limit is reached, and they start automatically when the load on the GPU increases or the factory-specified temperature threshold limit is crossed. Usually, this temperature limit is around 60°C for most of such cards. Some of the prominent examples of such graphics cards include the Gigabyte Gaming series (3D Active Fan technology), Asus ROG Strix series, MSI GAMING X, and ARMOR series (ZeroFrozr technology) cards, etc. So, in this case, there is nothing to worry about as it is a built-in feature of the card, which is incorporated to provide a cool and quiet operation. However, if the fan is not spinning under high GPU load or when running heavy games then it is something to be worried about, and have to identify the real cause of it.


Note: In semi-passive cooling mode, the fan may spin during powering on the PC and then stops during idle or low workload situations. In some graphics cards, you can also disable the semi-passive cooling mode and switch to active fan cooling mode via bundled graphics card software or utility for fans to spin all the time. This does improve your GPU thermals when the card is idle or when the GPU load is low. If the fan does not start during playing a heavy game or high GPU load then you can have a faulty fan or another issue. You can also test the fan operation by running GPU benchmarking softwares, such as the Heaven benchmark.
Check PCIe Power Connectors
If your graphics card requires supplementary power through PCIe connectors (6-pin/8-pin), then make sure they are connected to the graphics card from the PSU. Sometimes, a loose or bad 6-pin/8-pin PCIe power connector can also be the cause of this problem. So, make sure that the PCI-E connectors and the PSU is working fine before getting to another step. You can check the output voltage of the PCIe connector by using a digital multimeter, and it should read ~12V. If your PSU and PCIe power connectors are okay then you should look for another cause.

Check out: Best Budget Power Supply for Graphics Cards
Display Driver Issue
A bad or faulty driver is also a possibility that can cause your graphics card fan to stop spinning or make it behave in a strange way. So, if you are facing this problem just after installing a newer driver or another version of the driver then you must roll back to the older driver. I have said multiple times in this blog that the latest drivers are not always the best for all graphics cards, and you should always test and play around with different versions of graphics drivers to see which one performs the best for your card. Also, before installing any newer or even older driver, you must completely remove the currently installed driver using the DDU or Display Driver Uninstaller, which is the best utility to remove every trace of the installed graphics driver, whether it is an Nvidia or AMD video driver.
Windows Update
A recent windows update may also result in this problem, as I have seen this for some people. So, if you have recently installed an update and after that, you are facing the "GPU fan not spinning" problem then you can revert to the older version or update, and see if this solves the problem or not. If it does not solve the issue then it is most likely that the problem is due to another issue.
Corrupt VGA BIOS
A corrupt GPU or VGA BIOS can also cause the GPU fans to spin improperly or not spinning at all. It is very rare for a GPU BIOS to get corrupted, but it is not impossible and should be on your checklist. Here the only thing you can do is to reflash the GPU BIOS to the original one or you may also update the GPU BIOS to a more recent one. Below, is a great resource on GPU BIOS update and the tools required for this task.
Must Read: GPU BIOS Update Tools & How to Flash it
Check GPU Fan Wire / Connector
Check the GPU fan wire and its connector to make sure that the wire is not damaged and the connector is fitted properly. It may happen that due to heat where the wire insulation gets melted, and are getting short, causing the fan not to spin.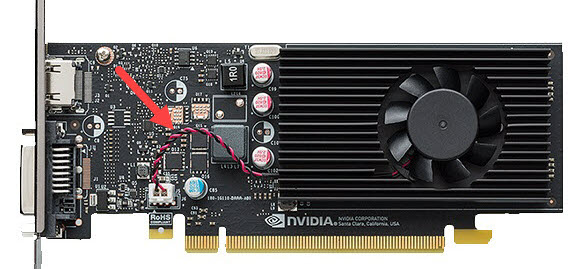 Faulty Fan
The most common cause of GPU fan not spinning problem is because of a faulty fan or fan failure. Here, the fan has gone kaput and the only solution to fix it is by replacing it with another similar fan. You have to buy a fan that has the same dimensions, voltage rating, mounting holes, and connector, otherwise, it will not fit on your graphics card. Nowadays, it is not that hard to get the GPU replacement fan, because they can be found pretty easily on online or eCommerce sites. However, you must know everything about your graphics card fan, so as to be completely sure which one will fit on your card. You can easily get an aftermarket GPU fan for popular graphics card models such as GTX 1050 Ti, GTX 1060, GTX 1070, GTX 1080, Radeon RX 570, and Radeon RX 580, etc. online. I have written a very descriptive guide on how to select and replace the GPU fan, which you can read by going through the link below.
Must Read: GPU Fan Replacement and Selection Guide
One GPU Fan Not Spinning
If only one of your graphics card fans is spinning and the second GPU fan is not spinning then most likely it is damaged or faulty, and you have to replace it. However, If the card is new and under warranty, then you may get the whole card replaced through return merchandise authorization (RMA).
Fan Spinning Slow
If your graphics card fan is spinning slowly at idle or during low GPU load then it is completely normal, because, in most modern-day graphics cards, the fan throttles down to spin at lower speeds (50% or less), when the GPU temperature is low. This is done to reduce fan noise, to extend the fan life and a small amount of power can be saved due to this. The fan speed increases automatically or dynamically when you play a demanding game or use an application or software that increases the load on the GPU. Below, you can see that the fan of Zotac GTX 1050 Ti OC is spinning at 45% speed during idle.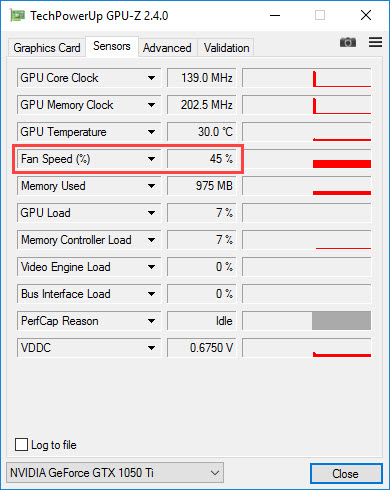 Fan Spinning Slow & Making Noise
If your fan is spinning slowly then it is either very dusty or its bearing needs lubrication or they are out of life. Here, the first thing to do is to clean the fan using an electric air duster and then by a brush. If the fan is making loud annoying noises, then you can lubricate its bearing slightly with light motor oil or sewing machine oil. Do not use WD-40 for lubrication because it will not do any good. However, my personal recommendation would be to replace the noisy fan that is spinning slowly or making noise because of its worn-out bearing.

Buy Zoom Spout Sewing Machine Oil
Fan Not Spinning + No Display
If your GPU fan is not spinning and you are also not getting any display or getting a black screen, then re-seat your graphics card by removing it and plugging it again in the PCIe x16 slot properly. Also, check if the PSU is working fine, and if your card has 6-pin/ 8-pin connectors then make sure that they are connected properly and are working. You also have to check your display cable (VGA/HDMI/DVI/Display) that whether it is connected properly to both the ends i.e. of the graphics card and the monitor. You can also check the complete graphics card troubleshooting guide below that discusses the various problems associated with the graphics card, with their proper solutions.
Must Read:
Fan Spinning but GPU not working
If your GPU fans are working, but you are not getting any display, then check the display cable connection at the graphics card's and the monitor's end. Also, try using another display cable in another port. If then also, the display is not showing then you might have a faulty GPU with some component damage (resistor, capacitor, VRM, etc.) or it could be due to a faulty GPU BIOS. In case of component damage, you have to get it repaired from the service center or from a good third-party repair shop. If the card is under warranty, they get it replaced. On the other hand, if the problem is with the VGA BIOS, then try re-flashing it or updating it to a newer one.
GPU Fan not spinning at startup
If your GPU fan is not spinning at startup then it is a possibility that the fan is faulty and needs to be replaced. However, you check the fan using MSI afterburner or manually by connecting to a 12V DC power supply or adapter.
How to Check whether GPU Fan is Spinning or Not?
Here are the various ways to check whether your graphics card fan is spinning or not.
Using MSI Afterburner
MSI Afterburner is the best software for graphics card overclocking and monitoring. Using it, you can also check to see whether the GPU fan is spinning or not. Download the MSI Afterburner from the link given below, install it, and then set the fan speed to manual at 70% or 100% to check whether the fans are spinning or not. If the fans are spinning at different speeds, then there is nothing wrong with the fan. However, even after setting up the fan speed to 100%, if your fans don't work, then you have to check it using the physical way by supplying power to it from an external source.
MSI Afterburner also allows you to set your custom fan curve and profile using it if you don't like the factory setting fan curve or you don't want the semi-passive cooling mode of the card, where the fans stop working during idle or at low GPU loads. Using MSI Afterburner, you can also overclock your graphics card and also monitor your game frame rate, GPU usage, CPU usage, RAM usage, VRAM usage, GPU & CPU temperature, and more.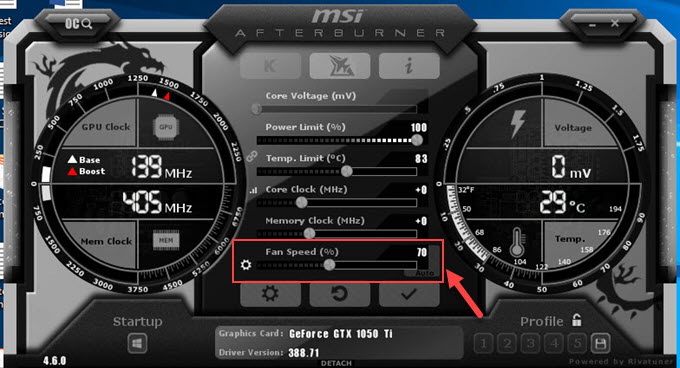 Using 12V DC Supply / Adapter
You can check your fan physically by powering it using a 5v or 12V DC adapter, depending on the fan voltage. Here, you may have to remove the heatsink of the card to get access to the fan power connector. The power connector can be 2-pin, 3-pin, or even 4-pin, depending on the graphics card manufacturer. On the connector, the red or yellow wire is positive and the black is negative. Now take a normal 12V DC adapter and connect its positive and negative wire to the positive and negative ones of the GPU fan connector. If the fan spins, then it is okay and in working condition, but if it doesn't then you have a faulty fan, which has to be replaced.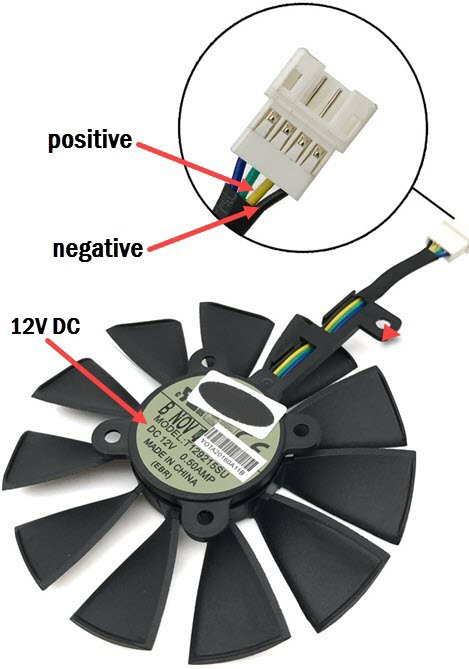 Generic DC 12V Adapter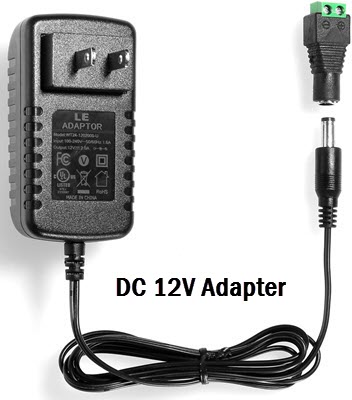 Buy LE Power Adapter, 2A, AC 100-240V to DC 12V
Note: You can find the fan voltage written on the fan itself. Most of the GPU fans work with 12V only. Also, you can use any 12V DC source to power the fan for checking purposes.
Must Read: Find out what Graphics Card do you have in your PC
See also:
Any Questions?
If you are still facing issues regarding the GPU fan, then you can ask me your queries in the comment section below, stating all the necessary details of the problem.
(*This post may contain affiliate links, which means I may receive a small commission if you choose to purchase through the links I provide (at no extra cost to you). Thank you for supporting the work I put into this site!)