(*This post may contain affiliate links, which means I may receive a small commission if you choose to purchase through the links I provide (at no extra cost to you). Thank you for supporting the work I put into this site!)
Knowing about FPS or Frame Rate in games helps you to assess your graphics card performance in a particular game. If your game is lagging considerably then you can use this FPS data to tweak your game"s graphics settings and can increase the fps for smoother gameplay. But the question here is how to measure the fps in games? Well the answer here is by using the third party FPS measuring software. There are only a few such tools available that can be used to measure frame rates in games and here I am going to discuss them for you.
How to measure FPS using these softwares?
It is very easy to measure fps in games using benchmarking softwares. To measure FPS, first, you have to launch the software and then enable the FPS mode. Then run the game while the fps software is still running. After that, the real-time fps will be shown on the top corner of your computer screen. These softwares do offer shortcut keys or hotkeys for various functions that include video capture, screenshots, etc.
Top Softwares to Find FPS or Frame Rate in Games
Here are the best realtime benchmarking tools for measuring fps in games.
Fraps
Fraps is the most popular software for measuring fps in games. I think it is one of the oldest real-time game benchmarking tools available. Fraps can do much more than just measuring Frames Per Second (FPS) in games. It can be used for screen capture (screenshots) and recording realtime videos in games. Fraps can capture audio and video up to 7680 x 4800 resolution with frame rates from 1 to 120. You can play these recorded videos in Windows Media Player or any other good Media Player.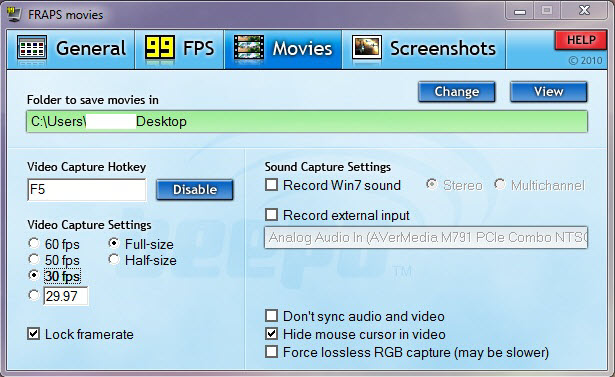 Fraps works with both OpenGL and DirectX games. There were times when Fraps used to be completely free and but now it is not a freeware and you have to pay some amount to buy the full version. The free version comes only with very limited features and restrictions which may not enough for many users. Fraps works only on Windows and you can download it from below.
Bandicam
Bandicam is the best alternative to Fraps. Just like Fraps it can measure Game FPS, take screenshots and record realtime game videos. It is a lightweight program and consumes little resources. Bandicam works with all the graphics technologies that include DirectX, OpenGL, and Vulkan.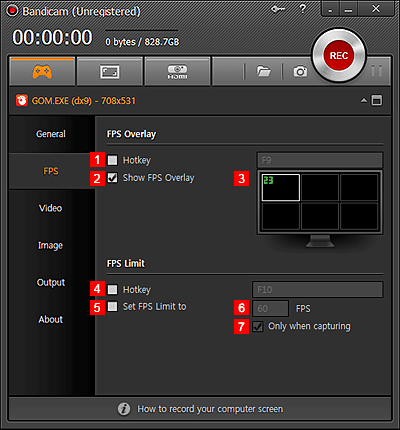 Bandicam can record videos in 4K resolution with up to 120 frames per second. It supports various video and audio codecs that include H.264, Xvid, MPEG-4/1, MJPEG, AVI, MP4, AAC, PCM, and MPEG-1 Layer II. It also provides Hardware-accelerated game recording software and supports Nvidia CUDA/NVENC H.264 encoder, Intel Quick Sync video H.264 encoder, and AMD APP H.264 encoder. Bandicam includes continuous image capturing and the supported image formats are BMP, PNG, and JPEG.
Bandicam supports Windows and is available as both a free and paid version. The free version comes with limitations while the full version has all the features that you need for unlimited video recording. You can download Bandicam from the link given below.
Action
It may be a less heard name but Action is another very good game recording and benchmarking software for gamers and hardware enthusiasts. It comes with tons of features that you may not find in the other benchmarking softwares.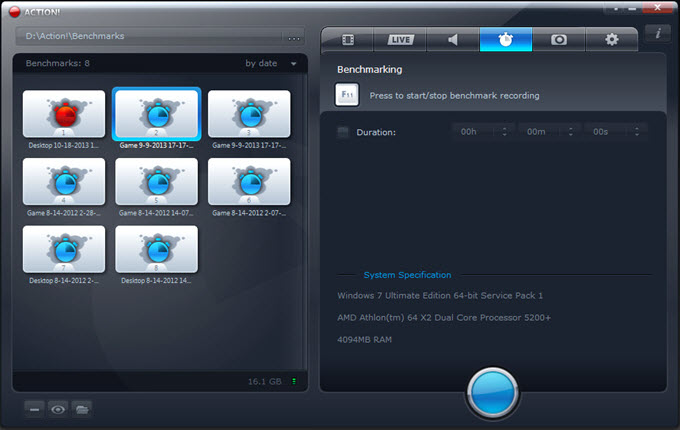 Action can be used for FPS benchmarking, capture screenshots and record game videos in HD and 4K resolution. It supports Nvidia, AMD and Intel graphics cards or video adapters. It also lets you to control game recording from your android smartphone by using the free Game Recorder RCU app.
Action can let you your record windows desktop, export screen, and gameplay recordings to popular formats & devices and also upload them to youtube or Facebook. You can also add live commentary or webcam pictures to your screen and gameplay recordings.
Action supports DirectX 8/9/10/11/12, OpenGL. The various video and audio codecs supported are FICV (Fast Intra Compression Video – own Mirillis codec), H.264/AVC, H.265/HEVC, Linear PCM (Stereo/5.1) (AVI), AAC-LC (Stereo/5.1) (MP4). For screenshots, it supports BMP, JPG, PNG formats. Action works only with Windows and you can either download the free 30 trial version or can purchase it for full features and functionality.
MSI Afterburner
MSI Afterburner is very popular and one of the best overclocking tools available for graphics cards. It includes in-game FPS counter using which you can record real-time frame rates in your games. The FPS will be shown as OSD (On Screen Display) on the top corner of your computer screen.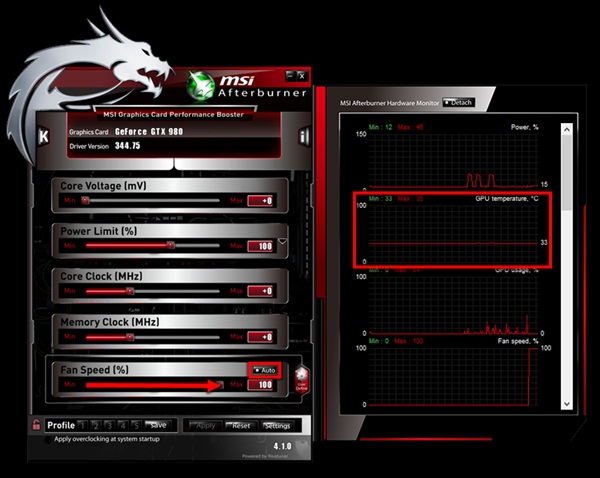 MSI Afterburner also includes video capturing capability and supports H.264 codec and WMV and AVI file formats. MSI Afterburner works with windows and is completely free to download and use without any restrictions. You can download it from the link given below.
See also:

Final Words
Well, here I have provided you the list of best graphics card benchmarking softwares that you can use to test your GPU for stability and performance. If you have queries regarding them then you can ask me by leaving a comment below.