It is always better to know the technical details or complete specifications of the graphics card you own. It will help you to know your card better, and its capabilities and this data will also help you in upgrading your graphics card to a newer one in the future.
So now the question is how to know the complete details about your graphics card? Well, the answer here is by using the graphics card information tools available on the internet. These system info tools can tell you each and every technical detail of your graphics card starting from GPU name, GPU architecture, no. of transistors, memory type, memory interface, memory bandwidth, etc. Here in this post, I am going to list down the best GPU info utilities or graphics card info software so that you can know your graphics card better.
Check out:
Top Graphics Card Info Tools & Utilities
Here are the best graphics card info tools and utilities for getting detailed information and specifications of your graphics card. These graphics card info tools can be used with both NVIDIA and AMD Graphics cards. Also, they are completely free to download and use.
GPU-Z is one of the best free utilities to find out the important details of your graphics card. This small and lightweight GPU information utility supports Nvidia, AMD, and Intel graphics cards. This utility will only show the details of the graphics cards and not the other hardware installed in your computer. It can tell you about the graphics card GPU name, fabrication process used, release data, no. of transistors, pixel shaders, memory type & name, GPU BIOS version, GPU & memory clock, memory bandwidth, and more. If you have overclocked your graphics card then GPU-Z can show both the default and overclocked frequencies.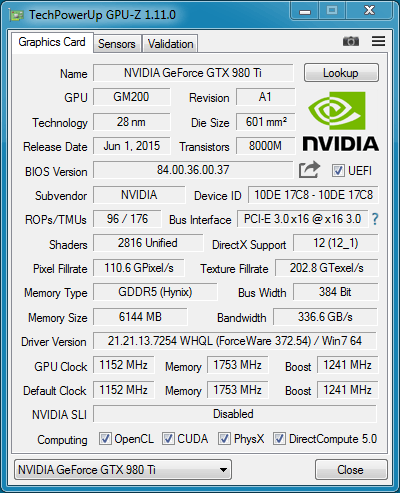 It can also read the various sensors on your graphics card and tell you about the GPU temperature, voltage, fan speed, TDP, GPU & memory load, and so on. It has an inbuilt screenshot feature by which you can capture the data shown by it on your computer screen. Another good feature about this tool is that it can create a backup of your graphics card BIOS which can prove handy in some situations. It supports Windows XP / Vista / Windows 7 / Windows 8 / Windows 10 (32-bit and 64-bit version).
GPU Caps Viewer is another very good graphics card information utility to display all the information about your GPU or graphics card. In fact, it displays much more information than the very popular GPU-Z utility. GPU Caps Viewer tells you about your graphics card GPU Name / Model, GPU Cores, VRAM, GPU BIOS version, GPU Temperature, GPU TDP, GPU Load, GPU TDP or power, GPU & Memory Clock, Device ID, Video Driver version installed and detailed information about the OpenGL, OpenCL, Vulkan and Pixel Processors for your GPU.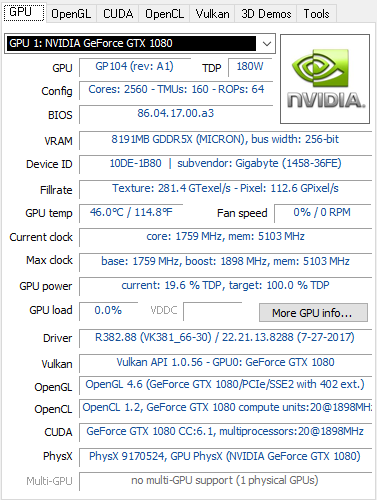 It includes tools to check the performance of your GPU in OpenGL and OpenCL graphics APIs. Also, it includes GPU Stress Test functionality (GPU Burner) to assess the stability of your graphics card during overclocking or in other conditions. This GPU utility is available for free for Windows OS (XP/Vista/7) and you can download it from the link given below.
HWiNFO or Hardware Info is a complete hardware monitoring, analysis, and system information tool. It is a very popular hardware information tool that can provide you with the complete hardware details of your computer including the graphics card. The sensors feature can tell about the temperature, voltages, and fan rpm of various components inside your computer. Other features include System Health Monitoring, Reporting and Alerting, Customizable Table, Graphs, Tray, Gadgets, OSD, and Extensions.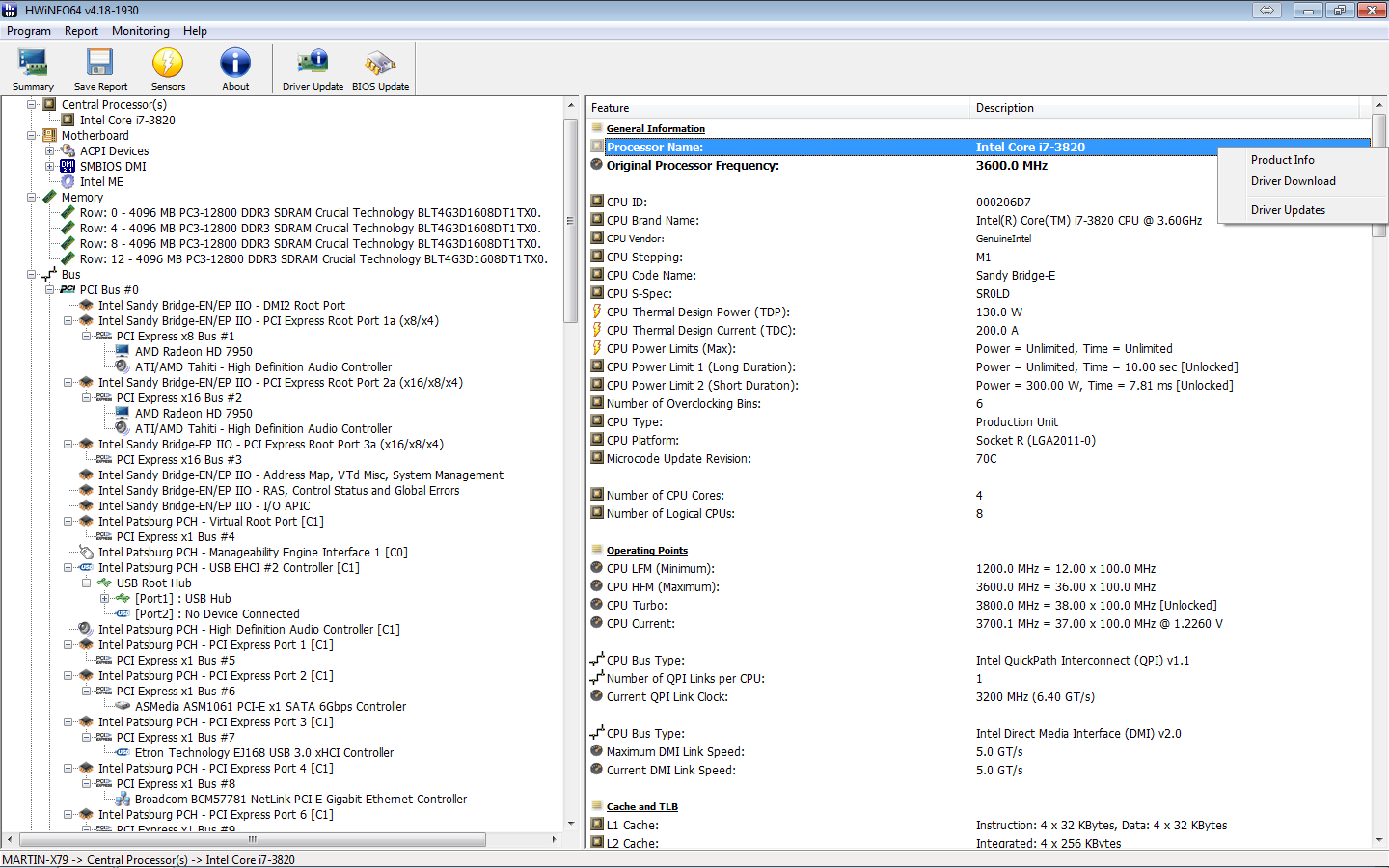 HWiNFO supports all the latest processors, graphics cards, and motherboards and is available for free to use and download. It does not consume much space on your hard disk and supports 32-bit and 64-bit versions of Windows. In all, it is a complete hardware information and monitoring tool that is a must for every computer user.
ASTRA32 is an advanced system information tool that provides complete details about your hardware and software. It is an all-in-one system info tool and is not restricted to any specific component. It can provide you the information about your graphics card but it is not as detailed as provided by GPU-Z. It also includes a hardware monitoring feature that can be used to monitor the important components inside your computer.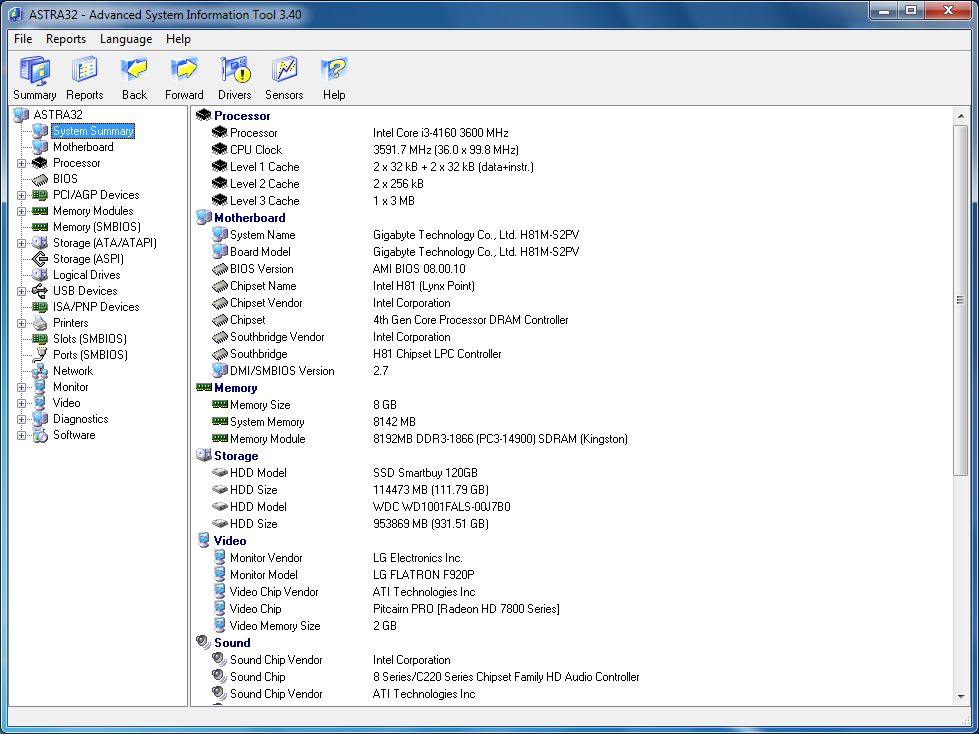 It can read the sensors on any device and report you with the relevant information. Other features include HDD Diagnostics and Drivers Troubleshooter. It supports both 32-bit and 64- versions of Windows and is available in Installer as well as Portable form. You can download this system information tool from the link given below.
SiSoftware Sandra is a very popular system information and benchmarking tool for Windows computers and servers. Just like ASTRA32, it can tell you about the hardware as well as software details of your computer. The Lite version is free to download and use while other versions are paid and you have to buy them.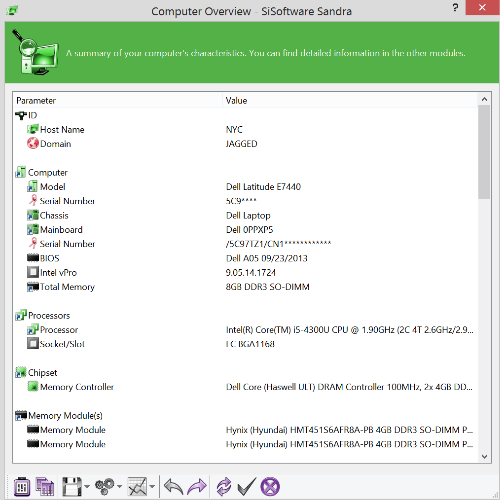 SiSoftware Sandra Lite supports all the latest hardware including processors, motherboard, and graphics card. It supports both Nvidia and AMD graphics cards and can tell you more about them. The Free i.e. the Lite version is more than sufficient for most of the users to know about the graphics card details or system details. It supports Windows 32-bit and 64-bit versions and you can download the free or Lite edition from the link given below.
Download SiSoftware Sandra Lite
Speccy is a small and lightweight system information tool for Windows PC. The UI (User Interface) is quite simple and the information layout is very clean. The tool gives you all the important information of all the devices installed in your computer including CPU, Motherboard, RAM, Graphics Cards, Hard Disks, Optical Drives, Audio, etc. It can also list down the temperature and fan speed (RPM) of various devices installed on your computer.

It is very small in size and it supports both 32-bit and 64-bit Windows. You can download the free version of Speccy from the link given below.
See also:
Final Words
All the above-mentioned graphics card information and system information tools are very effective in knowing your graphics card details. GPU-Z is clearly ahead of all because it is developed only for graphics cards. Other tools are also very useful and they are updated regularly with the release of new hardware. If you have any queries or doubts regarding them then you can ask me by leaving a comment below.
(*This post may contain affiliate links, which means I may receive a small commission if you choose to purchase through the links I provide (at no extra cost to you). Thank you for supporting the work I put into this site!)