Identifying a PC case can be very tricky and harder compared to identifying other PC components. It is because the PC case is completely a passive component and cannot be identified by using any software or application. You have to rely completely on your observational skills for finding out the PC case you have or any other PC Case model that you are curious about. If you have built a PC by yourself then it is quite obvious that you know about the PC Case you have bought. However, I have seen that as time passes by, you generally forget about the exact model of your PC Case and if you have misplaced or lost the PC Case manual then it becomes a bit of a difficult task to find out your PC Case model and its specifications. It becomes more difficult for novice users or the ones who have hired someone to build their PC because they are very much oblivious about most of the components they have inside their PC. So, to help you on this matter I am presenting a guide that will help you know about the PC Case you have but let us first learn why you need to know about the PC Case you have for your PC.
Why Know about your PC Case?
Knowing about your PC Case model and specifications is very important if you want to upgrade your internal computer components in near future. If you know your PC Case model then you can find out about the components it can support. The specifications of the PC Case tell you about the compatibility, clearance, and size of the components supported by the computer case. You can find out about the CPU Cooler clearance, GPU size & clearance, PSU size, number of case fans supported and their size, support for radiator or water cooling, motherboard size support, and number of drives supported for storage, etc. Also, if you want to upgrade your PC Case in the future then you can have a better idea in selecting the new case for your computer so that you don't face any compatibility problems for the components that you are looking to get. For example, if the CPU Air Cooler clearance offered by your PC Case is 150mm and you have bought a Cooler Master Hyper 212 Evo CPU Cooler that has a height of 160mm then it won't fit in your computer case and you either have to return it or you can end up wasting your money unless you upgrade to a case that can support the cooler you have purchased.
How to Know what PC Case you have?
There are some tricks that you can apply to identify a PC Case. Physical or visual inspection, keen observation, and research are the only ways to know about a PC Case model. Below are the various steps that you can follow in order to find out the PC Case you have.
Find Logo & Identify Brand Name
The first step is to know the brand of the PC Case. If you know it already then you can proceed to the next step but if you don't then you can find out the brand name by identifying the logo on the case. Almos every PC Case manufacturer has their logo printed or attached on the front panel of the PC Case. In some PC Cases, you can find the brand logo on the side or top panel. Below you can check out the major PC Case brand names along with their logos. The brands shown in the below-mentioned image are Corsair, Cooler Master, iBall, Antec, be quiet! Deep Cool, Phanteks, Zalman, Fractal Design, Lian Li, Rosewill, Thermaltake, NZXT, Silverstone.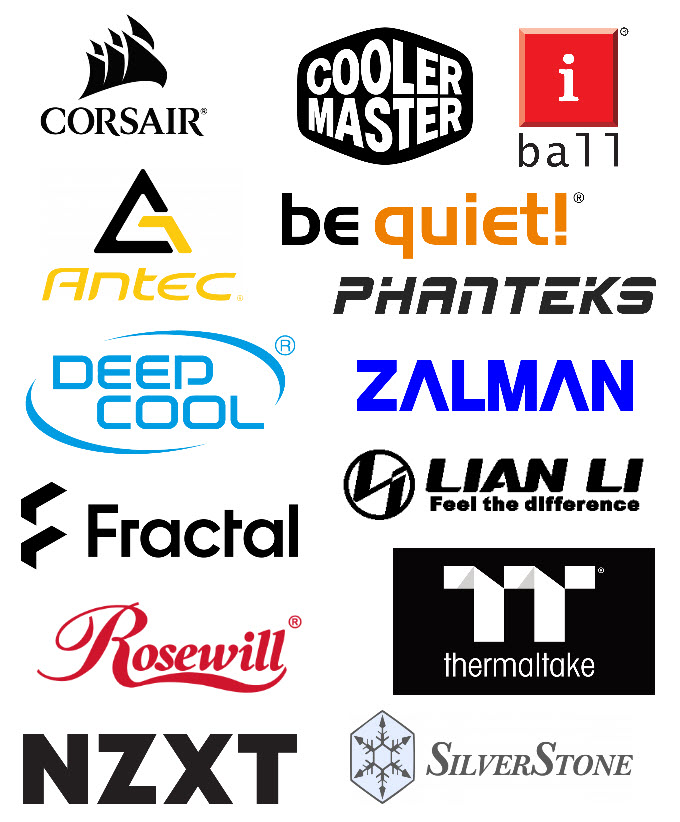 Find Motherboard Size
After identifying the PC brand name or manufacturer, find out the form factor or size of the motherboard you currently have. Below is a detailed guide on how to know each and every detail about the motherboard you have.
Must Read: How to Know What Motherboard You Have?
The size of the motherboard will help you get an idea about your PC Case size to some extent. For example, if you have an ATX motherboard then your PC Case has to be mid-tower, full tower, or super tower. A slim low-profile case can be easily identified from a visual inspection only as its width will be almost half of standard tower computer cases. A small form factor (SFF) or mini-ITX case can only support mini-ITX motherboards that are quite small in size.
PC Case Form Factors or Sizes
PC Cases come in various form factors or sizes. The major form factors include Mini-Tower, Mid-Tower, Full-Tower, and Small Form Factor (SFF). The SFF category includes mini-ITX and low profile or slim cases that are lesser in width and can only support low profile graphics cards or expansion cards. The slim cases are mainly used in building an HTPC.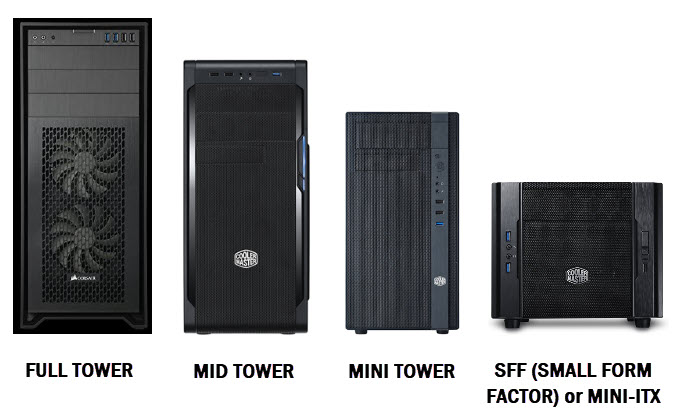 Look for Other Parameters & Features
After finding out the motherboard size, look for other PC Case parameters and features that include tempered glass panels, mesh front panel, RGB LED Lighting. These parameters will help you filter out results when searching for your PC Case model on the manufacturer's official website.
Go to the Manufacturer's Website
Now, go to the PC Case manufacturer's website and go to the PC Case section. Here you will be presented with the various PC Case models. Filter out the results by the motherboard size, case size or form factor, and various other parameters that you know about your case. Now, look keenly and identify the PC Case from the filtered-out results.
Case Study
A case study to identify a PC Case that I have in one of my systems. The computer case to be identified is shown below.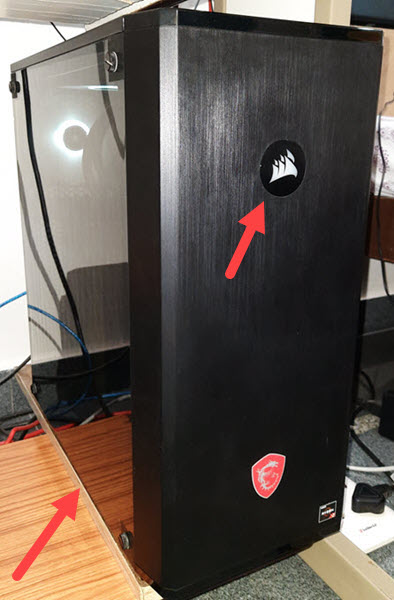 Here the logo on the case is of Corsair which means the PC Case is from the Corsair brand. I have also found out that the case is fitted with an ATX motherboard and by looking at the Case size, we can easily conclude that it is most likely a mid-tower case. The case also has a tempered glass side panel and comes with RGB LED lighting.
Now, by going to Corsair's official website and filtering out the results in the PC Case category based on the information we gathered in the previous steps, I have identified that it is Corsair Carbide Series 175R RGB Tempered Glass Mid-Tower ATX Gaming Case. Now, by clicking the Case model, we are presented with the complete details about the PC Case and you can check out the case specifications too.
Corsair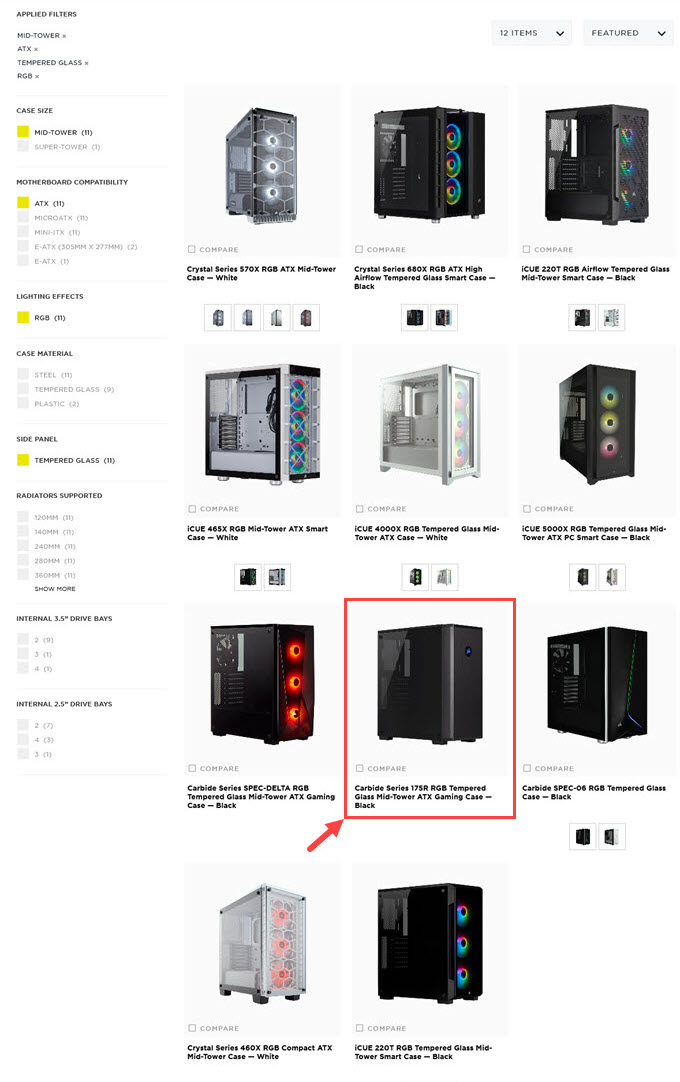 Corsair Carbide Series 175R RGB Tempered Glass Mid-Tower ATX Gaming Case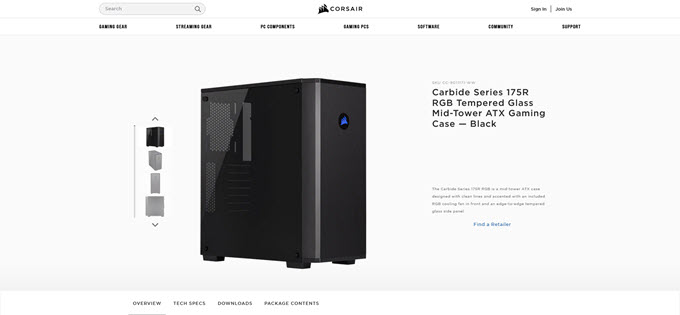 Technical Specifications of Corsair Carbide Series 175R RGB Tempered Glass Mid-Tower ATX Gaming Case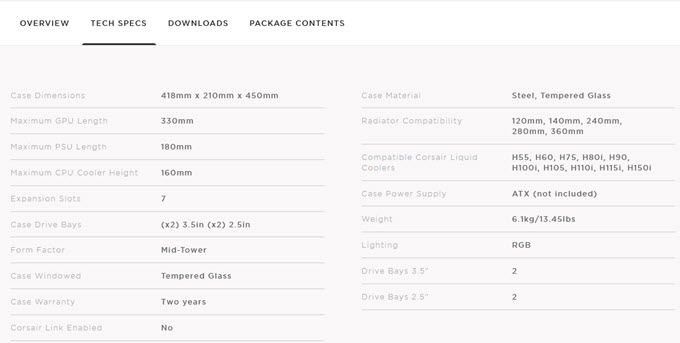 Need Help?
If you are still facing trouble identifying a PC Case then I can help you with it. You can send me the images of the PC Case by uploading them on https://imgbb.com/ and then sharing the image link with me in the comment section below.
(*This post may contain affiliate links, which means I may receive a small commission if you choose to purchase through the links I provide (at no extra cost to you). Thank you for supporting the work I put into this site!)