Getting a graphics card has become a sort of a challenge these days because the GPU shortage problem has become quite frequent. Recently the main cause of GPU shortages is the rise of cryptocurrency mining where cryptocurrency miners buy the majority of the graphics cards for mining digital currency mainly altcoins. Other factors that can cause GPU Shortage is supply chain issue that can occur due to natural calamity (floods, tornadoes, volcanoes, earthquakes), a global crisis such as pandemics, war, or because of the shortage of Silicon which is the raw material of a GPU or any other Microchip. For example, in the year 2020 when a pandemic hit, the shortages of GPU have started and most of the e-commerce websites have run out of graphics cards entirely and those that were listed were sold at exorbitant prices by the scalpers at 1.5X or 2X MSRP price or even more in some cases. So, if you are living in a time where there are GPU shortages and want to get a graphic card then you have to make some compromises to get the best deal, and here I am going to tell you how to get your hands on a good graphics card during that time.
Used/Refurbished Graphics Card
During times of GPU shortages, it is very difficult to find a brand-new graphics card of your choice in stock. However, even if you manage to find it in stock then it will be very hard to get it at a reasonable price because it will be priced much higher above its normal price or MSRP. In such situations, buying a used or refurbished graphics card can be a very good decision if you know how to get a good used/refurbished graphics card at a reasonable price without getting scammed. Below are useful resources on how you can get a good used or refurbished graphics card and how to identify a fake graphics card.
Check out:
Note: You should note that in times of GPU shortages, a used graphics card may cost almost the same as the new graphics card because of high demand and limited products available in the market. Also, it may be very hard to find the latest models of graphics cards used or refurbished.
Consider an Older Generation Card
When there is a GPU shortage it is almost impossible to find the latest graphics cards in stock and even if you manage to find one then they are being sold at super high inflated prices which can be up to two times their MSRP. In such a scenario, it is a good idea to opt for an older generation graphics card that can be slightly slower but will cost you way less even though its price will be inflated too during such times. For example, you can consider RTX 2060 SUPER if the card of your choice RTX 3060 is not available or is available at a super inflated price. During times of GPU shortages, manufacturers do release graphics cards based on the older generation GPUs. These graphics cards can be a refresh of the older models where they may contain some improvements like upgraded memory type, higher memory capacity, or faster GPU clock speeds.
Check out: Rebrand, Rebadge vs Refresh Terms related to Graphics Card Explained
Consider Pre-built PC
Getting pre-built gaming is way more economical than building a custom gaming PC when there is a GPU shortage issue. Also, you can easily get the graphics card of choice when opting for a pre-built gaming PC. Companies that offer pre-built PCs purchase graphics cards in bulk from the manufacturer in advance and that too at a cheaper rate and that is how they can provide customers gaming PCs with graphics cards at decent prices. Another advantage of getting a pre-built PC is you get a warranty on the PC as a whole and not according to individual components. Nowadays, most pre-built PC brands do have PC builder tools on their website that allows customizing the gaming PC according to your needs before ordering one. Some of the popular pre-built gaming brands are CyberpowerPC, CybertronPC, iBUYPOWER, and Origin PC.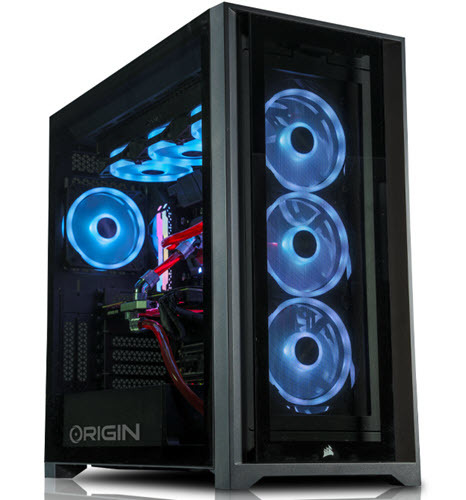 Check out: Top Pre-Built Gaming PC Brands
Check Stock using Special Tools/Services
You can regularly check the stock of graphics cards on various eCommerce websites using product availability tracker tools or stock notification services like NowInStock.net https://www.nowinstock.net/ and zooLert https://www.zoolert.com/. These websites scan various popular eCommerce sites such as Amazon, Newegg, best buy, etc., and let you know whether the particular graphics card you are searching for is in stock or not. Moreover, you can also set Auto-Notify or Inventory Alerts on e-commerce websites so that you can be notified via email when the particular graphics card comes in stock. For Amazon, you can use Back in Stock Alerts https://www.backinstockalerts.com/ to get an in-stock notification for the particular graphics card model you are after.
NowInStock.net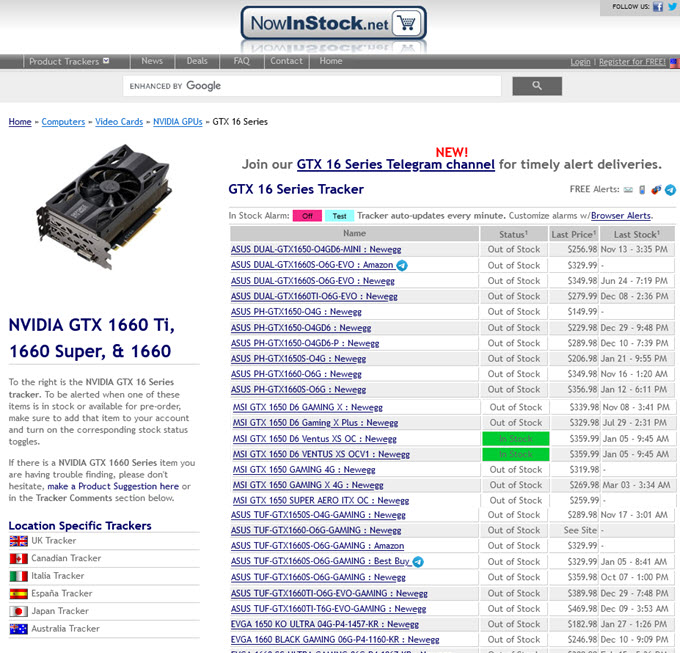 zooLert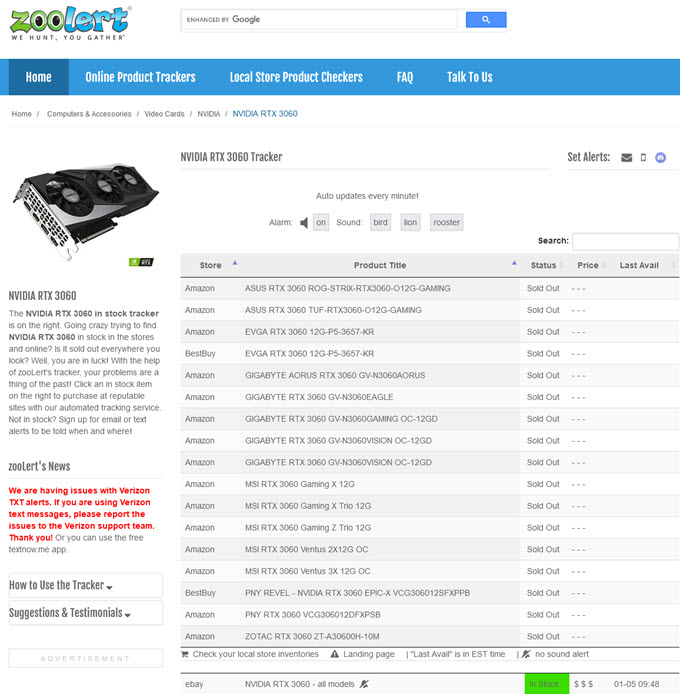 GeForce Now Cloud Gaming Service
Well, if you want to enjoy the latest or AAA games but do not want to spend a huge amount of money on super inflated prices of graphics cards or are unable to find the graphics card of your choice in stock then you can join the GeForce Now cloud gaming service until the graphics card shortage problem subsides. Using the GeForce Now cloud gaming service, you can turn any ordinary PC or laptop into a gaming machine if you have a good internet connection. Using GeForce Now, you can unleash the power of the latest high-end graphics cards such as RTX 3080 on your PC or Laptop at a nominal fee. The hardware requirements of GeForce Now is pretty reasonable e.g. for a Windows PC, you need a 2.0 GHz or faster Dual-core x86-64 CPU, 4GB RAM, onboard or discrete graphics that support DirectX11 and an internet connection having a speed of at least 15Mbps (for 720p at 60 FPS gaming) and 25Mbps (for 1080p at 60 FPS gaming). The game list for GeForce Now is quite extensive and you can find the whole game list here. Also, more and more games are being added regularly to the GeForce Now cloud gaming service platform.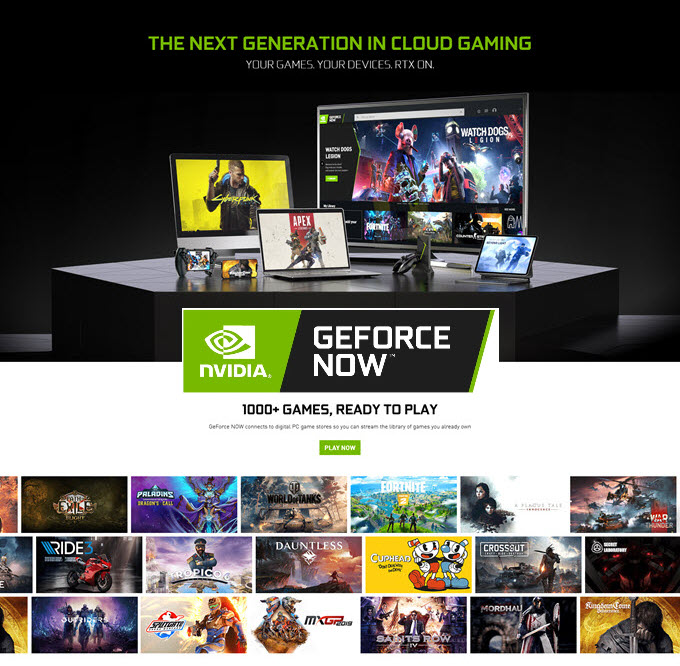 Be Patient/Wait for Situation to get Normal
Well, if you are not in a hurry but want to get your hands on a brand-new graphics card of your choice and that too at a reasonable price then the best you can do is to wait for the 'GPU shortage' situation to get subsided. If you can't wait that long then I have already listed the viable solutions above and you can try any one of them based on your understanding and situation.
Help Needed?
If you want to express your opinion or have some queries then you can let me know in the comment section below.
(*This post may contain affiliate links, which means I may receive a small commission if you choose to purchase through the links I provide (at no extra cost to you). Thank you for supporting the work I put into this site!)