AGP or Accelerated Graphics Port was the most popular and common interface for connecting graphics cards on motherboards. It was a high-bandwidth channel and remains on the motherboards for quite a long time. Another interface was PCI but it was a slower channel and not many graphics cards were made for PCI slot in the past.
Generally, AGP came in two variants, first was the AGP 4x which has lower bandwidth and the second one was the AGP 8x which has double the bandwidth of AGP 4x. AGP 4x has a maximum transfer rate of 1066Mb/s whereas AGP 8x has 2133 MB/s. There were also AGP 1x and AGP 2x interfaces but they were very slow and not used that frequently. AGP slot is smaller in size than the PCI and other graphics card interfaces. You won't see AGP slot in the current generation motherboards because today PCI Express x16 is used for connecting graphics cards which has much higher bandwidth compared to the older AGP graphics card interface.
In older motherboards, you may be able to find AGP slot and if you wish to upgrade the graphics of your older PC then you will need an AGP Graphics Card for it. AGP graphics cards are nearly extinct in production but you can still find some good AGP Graphics Card in the market or online for your older PC or server. To help you out on this, here I am providing you the list of best available AGP graphics cards that you can buy online.
Check out: Best PCI Graphics Cards for Older PCs
Best AGP Video Cards for Older Motherboards
Here are some of the best available AGP video cards for use in AGP slot motherboards. These AGP graphics cards are compatible with both AGP 4x and AGP 8x interface.
This is a very basic and older AGP VGA video card that is based on the Nvidia GeForce4 MX 420 chipset. This is the Genuine Dell Nvidia GeForce4 MX 420 video card and it comes with 64MB memory and VGA & S-Video output. It is a low profile graphics card having is AGP 4x type.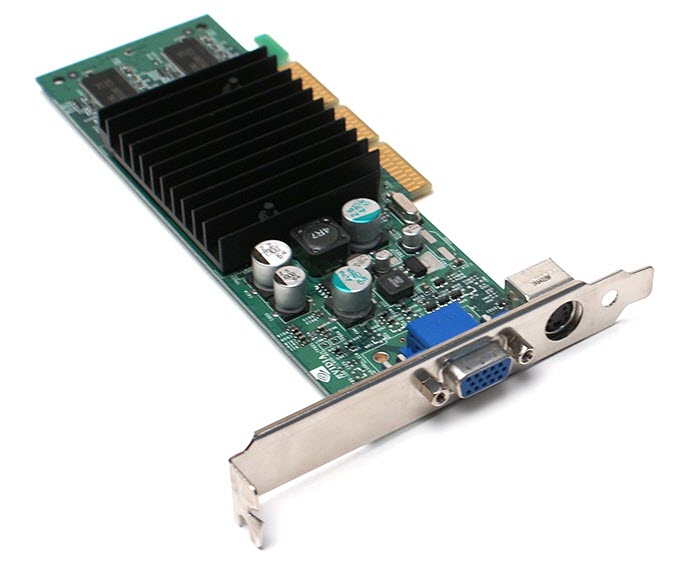 It is passively cooled by a smaller heatsink located on the GPU. The maximum resolution supported by this card is 2048 x 1536 pixels at 75 MHz refresh rate. This card can really prove useful for users who have older computers with AGP slots and need to replace the integrated graphics.
Dell Nvidia GeForce4 MX 420 AGP Specifications
GPU
GeForce4 MX 420
Memory
64 MB
Interface
AGP 4x
DirectX
7
Output Ports
VGA, S-Video
Buy Nvidia GeForce4 MX 420 AGP Video Card
Geforce FX 5200 was a very popular entry-level GeForce FX or GeForce 5 series graphics card back in older days. Here we have EVGA Geforce FX 5200 AGP Video Card that comes with 128MB DDR video memory which is more than enough for general tasks. It is also a low profile video card that has got VGA and S-Video display ports.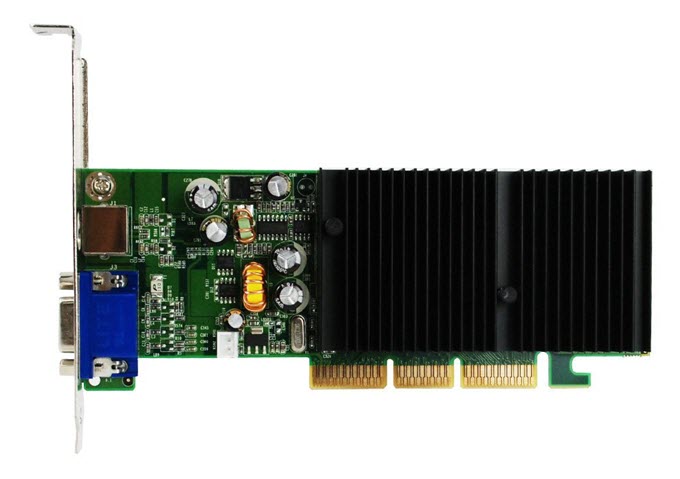 This is a great card to replace your older PC display or to make it work again. The card is passively cooled with a black heatsink that covers half of the card. This is a DirectX 9 video card and it works with Windows XP / Vista / Windows 7. You might be able to play some of the older games on this card.
EVGA Geforce FX 5200 128MB DDR AGP Specifications
GPU
Geforce FX 5200
Memory
128 MB DDR
Interface
AGP 4x/8x
DirectX
9
Output Ports
VGA, S-Video
Buy GeForce FX 5200 AGP Video Card
This is one of the most powerful AGP graphics cards in the list here. Here we have EVGA GeForce 6200 AGP 8X video card that comes with 512 MB DDR2 memory. It is an entry-level or budget Geforce 6 series graphics card and was quite popular back in the older days.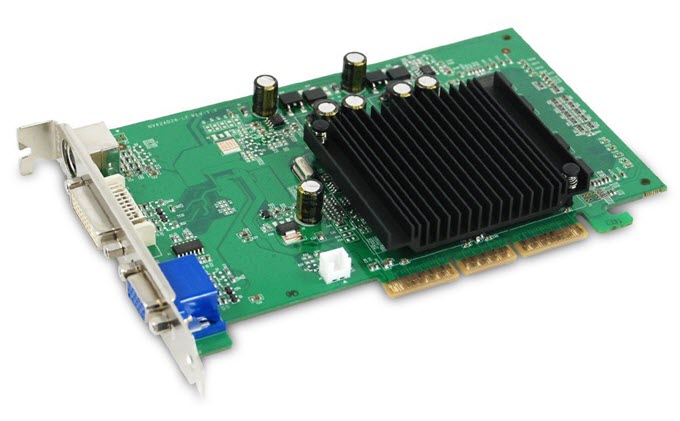 This is not a low profile video card and is passively cooled by a small black heatsink. The card has got one VGA and one DVI port at the back for setting up dual monitors. This card can be used for light gaming, running dual monitors, onboard video replacement and standard tasks. This is a DirectX 9 card and supports AGP 8X. It is compatible with both 32-bit and 64-bit versions of Windows XP, Windows Vista, and Windows 7 operating system. You may get this graphics card under 50 dollars and do check out the link below for its current status. Highly Recommended by me.
EVGA GeForce 6200 512MB DDR2 Specifications
GPU
GeForce 6200
Memory
512 MB DDR2
Interface
AGP 8x
DirectX
9
Output Ports
VGA, DVI, S-Video
Buy EVGA GeForce 6200 512MB DDR2 AGP Video Card
This is the most powerful AGP video card in this list. Here we have VisionTek Radeon 3450 AGP video card that comes with 512MB DDR2 memory. This is a full-sized DirectX 10.1 graphics card that comes with an active cooling solution consisting of heatsink and fan (HSF). Radeon 3450 has got 40 stream processors and supports Shader Model 4.1.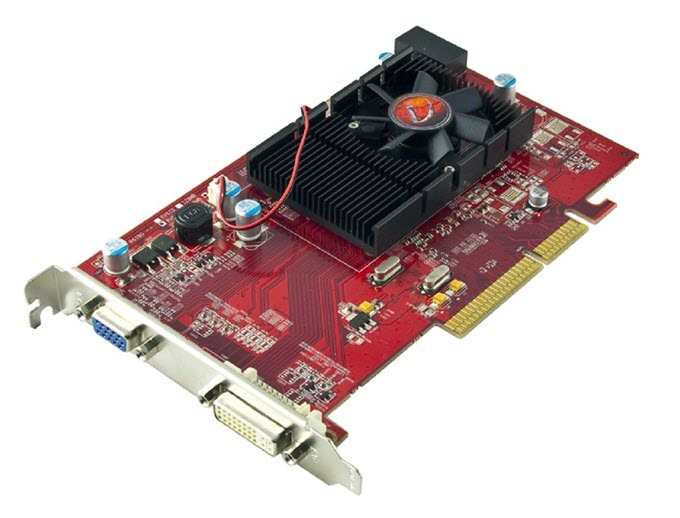 This is an AGP 8X card and comes with both VGA and DVI ports. The card has good HD capabilities and can support dual monitors. You can play some of the older games on this video card. This card should be a great companion for your older PC having an AGP slot. The card does require additional power from the PSU through a 4-pin Molex connector. It supports Windows XP / Vista /7 operating systems.
VisionTek Radeon 3450 512MB DDR2 AGP Specifications
GPU
Radeon 3450
Memory
512 MB DDR2
Interface
AGP 8X
DirectX
10.1
Output Ports
VGA, DVI
Buy VisionTek Radeon 3450 AGP 8X Video Card
Final Words
Well, here I have listed down the best AGP video cards that you can still buy today. You can put them on your AGP motherboard and make your older PC display work again. If you have queries regarding them, then you can ask me by leaving a comment below.
(*This post may contain affiliate links, which means I may receive a small commission if you choose to purchase through the links I provide (at no extra cost to you). Thank you for supporting the work I put into this site!)