GeForce GT 1030 and Radeon RX 550 are the two latest budget graphics cards launched by Nvidia and AMD respectively. These entry-level graphics cards are aimed at gamers who just want to play less demanding games, eSports games, and older games on their budget gaming PC. These two graphics cards are priced under 100 dollars and here I am going to provide you with the complete details and specifications of these entry-level graphics cards for gaming on a budget.
Must Read: Best Graphics Cards under 100 dollars for Gaming
Radeon RX 550 is an entry-level graphics card in the Radeon RX 500 series lineup and is based on the Polaris GPU architecture from AMD. This graphics card is aimed at users with moderate gaming needs and who have a lower budget. However, the card is powerful enough to run eSports titles and older games at high graphics settings with playable frame rates.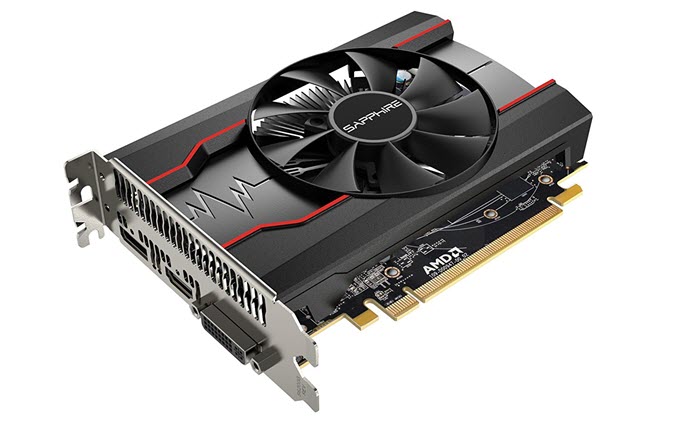 The card has got Polaris 12 GPU built on 14nm FinFET process and comes with 512 Stream Processors and 2GB / 4GB GDDR5 memory. The memory interface is 128-bit wide and memory speed of 7Gbps. The card supports all the major latest graphics APIs that include DirectX 12, Vulkan, and OpenGL 4.5. The maximum power consumption of 50 Watt and it does not require external power from the PSU. The card sells at under 100 dollars and the price can vary according to different graphics card manufacturers.
Radeon RX 550 Specifications
Stream Processors
512
GPU Clock
1183 MHz
Memory Clock
7000 MHz
Memory Size
2GB / 4GB GDDR5
Memory Interface
128-bit
Bus Interface
PCI Express 3.0
DirectX
12
OpenGL
4.5
Output Ports
DP, Dual DVI, HDMI
GeForce GT 1030 is an entry-level GeForce 10 series graphics card that Nvidia has introduced to tackle AMD's Radeon RX 550. GeForce GT 1030 is based on the Pascal GPU architecture and has got Pascal GP1080 GPU built on the 16nm FinFET manufacturing process. This budget graphics card from Nvidia comes with 384 CUDA Cores and 2GB GDDR5 video memory (VRAM) having 64-bit interface.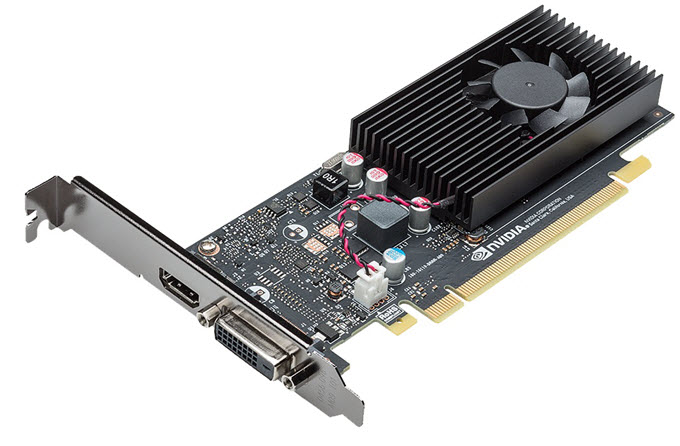 There is not much detail out about GeForce GT 1030 but it is expected to perform much better than the older budget graphics cards that include GeForce GT 730, GeForce GT 740, GeForce GTX 750 and can be at par with older mid-range graphics card which is GeForce GTX 750 Ti. GeForce GT 1030 has a maximum power consumption of 30W and it does not require additional power from the PSU. The card is expected to be priced at around $69 – $79. Below you can see KFA2 GeForce GT 1030 EXOC Graphics Card that comes with 64-bit 2GB GDDR5 memory. This is a low profile graphics card and has got DVI and HDMI connectors.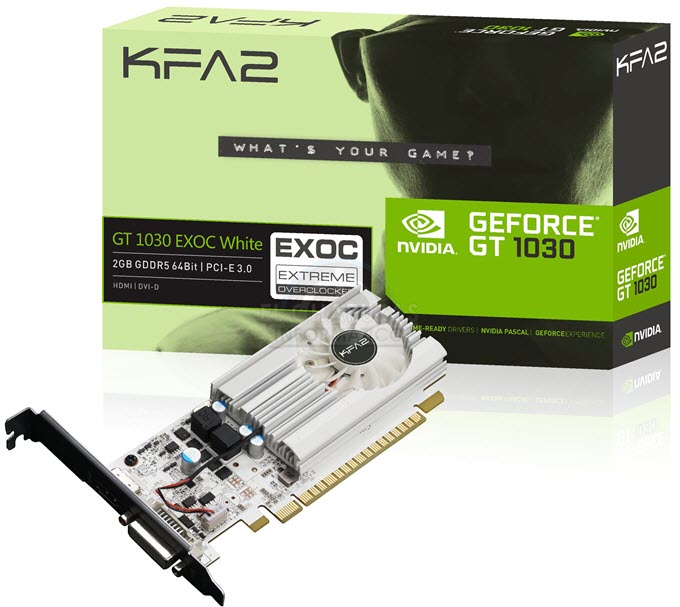 GeForce GT 1030 Specifications
CUDA Cores
384
GPU Clock
1252 MHz / 1506 MHz (approx)
Memory Clock
6000 MHz
Memory Size
2GB GDDR5
Memory Interface
64-bit
Bus Interface
PCI Express 3.0
DirectX
12
OpenGL
4.5
Output Ports
DVI, HDMI
Radeon RX 550 vs GeForce GT 1030 Comparison
Both Radeon RX 550 and GeForce GT 1030 are budget or entry-level graphics cards having almost similar kinds of specifications we can expect similarities in performance too. The advantage of Radeon RX 550 is that it has a wider memory bus-width of 128-bits and this results in a much higher memory bandwidth (almost double) compared to that of GeForce GT 1030.
Radeon RX 550 comes with 512 Stream Processors while GeForce GT 1030 has only 384 CUDA Cores but we cannot compare them as a whole because you cannot equate Nvidia CUDA Cores to AMD's Stream Processors because both have different GPU architecture and their working is also very different. You can read the difference between CUDA Cores and Stream Processors from the link given below.
Must Read: CUDA Cores vs Stream Processors Explained
The advantage of GeForce GT 1030 over Radeon RX 550 is that it has a lower power consumption of 30W only, but this won't make any huge difference at all because both these graphics cards have lower power consumption as such, and both do not require external power connectors from the PSU. In terms of performance you cannot expect them to run latest games or AAA titles at 1080p but what you can expect is decent gaming performance in older games and in eSports titles at high graphics settings and with more than comfortable frame rates.
| | | |
| --- | --- | --- |
| Specifications | Radeon RX 550 | GeForce GT 1030 |
| GPU architecture | Polaris | Pascal |
| Manufacturing Process | 14nm FinFET | 16nm FinFET |
| Pixel Pipelines | 512 | 384 |
| Memory Size | 2GB / 4GB GDDR5 | 2GB GDDR5 |
| Memory Interface | 128-bit | 64-bit |
| Bus Interface | PCI Express 3.0 | PCI Express 3.0 |
| DirectX | 12 | 12 |
| OpenGL | 4.5 | 4.5 |
| Power Consumption (TDP) | 50W | 30W |
Final Words
So if you are looking for a latest budget graphics cards for your PC then Radeon RX 550 and GeForce GT 1030 are the ones that you should go for. They are cheap, have lower power consumption, are built on the latest GPU architectures, and offer a decent amount of gaming performance. If you have any queries or want to ask something about graphics cards then please leave a comment below.
(*This post may contain affiliate links, which means I may receive a small commission if you choose to purchase through the links I provide (at no extra cost to you). Thank you for supporting the work I put into this site!)