One of the most common questions asked by many laptop users is whether they can upgrade their laptop graphics card or GPU for better graphics performance, particularly for playing latest AAA games. Upgrading a graphics card on a Desktop or PC is quite easy and convenient but on laptops, it is very difficult and, in some cases, even impossible because of the various challenges and limitations involved that I am going to discuss here.
Case 1: Laptop has Removable Graphics Card
If your laptop comes with a removable graphics card then you can upgrade to a more powerful graphics card. However, it is not a simple process and you may encounter several compatibility issues. Moreover, finding a laptop graphics card is not as simple as getting a desktop graphics card. A removable graphics card for a laptop is called an MXM graphics card where MXM stands for Mobile PCI-Express Module. These MXM graphics cards are installed into the MXM slot present on the supported laptop's motherboard. It should be noted that not every laptop comes with an MXM slot and only some of the high-end and older laptops use an MXM slot for graphics cards. Also, it is very difficult to find an MXM graphics card as they are usually not sold as retail products. Besides that, finding the right MXM graphics card for your laptop is a very tedious and challenging task as there are a lot of compatibility issues that come into play which I am going to tell you about later in this post.
Case 2: Laptop has a Non-Removable Graphics card
In most modern-day laptops, the Graphics Card or GPU is soldered on the motherboard which makes upgrading the GPU almost impossible. The soldered GPU uses BGA (Ball Grid Array) surface-mount packaging and it requires precision and special machinery for BGA soldering. So, in such cases, you cannot upgrade the graphics card internally and have to rely on external options for upgrading the laptop graphics card.
Case 3: Laptop does not have a discrete Graphics Card
If your laptop does not have a discrete graphics card and does not have an MXM slot for graphics card upgrade then you have to rely on external graphics card upgrade options.
Laptop Graphics Card Upgrade Options
Here are the various options that allow you to upgrade your laptop graphics card given that your laptop supports them. If your laptop does not include the support for them then you cannot upgrade your laptop graphics card and the only option for you will be to buy a new laptop with a good discrete graphics card.
Internal Upgrade Option
The internal GPU upgrade option includes replacing the laptop graphics card with a better one. It is only possible when your laptop has a removable graphics card having an MXM form factor. However, replacing an MXM graphics with a better one is not a simple task as it requires careful selection of the MXM card that will fit in your laptop's MXM slot and there can be various compatibility issues involving the BIOS of the laptop. Moreover, your laptop power supply and thermal solution or heatsink should be able to provide sufficient cooling to the MXM graphics card you are upgrading to.
How to Upgrade MXM Graphics Card
Below are the various factors that you must take into account before upgrading an MXM graphics card on your laptop.
MXM Card Generation, Type & Size – First you have to find the Generation, Type of MXM graphics card, and the size of MXM graphics card you have in your laptop. There are two generations of MXM graphics cards and both of them are not compatible with each other. However, they are backward compatible within the same generation. The MXM graphics cards also have different Types within the same generation and they differ in size and power consumption. If the MXM graphics card is theoretically compatible with your laptop but has a bigger size than the laptop can accommodate then you cannot fit that MXM card in that particular laptop. Below you can check the various types of MXM graphics cards along with their module compatibility.
Must Read: Learn about MXM Graphics Card Type & List of MXM GPUs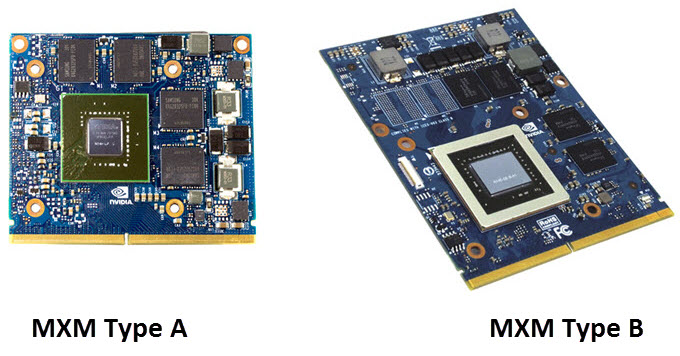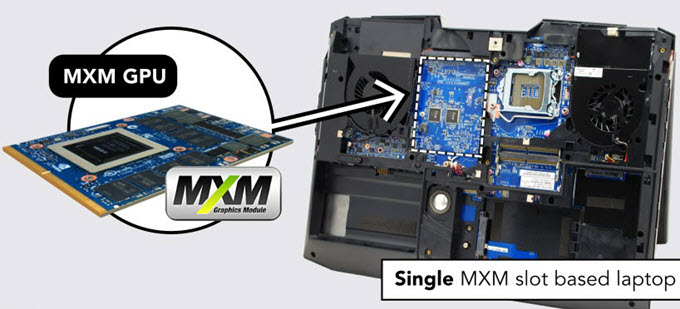 First Generation
| | | | | |
| --- | --- | --- | --- | --- |
| MXM Type | Width | Length | Max. Power | Max. GPU Size |
| MXM-I | 70mm | 68mm | 18W | 35 mm² |
| MXM-II | 73mm | 78mm | 35W | 35 mm² |
| MXM-III (HE) | 82mm | 100mm | 75W | 40 mm² |
| MXM-IV (Depreciated) | 82mm | 117mm | | |
Note: Smaller graphics modules can be inserted into larger slots, but type I and II heatsinks will not fit type III and above or vice versa. The Alienware m5700 platform uses a heatsink that will fit Type I, II, & III cards without modification.
Second Generation (MXM 3.0)
| | | | | |
| --- | --- | --- | --- | --- |
| MXM Type | Width | Length | Max. Power | GPU Memory Bus |
| MXM-A | 82mm | 70mm | 55W | 64-bit or 128-bit |
| MXM-B | 82mm | 105mm | 200W | 256-bit |
Note: Smaller graphics modules can be inserted into larger slots. Heatsink mounting remains the same for type A and B modules. MXM 3.1 was released in March 2012 and added PCIe 3.0 support.
MXM Card TDP Rating – After finding out the MXM Card Type and Size, the next step is to find the TDP rating of the card because even if you have selected the right type of MXM card but its TDP is higher than the MXM card installed in your laptop then you may face thermal and power-related issues. It is because the laptop won't be able to provide adequate power to the new MXM card and also the thermal solution on the laptop won't be able to cool the card efficiently resulting in thermal throttling and may lead to the crashing of the laptop. For example, if your laptop originally has NVIDIA GeForce GTX 470M installed having a TDP of 75W, and you thinking of upgrading to NVIDIA GeForce GTX 680M that has a TDP of 100W then you may face thermal throttling and power issues if the laptop's GPU thermal solution (heatsink with or w/o fan) is not rated for 100W TDP and your laptop's power delivery is not able to provide sufficient power to the card. In this case, a viable, practical, and better upgrade would be NVIDIA GeForce GTX 770M which has the same TDP of 75W only. You can check the TDP rating and specifications of various graphics cards on the TechPowerUp GPU Database.
BIOS Compatibility – Now even after you have selected the right MXM card with the right TDP rating, you may encounter issues related to BIOS compatibility depending on the laptop you have. So, it would be better if you make an internet search regarding your laptop's compatibility with the MXM card you want to upgrade to and whether the BIOS has some issues with other MXM cards or not.
Note: Updating the Laptop's motherboard BIOS to the latest version may help in some cases but is not guaranteed to work. Moreover, if your laptop model is quite old then it would be very difficult to find the latest version of BIOS.
External Upgrade Option
The external graphics card upgrade options for the laptop involves connecting a full-sized desktop graphics card to the laptop using external GPU devices such as eGPU enclosures and GPU docking station. Below are the two ways to do it for laptops that are compatible with such devices.
eGPU Box (External Graphics Card Enclosure)
An eGPU box or enclosure allows you to upgrade your laptop graphics by using a full-sized desktop or PC graphics card. An external graphics card enclosure (eGPU enclosure) is an external device that can be used to increase the graphics capability of a compatible laptop or All-in-one PC. The device comes with an internal power supply and PCI-Express connection board and PCI-Express connection circuitry. The eGPU box uses an external cable (mostly USB Type-C) to make the connection with the Laptop. Almost all the modern-day eGPU enclosures use Thunderbolt 3 connection interface which means your laptop must have a Thunderbolt 3 port with external graphics support. Some of the popular examples of eGPU enclosures are Razer Core X, Cooler Master MasterCase EG200, Sonnet eGPU Breakaway Box 750, and AKiTiO Node Titan Thunderbolt 3 eGPU Enclosure.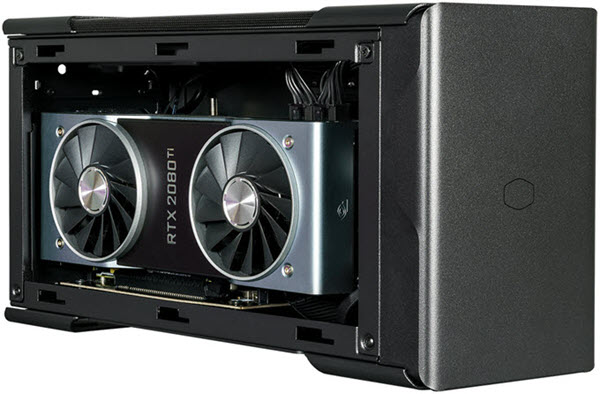 Upgrading your laptop's graphics using an eGPU box can be an expensive matter because eGPU enclosures cost quite a bit and you also have to invest in a desktop graphics card if haven't already got one sitting around. Moreover, combability is also quite limited because not all laptops especially the budget to mid-range ones do not come with a Thunderbolt 3 port. However, if you have the budget and Thunderbolt 3 support then you can greatly enhance the graphics power of your laptop and will be able to play the latest AAA games effortlessly.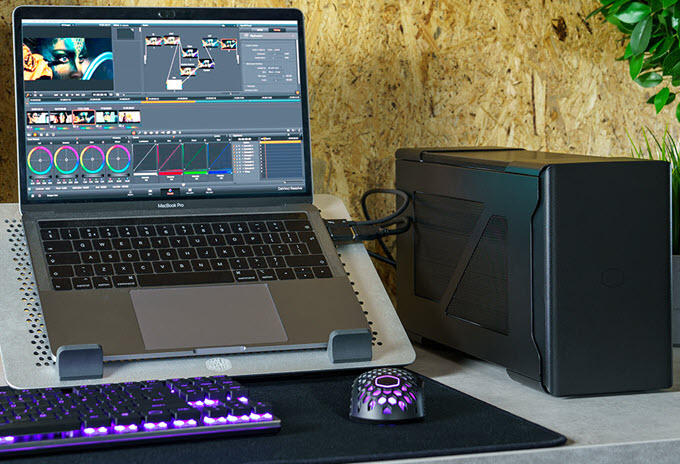 External Laptop Graphics Card Dock
If your laptop does not have a Thunderbolt 3 port or you don't have the budget to buy an eGPU enclosure then you can use External Laptop Graphics Card Dock which is a cost-effective way to add an external graphics card to your laptop. An External Laptop Graphics Card Docking station offers a variety of interfaces to connect a desktop graphics card to your laptop. Depending on the interface supported or available on your laptop, you can buy the right External Laptop Graphics Card Docking station accordingly. You can easily get an External Laptop Graphics Card Dock for various interfaces that include Express Card, Mini PCI-E, NGFF M.2, and M.2 NVMe. You also need a desktop power supply (PSU) to power the graphics card because, unlike the eGPU box, the External Laptop Graphics Card Dock does not have a power supply built-in. In fact, the External Graphics Card Dock just sits naked on your desk with all things exposed that including the graphic card, cable, and the power supply. However, the External Graphics Card Docking station is quite cheap and you can get it at an around one-fifth cost of an eGPU enclosure.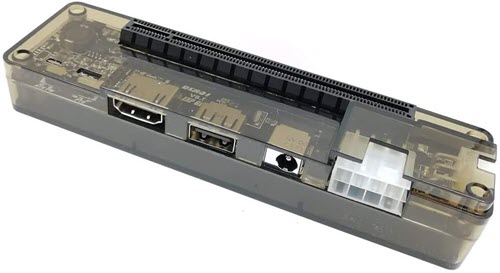 Below you can see a laptop hooked to an external graphics card dock.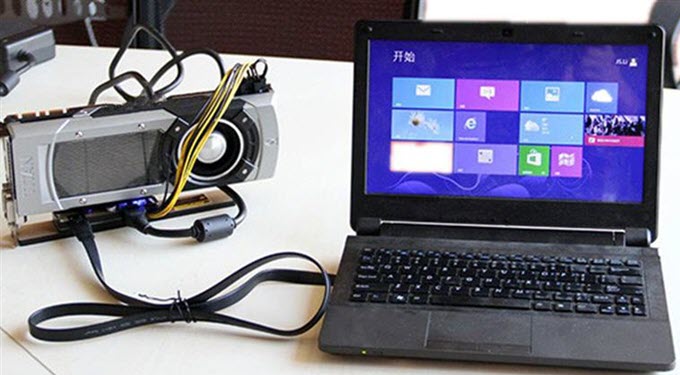 Buy External Graphics Card Docking Station
Queries?
If you have any queries regarding how to upgrade your laptop graphics card then feel free to ask me in the comment section below.
(*This post may contain affiliate links, which means I may receive a small commission if you choose to purchase through the links I provide (at no extra cost to you). Thank you for supporting the work I put into this site!)