GeForce GTX 1070 Ti is the latest offering from Nvidia which is released to tackle Radeon RX Vega 56 from AMD. Radeon RX Vega 56 is a powerful mid-level high-end graphics card from AMD and is one of the best graphics cards for cryptocurrency mining. On the other side, Nvidia does not have graphics cards that can match RX Vega 56 and RX Vega 64 when it comes to cryptocurrency mining, especially Ethereum mining.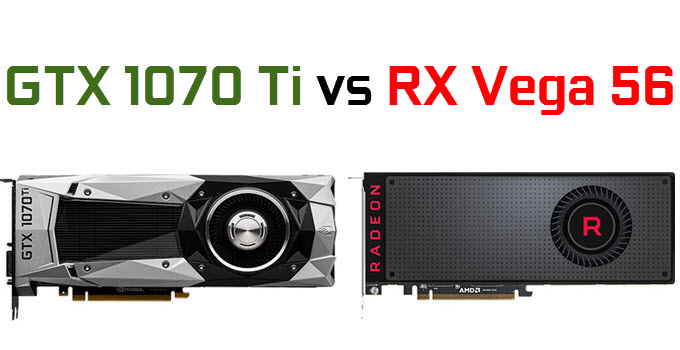 The best graphics that Nvidia had for mining was GeForce GTX 1070 because the more powerful GeForce GTX 1080 did not do very good in mining, partly because of the GDDR5X memory and also because of higher power consumption and pricing. In gaming performance too, RX Vega 56 was ahead of GTX 1070 in Vulkan and DirectX 12 demanding titles. So, to fill the gap between GTX 1070 and GTX 1080, Nvidia has come up with GTX 1070 Ti at a price range similar to that of RX Vega 56. I have already covered the comparison of RX Vega 56 and GTX 1070 graphics cards earlier in this blog but here I am going to compare GTX 1070 Ti and RX Vega 56 graphics cards and will try to find out which one offers the best performance and more value for your money.
Must Read:
GTX 1070 Ti vs RX Vega 56 Comparison
Here is a detailed comparison of GTX 1070 Ti and RX Vega 56 graphics cards based on their specifications, features, performance, and power consumption.
GPU Architecture
GTX 1070 Ti is a Geforce 10 series graphics card, so it is based on the Pascal GPU architecture from Nvidia. It comes with 2432 CUDA Cores which is 512 CUDA Cores more than the GTX 1070 and only 128 CUDA Cores less than the GTX 1080. This brings the new GTX 1070 Ti more closely to GTX 1080 than GTX 1070 in terms of performance.
On the other hand, Radeon RX Vega is based on the latest Vega architecture from AMD and comes with 3584 Stream Processors. On paper, it may look a whole lot higher but we cannot CUDA Core and Stream Processors because both are based on different GPU architectures having different sets of technologies.
Must Read: CUDA Cores vs Stream Processors Difference
Memory
GTX 1070 Ti comes with 8GB GDDR5 memory having 256-bit interface. The memory bandwidth offered is 256 GB/s which is the same as in the GTX 1070. Radeon RX Vega 56 comes with 8GB HBM2 memory having 2048-bit interface or memory bus width. The memory bandwidth offered here is 410 GB/s which is much higher than the memory bandwidth of the GTX 1070 Ti. This gives RX Vega 56 a bit of edge in higher resolution gaming preferably at 4K.
Features
Both these high-end graphics cards support the latest graphics APIs for games that include DirectX 12, OpenGL 4.5, and Vulkan. Also, both these graphics cards come with their variable refresh rate screen tearing preventing technology in games. GTX 1070 calls it G-Sync and for AMD it is known as FreeSync.
Check out: Best G-Sync and FreeSync Monitors for Gaming
Both these graphics cards support multi-GPU setup. GeForce GTX 1070 Ti comes with 2-Way SLI and AMD Radeon RX Vega 56 comes with mGPU or multi-GPU technology. Earlier this mGPU was known by the name Crossfire for the AMD Radeon graphics cards.
Performance (Gaming & Other)
Now we come to the most important aspect of the graphics card which is its performance whether in games or in other graphics-intensive applications. First, we talk about the compute performance and then we move on to gaming performance.
GTX 1070 Ti offers performance of 8.17 TFLOPS while the Radeon RX Vega 56 delivers 10.5 TFLOPS. A difference of around 3TFLOPS is significant and this makes Radeon RX Vega 56 graphics card better at mining and other computational processes. When it comes to gaming performance then GTX 1070 Ti is ahead of the Radeon RX Vega 56. GTX 1070 Ti is significantly faster and comes very close to the performance level of its elder sibling which is GeForce GTX 1080. Also, GTX 1070 Ti has very good overclocking performance, and when overclocked it can match the performance level of GTX 1080 which I think is incredible. Below you can see the performance of the GeForce GTX 1070 Ti Graphics Card compared to GeForce GTX 1070.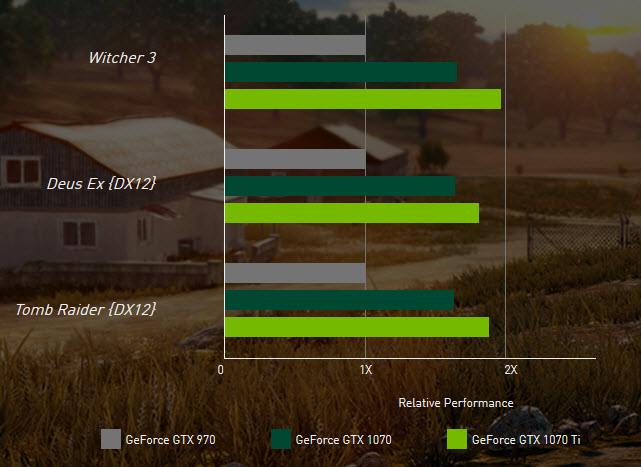 Power Consumption
In the power consumption department, GTX 1070 Ti beats Radeon RX Vega 56 by some margin. The maximum power consumption or TDP of GTX 1070 Ti is 180W and it requires only a 500W PSU for its working. On the other hand, Radeon RX Vega has TDP of 210W and requires 650W Power Supply for its working.
Price
Radeon RX Vega 56 is priced at the base MSRP of $400 – $450 (approx.) but you generally find their prices much higher because of the cryptocurrency mining boom. On the other hand, the newer GeForce GTX 1070 Ti (Founders Edition) has base MSRP of $449. These are the prices of the reference models of these graphics cards and you may find prices from different graphics card manufacturers higher or lower depending on the card's cooler and other factors involved. You can check the latest prices of both these graphics cards by going to the link given below.
Check GeForce GTX 1070 Ti Price
GTX 1070 Ti vs RX Vega 56 Specifications
| | | |
| --- | --- | --- |
| Specifications | GTX 1070 Ti | RX Vega 56 |
| CUDA Cores / Stream Processors | 2432 CUDA Cores | 3584 Stream Processors |
| GPU Architecture | Pascal | Vega |
| Memory Size | 8GB GDDR5 | 8GB HBM2 |
| Memory Interface | 256-bit | 2048-bit |
| Memory Bandwidth | 256 GB/s | 410 GB/s |
| Bus Interface | PCI Express 3.0 | PCI Express 3.0 |
| DirectX | 12 | 12 |
| OpenGL | 4.5 | 4.5 |
| Vulkan API | Yes | Yes |
| SLI / CrossFire | Yes, SLI | Yes, CrossFire |
| VR Ready | Yes | Yes |
| G-Sync / FreeSync | G-Sync | FreeSync 2 |
| Power Consumption | 180W | 210W |
| Recommended PSU | 500W | 650W |
See also: GeForce GTX 1080 vs Radeon RX Vega 56 Comparison
Final Verdict
There is no doubt that both these graphics cards are very powerful and a delight for gamers. Radeon RX 56 is a great card for mining as well as for 1440p gaming and packs a bit more power than the GTX 1070. But when it comes to GTX 1070 Ti then I think RX Vega 56 is a bit behind it in gaming performance. So if I have to pick between the two then I would go with the GeForce GTX 1070 Ti because of its better gaming performance, good overclocking potential, and excellent driver support from Nvidia.
My Pick: GeForce GTX 1070 Ti
(*This post may contain affiliate links, which means I may receive a small commission if you choose to purchase through the links I provide (at no extra cost to you). Thank you for supporting the work I put into this site!)