A Graphics Processing Unit or GPU is made up of hundreds and thousands of cores that perform multiple tasks simultaneously. GPU Architecture means how these smaller cores or transistors or other components are connected inside a GPU and how they interact with each other. This may also include the use of better transistors, components, and the manufacturing process used.
From time to time GPU manufacturers improve their GPU architecture for newer graphics cards for better performance and lower power consumption. As we know that NVIDIA and AMD are the two major GPU manufacturers in the world. The latest GPU Architecture from Nvidia is Pascal whereas AMD has Polaris architecture in their latest Radeon RX 400 series graphics cards. Here in this post, I am going to tell you about the Pascal and Polaris GPU Architecture and also make a comparison between the two.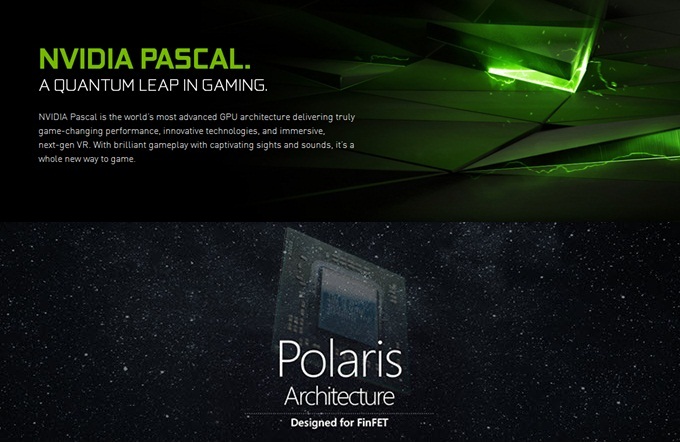 NVIDIA Pascal GPU Architecture
NVIDIA Pascal is the latest and advanced GPU architecture that is used in the current GeForce GTX 10 series graphics cards. The fabrication process used is 16nm and the architecture is named after French mathematician Blaise Pascal. Below is the diagram of Pascal GPU Architecture.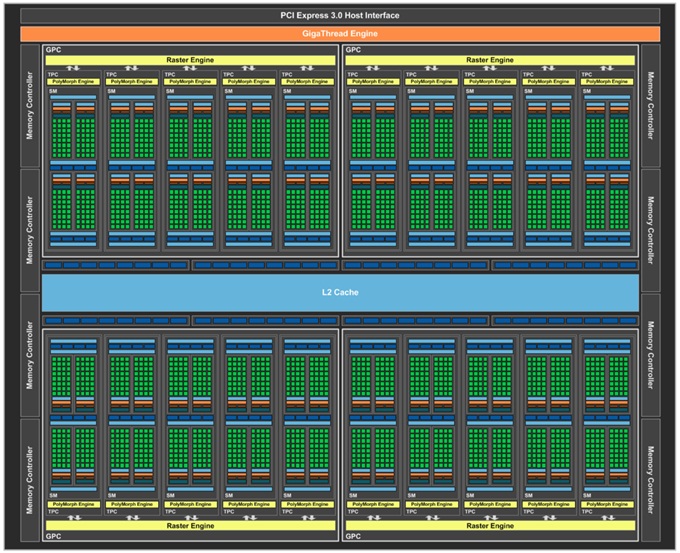 Pascal is the successor of the Maxwell architecture which was used in the GeForce 900, 800M series, and the latest models of 700 series graphics cards. Every newer GPU architecture has some improvements over the older ones and Pascal here is no exception. Pascal is a very advanced GPU architecture that is made using the latest and ultra-fast FinFET. FinFET or Fin Field Effect Transistor is a special non-planar or 3D transistor that is used in the design of modern processors. Processor Cores in Nvidia GeForce Architecture are called CUDA Cores. The GPU chips used are GP100, GP102, GP104, GP106, GP107 and GP108.
Pascal also features NVIDIA GameWorks technologies for smoother gameplay and cinematic experiences. It also includes the new 360-degree image capture and supports G-Sync. The successor of Pascal GPU architecture is Volta and is used in gaming and workstation graphics cards from Nvidia.
Related: Pascal vs Turing vs Volta GPU Architecture
Features of Pascal GPU Architecture
Here are the salient features of the Nvidia Pascal GPU architecture.
Power Efficient – Pascal offers you the best gaming performance at lower power consumption. GeForce 10 series graphics cards have lower power consumption and lesser heat generation compared to the older Nvidia graphics cards and their AMD counterparts.
VR Ready – It completely supports VR and provides you with the best Virtual Reality experience on the GeForce 10 series graphics cards.
DirectX 12 support – It fully supports the latest DirectX 12 API and provides a noticeable performance increase in the latest DirectX 12 games.
Faster Memory support – Along with GDDR5 Pascal supports the latest GDDR5X memory which is theoretically twice as fast as GDDR5. The support for GDDR5X is only in the higher-end graphics cards such as GTX 1080 and GTX 1080 Ti.
Must Read: GDDR5 vs GDDR5X vs HBM vs HBM2 Memory Comparison
AMD Polaris GPU Architecture
Polaris is the latest GPU Architecture used in the latest AMD RX 400 series graphics cards. Polaris combines the fourth-generation Graphics Core Next (GCN) graphics instruction set, the latest 14nm FinFET process technology, and myriad AMD proprietary power management technologies. Processor cores in AMD architecture are called Stream Processors.

AMD Graphics cards based on the Polaris architecture run cool and quiet along with providing maximum performance. The power consumption of the Polaris based graphics cards from AMD is significantly lower than the non-Polaris ones. AMD Polaris supports FreeSync and the successor of Polaris is the Vega GPU architecture.
Features of Polaris GPU Architecture
Here are the salient features of the Polaris GPU architecture from AMD.
VR Ready – The new Polaris GPU architecture provides you smooth VR experience free of any lags or hiccups.
Directx12 support – It fully supports the latest DirectX version which is DirectX 12.
Vulkan support – Polaris fully supports Vulkan which is a new generation graphics API and is used in modern-day games such as DOOM.
HDR support – AMD Polaris supports HDR or High Dynamic Range technology for providing lifelike images on your monitor.
Comparison of Pascal and Polaris GPU Architecture
Here is a brief comparison of Nvidia Pascal and AMD Polaris Architecture.
| | | |
| --- | --- | --- |
| Architecture | Nvidia Pascal | AMD Polaris |
| Manufacturer | NVIDIA | AMD |
| GPU supported | GTX 10 series | Radeon RX 400 series |
| Fabrication Process | 14nm, 16nm | 14nm |
| Memory support | GDDR5, GDDR5X | GDDR5 |
| VR support | Yes | Yes |
| HDMI support | HDMI 2.0b | HDMI 2.0b |
| DirectX 12 | Yes | Yes |
| Vulkan support | Bad | Good |
| DisplayPort support | DisplayPort 1.4 | DisplayPort 1.3 |
| Predecessor | Maxwell | GCN |
| Successor | Volta | Vega |
See also: Vega vs Pascal GPU architecture compared
Final Words
In the end, I would like to say that both these GPU architectures are similar in some respect because they both provide you better performance with lower power consumption. If you have any queries then you can ask me by leaving a comment below.
(*This post may contain affiliate links, which means I may receive a small commission if you choose to purchase through the links I provide (at no extra cost to you). Thank you for supporting the work I put into this site!)