Palit, an Nvidia Graphics Card manufacturer known for cost-effective graphics cards has announced GeForce GTX 1050 Ti KalmX which is a passively cooled graphics card in the Palit KalmX silent graphics cards lineup.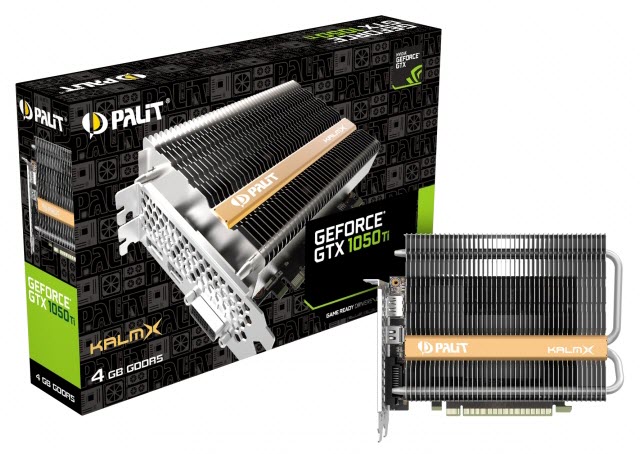 GeForce GTX 1050 Ti is a powerful mid-range graphics card in the GeForce 10 series lineup which is based on the Pascal GPU architecture. Generally, passive cooling is not employed for powerful graphics cards because they generate a lot of heat and to keep their temperature in-check you will require a bigger heatsink which makes the card bulky and it will also occupy too much space in your computer case. Also, there are only a few good gaming graphics cards that have a passive cooling solution. The launch of Palit GeForce GTX 1050 Ti KalmX will make it the most powerful passively cooled or silent graphics card as of now. Powerful Passively Cooled Graphics Card is a great choice for powerful HTPC and for users who want to build a relatively silent gaming PC.
Must Read: Best Passively Cooled Graphics Cards from Nvidia & AMD
Palit GeForce GTX 1050 Ti KalmX Overview & Specifications
GeForce GTX 1050 Ti KalmX is a big and heavy card because of the presence of large heatsink. GeForce GTX 1050 Ti KalmX has got the same specifications as the reference GTX 1050 Ti graphics card. GTX 1050 Ti KalmX comes with 768 CUDA Cores and 4GB GDDR5 memory. The video memory is clocked at 7000MHz and has a 128-bit bus width. It is based on the latest Pascal GPU architecture which offers the best performance at lower power consumption. This KalmX GTX 1050 Ti card does not generate any noise (0dB) because there are no moving parts involved. This is a powerful graphics card and on this, you can play the latest games at 1080p on high settings with an average of 60 frame rates or more.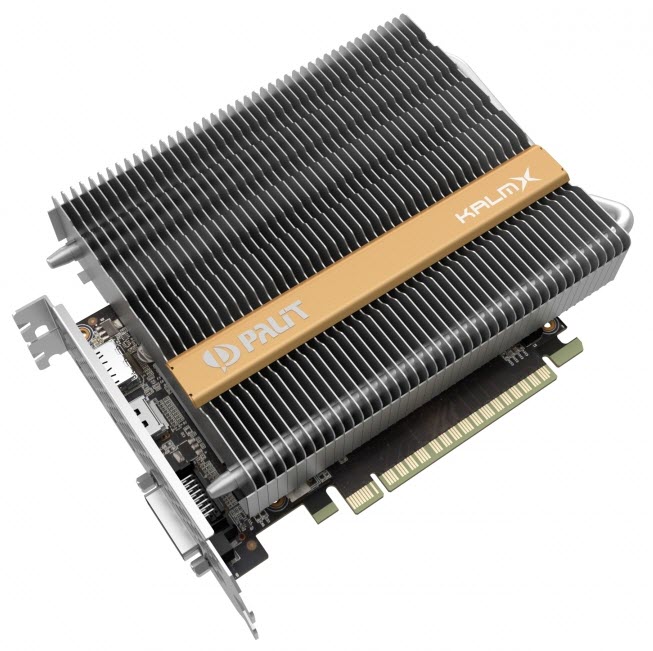 This silent graphics card has power consumption of 75W and requires a good 300W power supply for its working. It also does not require an external power connector from the PSU. On the connectivity front, the card comes with DVI, HDMI, and DisplayPort. Basically it is a regular or stock GTX 1050 Ti but with zero noise. The card supports DirectX 12, Vulkan, G-Sync, Nvidia GPU Boost, Nvidia Ansel, PhysX. Below are the major specifications of the Palit GeForce GTX 1050 Ti KalmX.
Palit GTX 1050 Ti KalmX Specifications
CUDA Cores
768
GPU Clock
1290 / 1392 MHz
Memory Clock
7000 MHz
Memory Size
4 GB GDDR5
Memory Interface
128-bit
Bus Interface
PCI Express 3.0
DirectX
12
OpenGL
4.5
Output Ports
DVI, HDMI, DisplayPort
Final Words
Palit GTX 1050 Ti KalmX is certainly the most powerful passively cooled graphics card and is a great card for users who want to build a silent gaming PC or a powerful HTPC. The pricing is not revealed by the Palit yet but I think it will cost a bit more than the reference GeForce GTX 1050 Ti.
Buy Palit GeForce GTX 1050 Ti Kalmx
(*This post may contain affiliate links, which means I may receive a small commission if you choose to purchase through the links I provide (at no extra cost to you). Thank you for supporting the work I put into this site!)