Radeon RX 5500 XT is a powerful budget mainstream graphics card, purely for eSports and 1080p gaming. The main competitors of this card include GeForce GTX 1650 SUPER, GTX 1660, and even the Radeon RX 580 and RX 590 which are relatively older AMD cards based on the Polaris GPU architecture. RX 5500 XT is a bit faster than the GTX 1650 but is slower than the GTX 1660 which falls in the entry-level mid-range category of graphics cards. When we compare RX 5500 XT to RX 580 and RX 590 then RX 5500 XT is a bit faster than RX 580 and is as fast as the RX 590.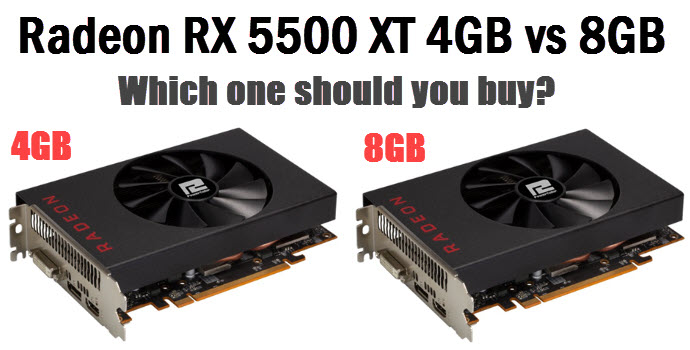 Radeon RX 5500 XT is built on the smaller 7nm manufacturing process on the RDNA GPU architecture and uses Navi 14 GPU. It comes with 1408 Stream Processors and GDDR6 memory that is 128-bit wide runs at 14Gbps and offers a bandwidth of 224 GB/s. The card has relatively low power consumption at 130W and requires a single 8-pin PCIe connector from the PSU.
The RX 5500 XT is available in 4GB and 8GB memory variants while other specifications remain the same. This difference in the memory capacities i.e. 4GB & 8GB leads to some kind of confusion among buyers that which variant or model they should opt for. So, if you are in this dilemma that whether you should go for the 4GB or 8GB model then here I am going compare both of them in terms of performance and pricing department so that you can make an informed decision.
Radeon RX 5500 XT Specifications
Stream Processors
1408
GPU Clock
1717 MHz/1845 MHz (Game/Boost)
Memory Clock
14 Gbps
Memory Size
4GB/8GB GDDR6
Memory Interface
128-bit
Bus Interface
PCI Express 4.0 (x8)
DirectX
12
OpenGL
4.6
PCI-E Power Connector
8-pin x 1
Output Ports
DisplayPort, HDMI, DVI
4GB vs 8GB Performance
Below are the benchmarks of the 4GB and 8GB variant of the Radeon RX 5500 XT graphics card in various popular and AAA games at ultra/max settings at 1080p resolution.
1080p Gaming Benchmarks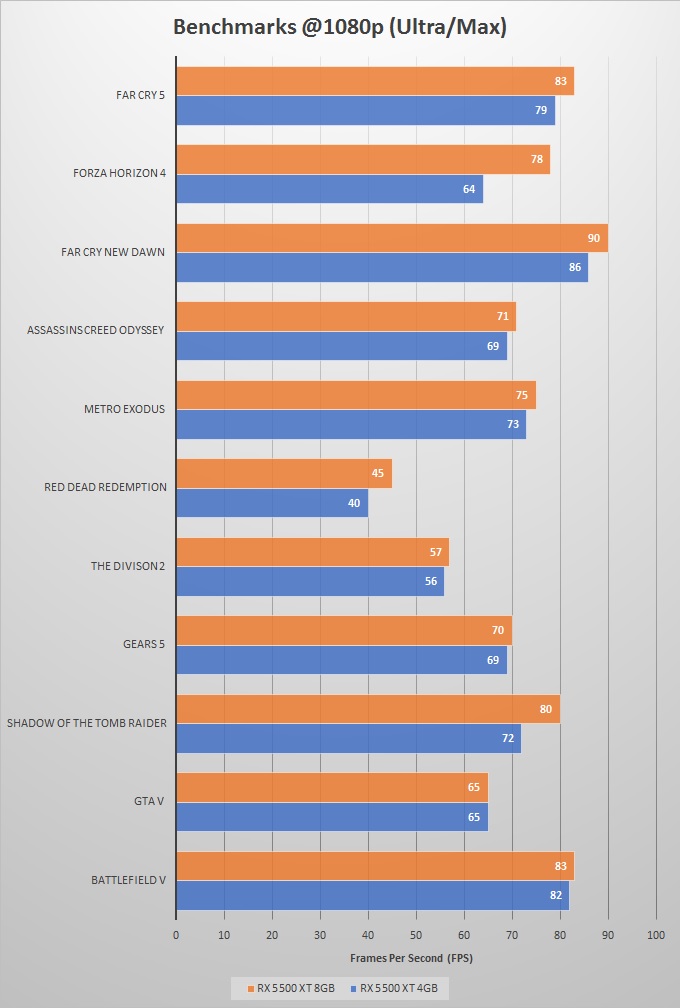 From the above benchmarks, we can see that the 4GB RX 5500 XT performs similar to the 8GB one in most of the games, especially at 1080p resolution. Both these cards are able to pull 60 FPS on average in most of the modern-day titles at an ultra to very settings at 1080p resolution. The 4GB variant is good enough for most of the titles, particularly for eSports or competitive gameplay when the games themselves are not that VRAM demanding, and most of the time you don't play them on the maximum settings. However, for VRAM hungry AAA games, 4GB VRAM may seem a little less even at 1080p resolution. Moreover, if you play with add-on texture packs or set texture quality to maximum then you need more than 4GB video memory in modern AAA titles. The 8GB RX 5500 XT does seem more future-proof for gamers who play AAA titles that are very graphics intensive and have a lot of eye candy. Also, if you want to play on 1440p then you will require video memory higher than 4GB for most of the latest AAA titles.
Check out:
4GB vs 8GB Pricing
Another very important factor that may influence your decision in buying the 4GB or 8GB RX 5500 XT variant is the price. The base MSRP of the 4GB model is $169 and the 8GB one costs $199 which is $30 more. However, some of the custom models of these cards from various AIB partners do cost slightly more because of the custom coolers and the extra features they offer. For example, some custom 4GB models are priced at $179 and the 8GB ones are available at $209 and $219. You can check the current prices of 4GB and 8GB RX 5500 XT cards from the links below.
Check RX 5500 XT 4GB Price on Amazon
Check RX 5500 XT 8GB Price on Amazon
Which one should you buy (4GB or 8GB)?
If you are only into eSports and are on a tight budget then it is better to pick the base variant of the 4GB model. 4GB VRAM is still enough for most of the games at 1080p at ultra settings, and if it is not then you can disable the Anti-aliasing and lower down the texture settings so that the VRAM usage remains under the 4GB mark. On the other hand, if you want to be more future-proof and like to play latest AAA games with ultra to max graphics quality and textures, then getting the 8GB model is a wise choice. Here also, you can stick with a basic or base model 8GB RX 5500 XT card to save money because you will get almost the same performance compared to the ones with bigger custom coolers and with fancy RGB lighting. In the end, if you have any queries regarding which RX 5500 XT variant or model should you buy then you can ask me in the comment section below.
(*This post may contain affiliate links, which means I may receive a small commission if you choose to purchase through the links I provide (at no extra cost to you). Thank you for supporting the work I put into this site!)