Looking to build a video editing PC on a budget for full HD (1080p) and 4k video editing, photo editing, and rendering work? If yes then you are at the right place because here I am going to tell on how to build an affordable video editing PC for working with software like Adobe Premiere, Corel VideoStudio, Pinnacle Studio, Nero Video, etc. Video editing work relies more on CPU cores and its processing power compared to a graphics card. Another major requirement of a video editing PC is a decent amount of RAM and fast storage device, preferably a solid state drive (SSD).
This budget video editing PC is powerful enough to let you handle or edit videos at 4K resolution. Also, this is a great PC for Photo Editing, Graphics and working with photo editing & graphics design software like Adobe Photoshop, ACDSee, CorelDRAW, Adobe Lightroom, GIMP, Adobe Photoshop Elements, DxO OpticsPro 11, etc. So, let's get started with building a budget video editing and photo editing PC for video rendering, video editing, and photo editing work. You can also play the latest AAA games on this work PC at medium to high graphics settings at 1080p.
Check out:
Best Components for Budget 4K Video Editing PC
Here are the best budget components that you will need to build an affordable and powerful budget 4K video editing PC for professionals.
Processor
Intel Core i5-8600K Processor
CPU or Processor is the most important part of any computer but it is also the most important component of a video editing PC. This is because video editing requires a lot of processing power and a greater number of processor cores provide faster & better performance in video editing. Here for this video editing rig, I have chosen Intel Core i5 8600K CPU which is a 14nm Hexa-core (6 core) processor in the Intel 8th generation Coffee Lake Processor series. This is a pretty powerful CPU and it comes with base/turbo clock speeds of 3.60 GHz / 4.30 GHz and 9MB cache.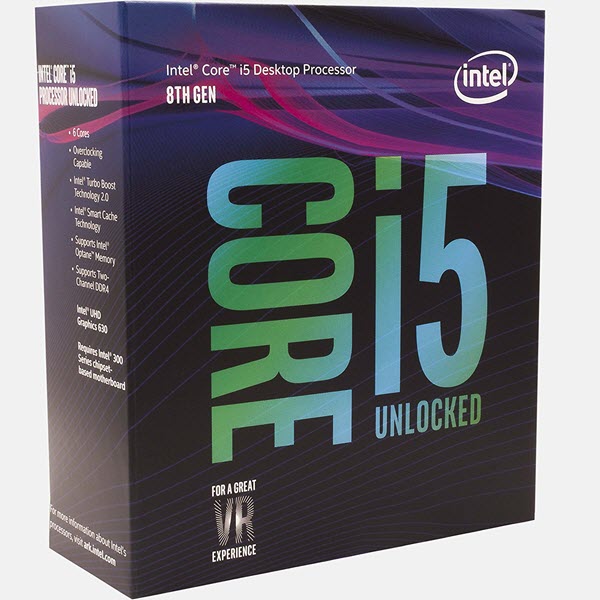 This is a K series core processor which means it has got unlocked multipliers and can be overclocked to much higher frequencies using a good liquid CPU cooler and Z370 chipset motherboard for overclocking. The processor is also good for gaming and workstation use because it offers excellent performance for the price. It has TDP of 95W and it comes with Intel UHD Graphics 630 onboard graphics. This 8th generation Core i5-8600K processor easily beats previous generation Haswell & Skylake series Core i7 processors. The performance of this processor is higher or equal to that of AMD Ryzen 5 1600X processor which is also a Hexa-core processor but it supports 12 Threads at once.
Check out: Best Processors for Video Editing and Rendering
Intel Core i5-8600K Processor Specifications
Clock Speed
3.60 GHz / 4.30 GHz (Base / Turbo)
No. of Cores
6 Cores / 6 Threads
Cache Size
9MB
Socket Type
LGA 1151
TDP
95W
Graphics
Intel UHD Graphics 630
Buy Intel Core i5-8600K Processor
CPU Cooler
Cooler Master Hyper T2
You need an aftermarket CPU cooler for K series core processors because they do not come with the stock CPU cooler. Here I have selected Cooler Master Hyper T2 which is a compact CPU cooler from Cooler Master and offers good performance on stock speeds. If you want to overclock your CPU then you have to go for a liquid CPU cooler. It supports almost all the latest Intel and AMD Sockets.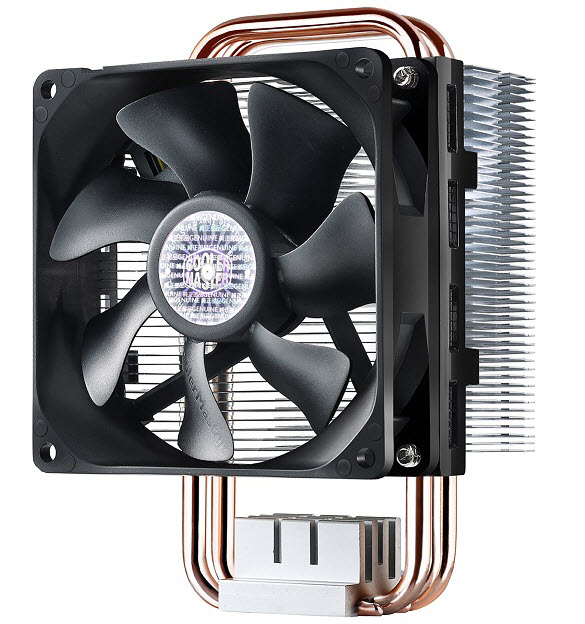 This budget CPU cooler comes with a 92mm fan and two copper heat pipes that have direct contact with the CPU. It can support processors having up to 130W TDP. It comes with all the mounting brackets and is pretty easy to install for both Intel and AMD CPUs. The performance of this compact and budget CPU cooler is great but I would not recommend you perform overclocking your CPU on this cooler. For overclocking, you should get a good AIO Liquid CPU Cooler or a powerful CPU Air Cooler.
Cooler Master Hyper T2 Specifications
Supported Sockets
Intel LGA 1156 / 1155 / 1151 / 1150 / 775 socket and AMD AM4 / AM3+ / AM3 / AM2+ / FM2+ / FM2 / FM1 socket
Fan Size
92mm
Fan Speed
800 – 2800 RPM (PWM)
Heat Pipes
2, Copper Heatpipes
Features
Continuous Direct Contact (CDC), Compact Size, Easy Installation, Dual Loop heatpipes
Buy Cooler Master Hyper T2 CPU Cooler
Motherboard
Gigabyte Z370P D3
The motherboard I have chosen here is Gigabyte Z370P D3. This is an ATX motherboard based on the latest Z370 Intel chipset and supports 8th generation Coffee Lake processors. The motherboard supports 64GB DDR4 RAM (up to 4000 MHz) in dual channel mode and has got an M.2 slot for connecting super-fast PCIe Gen3 x4 or NVMe SSDs. For the graphics card, it has PCI-Ex16 slots that support 2-Way AMD CrossFire multi-GPU setup. Other features include onboard 8-channel audio, gigabit LAN, RGB Fusion for LED Lighting, Intel Optane Memory Ready, high-speed USB 3.1 ports, Hybrid Fan headers, UEFI BIOS. The motherboard includes support for Windows 10 64-bit operating system.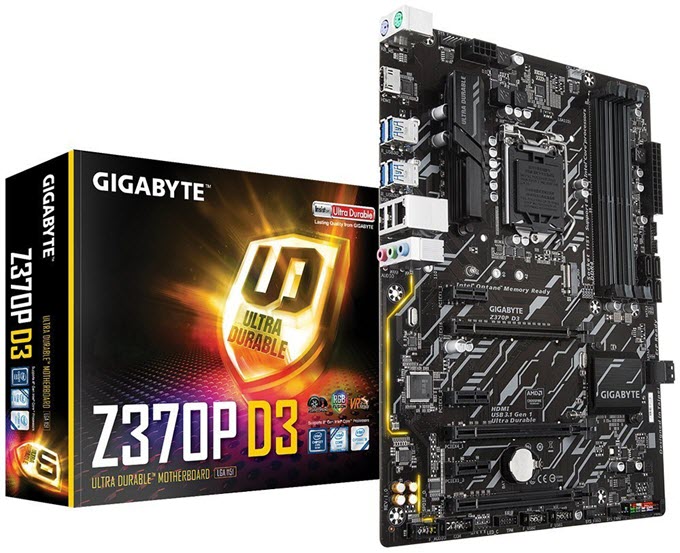 Gigabyte Z370P D3 Motherboard Specifications
Socket Type
LGA 1151 for 8th Generation Intel Core i7 processors/Intel Core i5 processors/Intel Core i3 processors
Form Factor
ATX
Chipset
Intel Z370
RAM Support
DDR4 4000 (O.C.), up to 64GB, Dual Channel
Slots
DIMM x 4, PCI-Ex16 x 3, PXI-Ex1 x 3, M.2 x 1 (Up to 32 Gb/s)
Ports
SATAIII x 6, USB 3.1 x 6, USB 2.0 x 6
Form Factor
Supports 2-Way AMD CrossFire, Onboard 7.1 Channel Audio & LAN, UEFI BIOS, Intel Optane Memory Ready, RGB FUSION supports RGB LED strips in 7 colors, 25KV ESD and 15KV Surge LAN Protection, GIGABYTE Patented Double Locking Bracket, Intel XMP support
Buy Gigabyte Z370P D3 Motherboard
RAM
Crucial Ballistix Sport LT DDR4 (16GB)
You need a good amount of RAM for video editing work and here I have chosen 16GB of Ballistix Sport LT DDR4 memory. Here I am using two 8GB sticks of this gaming RAM configured in dual channel mode for maximum performance and bandwidth. This is a high-performance low profile DDR4 memory that has got clock speed of 2400 MHz (2666 MHz using XMP profile) and comes with a sleek and slim aluminum heatspreader that keeps it cool even during high workloads. You can increase your RAM to up to 32GB by adding two more modules of this DDR4 gaming RAM if you feel that 16GB is falling short for your video editing work.

Ballistix Sport LT DDR4 RAM Specifications
RAM Type
DDR4
Capacity
8GB x 2
Clock Speed
2666 MHz
Warranty
Limited Lifetime
Buy Crucial Ballistix Sport LT DDR4 RAM
SSD
Samsung 860 EVO 500GB SSD
SSD can make a huge performance impact in video editing work compared to a traditional hard drive. For SSD, I have selected Samsung 860 EVO 500GB SSD which is a high-performance 2.5-inch SATAIII solid-state drive having maximum Read & Write speed of up to 550 MB/s & 520 MB/s respectively. This Samsung SSD has got 1.5 Million Hours Reliability (MTBF) which is pretty good for the SSD in its price range. The SSD uses V-NAND memory chips to store data and supports AES 256-bit hardware-based encryption, and is compliant with TCG Opal and IEEE 1667. This is a great SSD for 4K Video Editing, 4K Video Rendering, and working with 3D modeling software.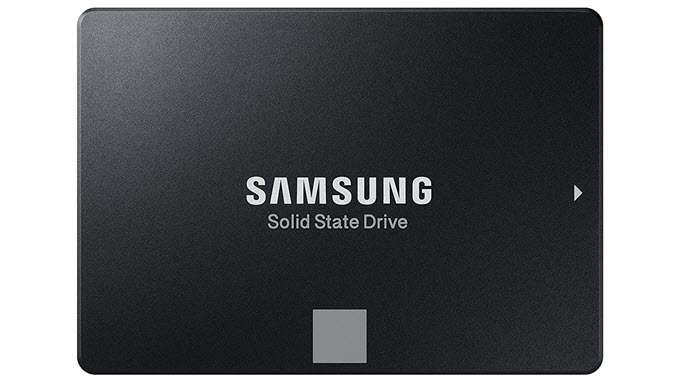 Samsung 860 EVO 500GB SSD Specifications
Capacity
500GB
Size
2.5 inch
Read / Write Speed
550 MB/s / 520 MB/s
Interface
SATAIII (6Gbps)
Warranty
5 years
Hard Drive
Seagate BarraCuda 2TB
For storing all your video files and other files, you do need a high-capacity hard drive too because higher capacities SSDs are very expensive. Here I have selected Seagate BarraCuda 2TB which is 7200 RPM 3.5-inch hard drive having SATAIII interface. It comes with 64MB cache and offers tons of storage space for all your videos and other work files. Overall, a good inexpensive traditional hard drive that offers good performance for the price.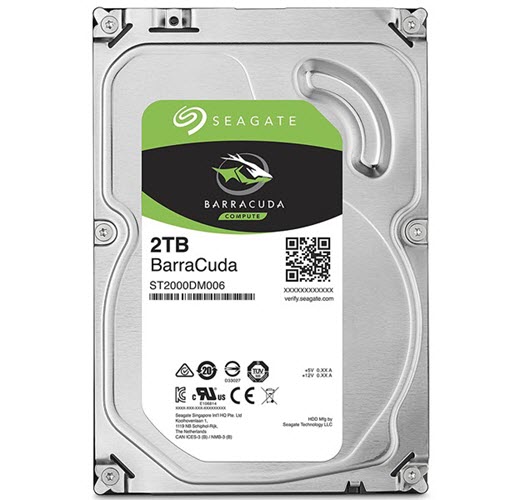 Seagate BarraCuda 2TB Hard Drive Specifications
Storage Capacity
2TB
Spindle Speed
7200 RPM
Cache Size
64MB
Warranty
2 years
Buy Seagate BarraCuda 2TB Hard Drive
Graphics Card
ZOTAC GeForce GTX 1050 Ti Mini
For 4K video editing and rendering, you need a decent graphics card because it can really speed things up. Nowadays graphics card is becoming an important component of a video editing PC because all the modern-day video editing and photo editing software have started taking advantage of GPU processing power. Here I have picked up ZOTAC GeForce GTX 1050 Ti Mini which is a compact mid-range graphics card based on the Pascal GPU architecture from Nvidia. It comes with 768 CUDA Cores and 4GB GDDR5 memory having a 128-bit interface.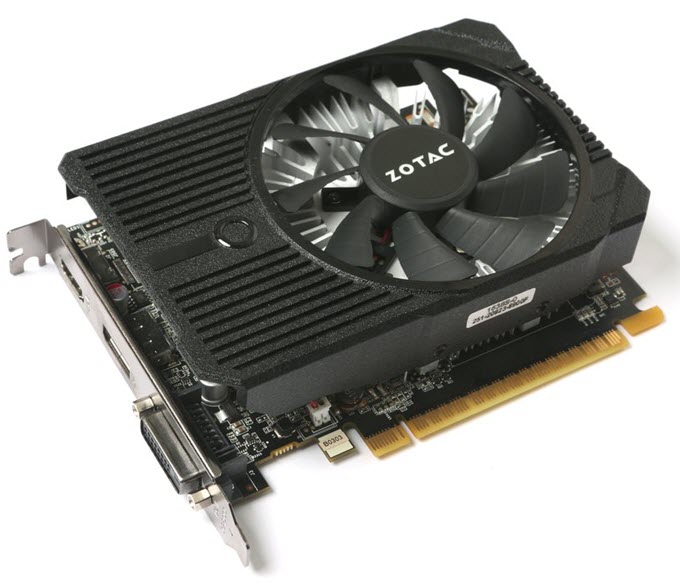 It is a very compact graphics card and can fit in almost all SFF mini-ITX cases. For cooling, it comes with a 90mm fan and an aluminum heatsink. The card also has lower power consumption and does not require external power connectors from the PSU. Connectivity options include DVI, HDMI, and DisplayPort.
Check out: Best Graphics Cards without External Power Connectors
ZOTAC GeForce GTX 1050 Ti Mini Specifications
CUDA Cores
768
GPU Clock
1303 / 1417 MHz (Base/Boost)
Memory Clock
7 GHz
Memory Size
4GB GDDR5
Memory Interface
128-bit
Bus Interface
PCI Express 3.0
DirectX
12
OpenGL
4.5
Output Ports
DVI, HDMI, DisplayPort
Power Supply
Corsair VS550 Power Supply
Corsair VS550 is a very good budget power supply having a maximum wattage of 550 Watts. It comes with a single 12V rail having 42A current on it, 120mm silent fan, and two PCI-Express 8-Pin (6+2) connectors for the graphics card. It is an 80 Plus certified power supply with up to 85% efficiency and comes with all sleeved cables. This 550W power supply is enough to power this video editing PC without any hiccups. Other features include 0.99 Active Power Factor Correction (Active PFC) and all Voltage, Power, and Current Protection features i.e. OCP, OVP, OPP, SCP, UVP, OTP.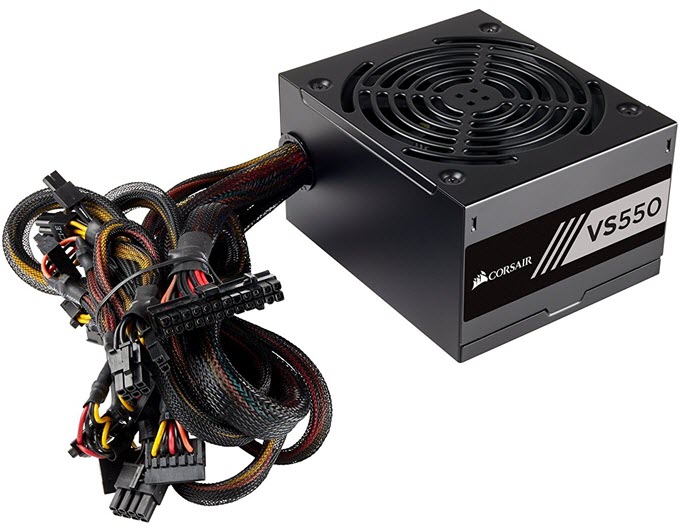 Corsair VS550 Power Supply Specifications
Wattage
550W
12V Rail
42A, Single
Fan Size
120mm
80 Plus Certification
White
PCI Express Connector
PCIe 8-pin (6+2)
Warranty
3 years
Buy Corsair VS550 Power Supply
Case
Corsair Carbide Series 100R Mid-Tower
Corsair Carbide Series 100R is an elegant, simple, and modern-looking mid-tower computer case that is very practical and spacious. It can support up to ATX sized motherboards and for cooling, it comes included with one 120mm fan (rear) and offers up to 5 fan mounting locations for installing more case fans for increased airflow. On the front panel, you will get two USB 3.0 ports and audio jacks. This is a good case for building a budget work PC, office PC, or home PC. Below you can find all the specifications and features of this sleek mid-tower case.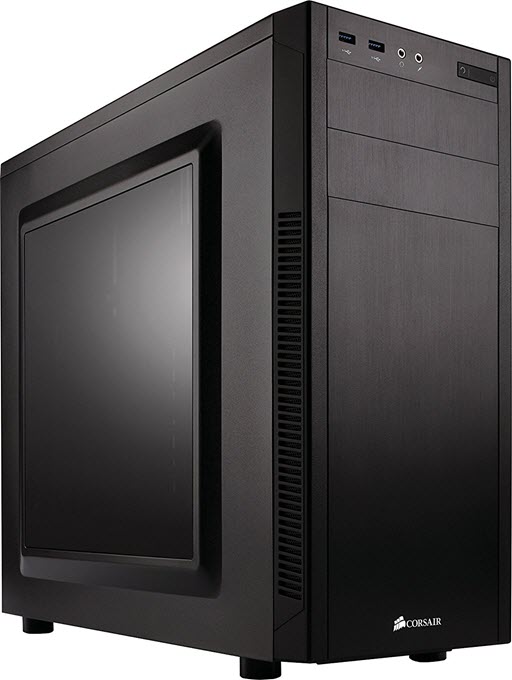 Corsair Carbide Series 100R Case Specifications
Form Factor
Mid-Tower
Motherboard Support
Mini-ITX, Micro-ATX, ATX
Drive Bays
5.25" x 2, 3.25" / 2.5" x 4
Front Ports
USB 3.0 x 2, Audio Ports
Expansion Slots
7
CPU Cooler Height
150mm
Graphics Card Length
Top Slots: 414mm, Lower Slots: 275mm
Fans
Front: 2 x 120 / 140mm

Top: 2 x 120mm

Rear: 1 x 120mm (Included)

Features
120mm Radiator Support, Tool-free drive installation, Windowed side panel, Thumbscrew Side Panels, 260mm PSU support, mesh-free front panel
Buy Corsair Carbide Series 100R Mid-Tower Case
Monitor
AOC I2367FH 23" IPS Full HD
For monitor, I strongly advise you to get an IPS panel display for video editing work because of its superior color production and image quality. Here I recommend a very good budget IPS panel monitor which is AOC I2367FH 23-inch IPS LED Full HD monitor. This 1080p IPS monitor has got very narrow bezels, a solid stand, and 2W internal speakers. It has excellent color production and comes with one VGA and two HDMI ports. You can check out the major specifications of this IPS monitor below.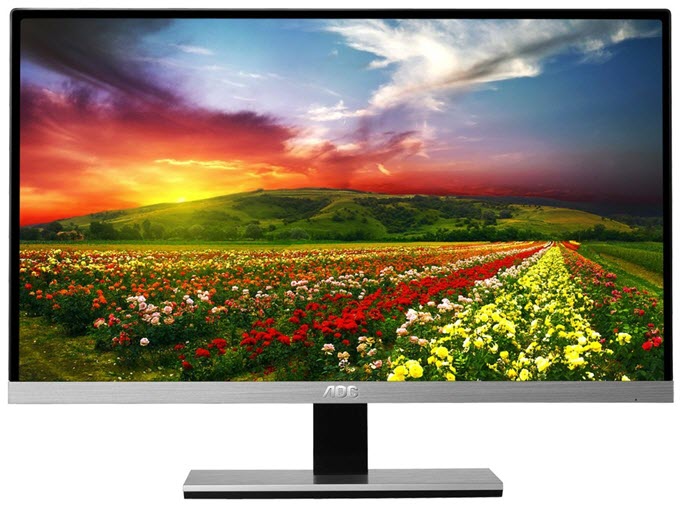 AOC I2367FH 23" IPS Full HD Monitor Specifications
Screen Size
23-inch
Display Panel
IPS LED
Max. Resolution
1920 x 1080 pixels
Refresh Rate
60Hz
Response Time
5ms
Aspect Ratio
16:9
Features
Tilt Adjustment, Low Power Consumption, In-built Speakers (2 Watt), Slim Bezels
Ports / Connectivity
VGA, HDMI x 2
Buy AOC I2367FH 23-inch IPS LED Full HD monitor
Final Words
This budget video editing and video rendering PC is powerful enough to edit videos up to 4K and for other professional work. You can also enjoy quite a bit of gaming too on this professional video editing build. If you want to ask anything about video editing build or its components then you can ask me your queries by leaving a comment below.
(*This post may contain affiliate links, which means I may receive a small commission if you choose to purchase through the links I provide (at no extra cost to you). Thank you for supporting the work I put into this site!)