If you are a professional who is into 3D modeling & design and want to build a powerful budget workstation computer for SolidWorks, AutoCAD, 3D Animation/graphics and CAD /CAE / Graphics software then this guide will tell you on how to do so. A CAD workstation computer can be very expensive because it needs expensive and specialized workstation components that are very costly than regular or gaming hardware components. The budget for a CAD Workstation PC can easily go over thousands of dollars with just a few components only. Not everyone can afford such an expensive workstation computer for CAD.
However, you can build a very good budget workstation PC for CAD / CAE software by selecting the right components and not going every time for the workstation components. So, Here in this post, I am going to tell you how you can build a budget CAD workstation computer for SolidWorks, AutoCAD, 3D Animation / Graphics, and other professional software related to modeling and designing. This budget workstation desktop PC is pretty powerful and can fulfill all your professional needs without putting a deep hole in your pocket.
This budget CAD Workstation PC is suitable for Architectures, Civil Engineers, Electrical Engineers, Facilities Manager, Designers, Drafters, Mechanical Engineers, Structural Engineers, Surveyors, Manufacturing Engineers, Acoustics Engineers, Fire Protection Engineers, Food Services Designers and other professions involving CAD / CAE Work.
Check out: Build Budget Video Editing PC for 1080p & 4K Editing
Best Budget Components for CAD Workstation PC
Here are the best budget components that you can get for building a budget workstation desktop for SolidWorks, AutoCAD, Autodesk Maya, 3D Graphics Softwares / Animation software, or other CAD / CAE software that are used for engineering and designing work.
Processor
Intel Core i5-8600K
CPU or Processor is the main component of any PC whether it is a gaming PC or a workstation PC. For gaming, you can settle for an average processor but for CAD or CAE software like SolidWorks, Maya, AutoCAD, you need a pretty powerful processor even if you are on a budget. Here for the CPU, I have chosen Intel Core i5 8600K Processor which is a 6-Core Hexa-core processor having 9MB cache and base/boost clock speed of 3.6 GHz and 4.30 GHz.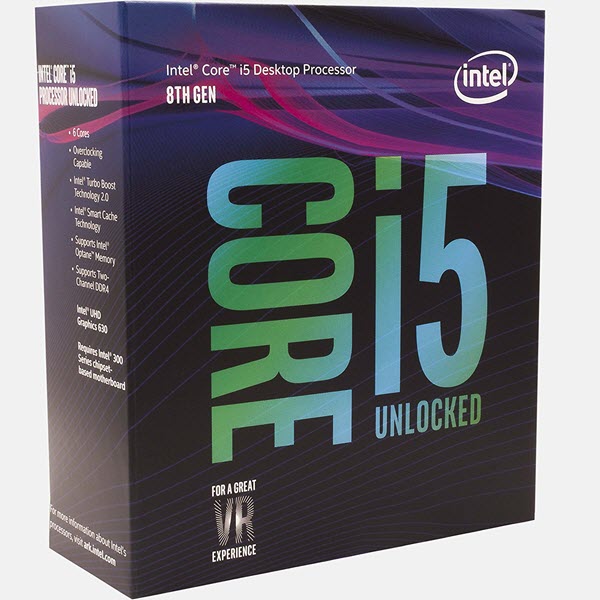 This is an 8th generation coffee lake processor from Intel based on the newer LGA 1151 Socket which is incompatible with the Kaby Lake motherboards having LGA 1151 Socket. This is a pretty powerful processor that is good for gaming as well as for professional or workstation use. The processor is built on the 14nm fabrication process and comes with an unlocked multiplier. This means you can overclock this processor to higher clock speeds or frequencies on a good CPU cooler, preferably a liquid CPU cooler. It supports DDR4-2666 RAM up to 64GB and comes with integrated graphics which is Intel UHD Graphics 630. It does lack support for the ECC memory but we don't need it now because we are building a budget workstation computer. The power consumption of this processor stands at 95W TDP which is on the moderate side.
Intel Core i5-8600K Processor Specifications
Clock Speed
3.60 GHz / 4.30 GHz (Base / Turbo)
No. of Cores
6 Cores / 6 Threads
Cache Size
9MB
Socket Type
LGA 1151
Graphics
Intel UHD Graphics 630
Buy Intel Core i5-8600K Processor
CPU Cooler
Cooler Master Hyper 212 EVO
For Intel Core i5 8600K CPU, I have selected Cooler Master Hyper 212 EVO CPU Cooler which is a very popular and reliable CPU Cooler from Cooler Master. This budget CPU Cooler comes with a 120mm Fan and 4 Copper Heatpipes that has direct contact with the CPU, which is Cooler Master's patented CDC (Continuous Direct Contact) technology. This allows for better heat dissipation and reduced CPU temperatures. This CPU Cooler is pretty easy to install and is also very quiet in operation. It comes bundled with all the CPU mounting plates/brackets, installation kit, and thermal paste. You may also perform a bit of overclocking on this CPU cooler but if you really want to do some serious overclocking then you should get an AIO Liquid CPU Cooler with at least two fans / dual radiators.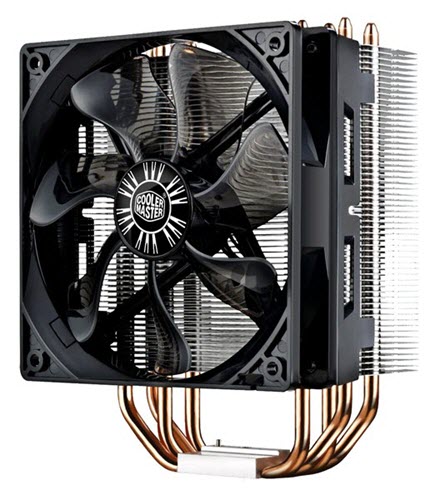 Cooler Master Hyper 212 EVO Specifications
Supported Sockets
Intel LGA 2066 / 2011-3 / 2011 / 1366 / 1156 / 1155 / 1151 / 1150 Socket and AMD AM4 / AM3+ / AM3 / AM2+ / AM2 / FM2+ / FM2 / FM1 Socket
Fan Size & RPM
120mm PWM Fan, 600 – 2000 RPM
Heat Pipes
4 Copper Heat pipes (direct contact with CPU, CDC technology)
Features
CDC (Continuous Direct Contact), Low Fan noise, dual fan design, All in one mounting solution
Buy Cooler Master Hyper 212 EVO
Motherboard
MSI Z370-A PRO Motherboard
The motherboard I have selected for this CPU is MSI Z370-A PRO Motherboard. This is a pretty affordable Intel Z370 chipset motherboard for 8th generation Coffee Lake Processors. It is an ATX form factor motherboard and it comes will advanced features and all necessary expansion ports. The motherboard supports overclocking and it comes with dual PCI-E x16 slots for graphics cards and supports 2-Way CrossFire dual GPU setup. It supports DDR4 up to 4000 MHz in OC mode and includes M.2 slot for NVMe SSDs, M.2 SSDs, and Intel Optane Memory.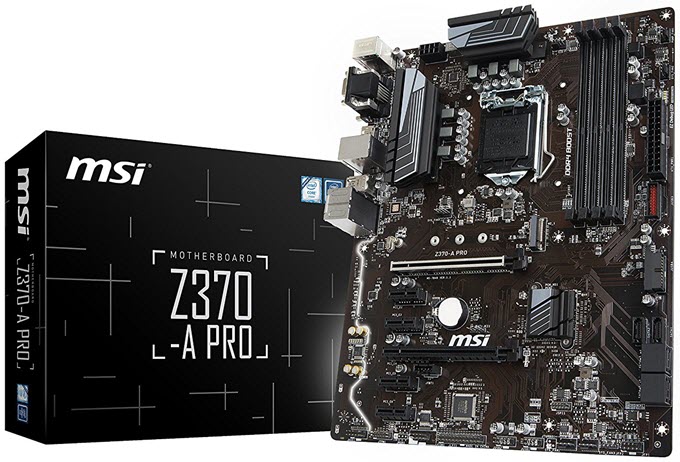 This is a solidly built motherboard with heavy-duty heatsinks for optimum cooling. Other features of this motherboard include onboard 7.1 channel audio, Gigabit LAN, CrossFire support, Click BIOS 5, VR Ready, Double ESD Protection, PCI-E Steel Armor PCI-E Steel Armor for heavy graphics cards, DDR4 Boost, Audio Boost, USB 3.1 ports.
MSI Z370-A PRO Motherboard Specifications
Socket Type
LGA 1151
Form Factor
ATX
Chipset
Intel Z370
RAM Support
DDR4 4000+ (OC), up to 64GB, Dual Channel
Slots
DIMM x 4, PCI-Ex16 x 2, PCIex1 x 1, M.2 x 1 (up to 32Gb/s)
Ports
SATAIII x 6, USB 3.1 x 8, USB 2.0 x 6, VGA, DVI-D, DisplayPort
Features
Onboard 8 channel audio, Gigabit LAN, 2-way CrossFire support, Overclocking support, UEFI BIOS, PCI-E Steel Armor, VR Ready
Buy MSI Z370-A PRO Motherboard
RAM
Corsair Vengeance LPX 16GB (2x8GB) DDR4
For a workstation PC, you will need at least 16GB of memory to work with software like SolidWorks, AutoCAD, etc.. Here I have picked Corsair Vengeance LPX 16GB (2x8GB) DDR4 DRAM having a maximum clock speed of 3000 MHz. It is a high-quality memory and gives an amazing performance in games as well in other applications. It supports Intel XMP 2.0 profiles for automatic and easy overclocking.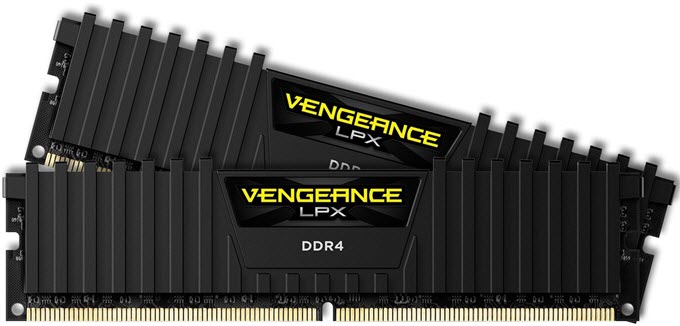 This is a low profile RAM that consists of slim low profile aluminum heat spreaders that keeps it from getting hot in stressed environments. If you feel you need more memory then you can upgrade your RAM to 32GB by getting another 16GB Kit of this RAM. This DDR4 RAM supports both dual-channel and quad-channel memory configurations.
Check out: Best DDR4 Memory for Intel and AMD Gaming PC
Corsair Vengeance LPX 16GB (2x8GB) DDR4 RAM Specifications
RAM Type
DDR4 (288 pin)
Capacity
2 x 8GB
Clock Speed
3000MHz
Warranty
Limited Lifetime
Buy Corsair Vengeance LPX 16GB DDR4 RAM
Solid State Drive (SSD)
Samsung 850 EVO SSD 500GB
For a CAD Workstation PC, you have to go for an SSD for faster loading of your 3D models and for other processing involved in a CAE / CAD software. Here we have got Samsung 850 EVO 500GB SSD which is a very fast SATA III solid state drive. This is a 2.5-inch solid-state drive that has got sequential read and write speeds of 540 Mb/s and 520 MB/s respectively. This SSD from Samsung uses V-NAND flash memory chips and has got reliability of 2 Million Hours Reliability (MTBF). This is a great SSD for both gaming and workstation needs because of its amazing performance and high reliability.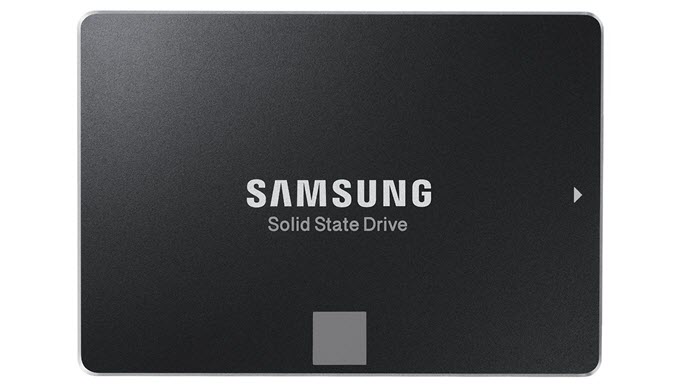 Samsung SSD 850 EVO Solid State Drive
Capacity
500GB
Size
2.5-inch
Read / Write speed
540 MB/s and 520 MB/s
Interface
SATAIII 6Gb/s
Warranty
5 year
Note: If you need more storage space for keeping your other files then you can get a mechanical hard drive for it. I recommend WD Blue 1TB Hard Drive.
Graphics Card
Nvidia Quadro P2000
Here comes the most important component of your CAD Workstation PC which is a graphics card. Here I have selected a workstation graphics card because if you want the most performance out of your CAD / CAE applications or software then gaming graphics is not enough for it. Here I have chosen Nvidia Quadro P2000 graphics card which is a mid-range workstation graphics card based on the Pascal GPU architecture. It is a very good affordable graphics card for SolidWorks, AutoCAD, and other CAD/CAE software. This is a single slot graphics card that uses a single blower type fan and slim heatsink for cooling.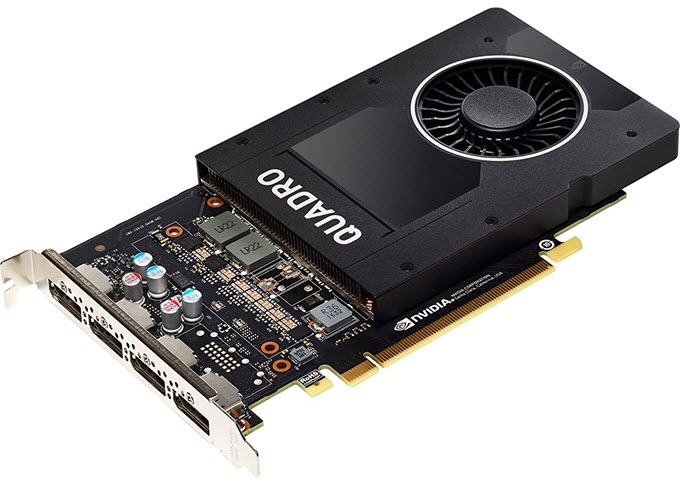 This card offers 3.0 TFLOPS of Peak Single Precision FP32 Performance and comes with 1024 CUDA Cores and 5GB GDDR5 memory. Various Graphics and Compute APIs supported by this workstation video card include Shader Model 5.1, OpenGL 4.5, DirectX 12.0, Vulkan 1.0, CUDA, DirectCompute, OpenCL. The card has a lower power consumption of 75W and does not require 6-pin/8-pin external power connectors from the power supply or PSU. Connectivity options include four DisplayPorts. It supports Microsoft Windows 10 (64-bit and 32-bit), Microsoft Windows 8.1 and 8 (64-bit and 32-bit), Microsoft Windows 7 (64-bit and 32-bit), and Linux – Full OpenGL implementation, complete with NVIDIA and ARB extensions (64-bit and 32-bit).
Check out: Top Nvidia Quadro Workstation Graphics Cards based on Pascal GPU Architecture
Nvidia Quadro P2000 Specifications
CUDA Cores
1024
FP32 Performance
3.0 TFLOPS
Memory Size
5GB GDDR5
Memory Interface
160-bit
Bus Interface
PCI Express 3.0
Power Consumption
75 Watts
Output Ports
DisplayPort x 4
Buy Nvidia Quadro P2000 Graphics Card
Power Supply
EVGA 500 W1, 80+ WHITE
To power this workstation PC you need a decent power supply. Here I have chosen EVGA 500 W1, 80+ White which is a very good budget power supply. This is a 500W power supply and has got 40A current on its single 12V Rail. It is a very quiet PSU and has got a 120mm sleeve bearing fan. For the graphics card, it has got two 8pin (6+2) PCI-Express connectors and it can easily power a mid to high-end graphics card without any issues.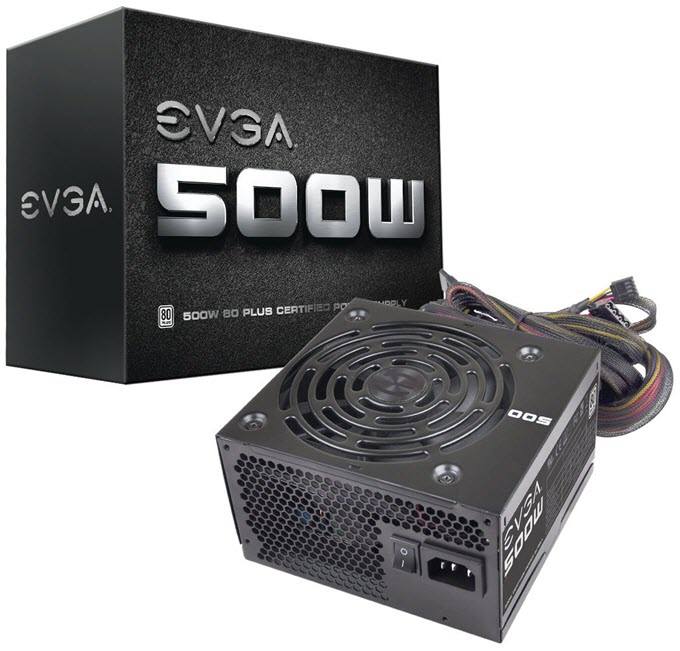 The power supply comes with all the heavy-duty protection features that include OVP (Over Voltage Protection), UVP (Under Voltage Protection), OCP (Over Current Protection), OPP (Over Power Protection), SCP (Short Circuit Protection), and OTP (Over Temperature Protection). Another good PSU that I recommend is Thermaltake Smart 600W 80+ White Power Supply.
EVGA 500 W1 Power Supply Specifications
Wattage
500W
12V Rail
40A, Single
Fan Size
120mm
80 Plus Certification
White, 80% Efficiency
PCI Express Connector
2 x 8pin (6+2)
Warranty
3 years
Case
Corsair Carbide 270R Mid-Tower ATX
To accommodate all these components, you need a solid computer case. Here I have selected Corsair Carbide Series 270R ATX Mid-Tower Case. This is a very simple, sleek, compact, and elegant high-quality mid-tower case from Corsair that has enough room to accommodate all your high-end components. The case has good airflow, ventilation and it comes with one 120mm pre-installed. However, you can optionally install more fans on top, front, and rear. On the front side panel, you will find two USB 3.0 ports and audio ports.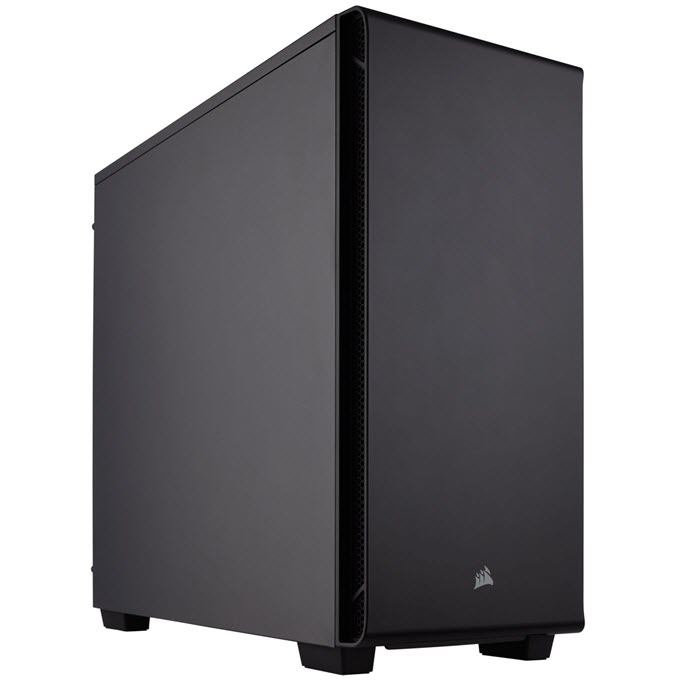 This mid-tower case has a minimalist design and solid build quality. It can support graphics cards up to 370mm in length and up to 170mm tall CPU coolers. It supports ATX, Micro-ATX and Mini-ITX motherboards and comes with features like dust filters, cable routing, and tool-free drive installation.
Must Read: Top Super-Tower Cases for Building Workstation or Server
Corsair Carbide Series 270R ATX Mid-Tower Case Specifications
Form Factor
Mid-Tower
Motherboard Support
ATX, Micro-ATX, and Mini-ATX
Front Ports
USB 3.0 x 2, Audio Ports
Fans
Front: 120mm x 3 or 140mm x 2

Top: 120/140mm x 2

Rear: 120mm x 1

Drive Bays
3.5" x 3, 2.5" x 2
Features
Up to 360mm Radiator support, Tool-Free Installation, up to 370mm GPU support, up to 170mm CPU Cooler support, Solid Side Panel, Dust Filters, Cable Routing, 7 Expansion Slots
Buy Corsair Carbide 270R Mid-Tower Case
Final Words
So, if you are looking to build a budget CAE / CAD Workstation Desktop for SolidWorks, AutoCAD, etc. then you won't find anything better than this above-mentioned workstation build. It is powerful, has got all the latest components and is upgradeable too. If you have any queries about it, then feel free to ask me by leaving a comment below.
(*This post may contain affiliate links, which means I may receive a small commission if you choose to purchase through the links I provide (at no extra cost to you). Thank you for supporting the work I put into this site!)