Nvidia and AMD are the two topmost manufacturers of graphics card processors or GPUs in the world. Both Nvidia and AMD make gaming as well as workstation or professional GPUs (Graphics Processing Unit). Graphics Cards from Nvidia and AMD are made by their licensed & official Partners who are authorized to make graphics cards for them. These manufacturers get the GPUs and PCB design layout from Nvidia and AMD for making Graphics Cards. Some of them may design their own customized PCB layout and circuit to cut down the cost or increase performance.
A graphics card consists of many other major components besides GPU. It has VRAM or Video Memory, VRM (Voltage Regulator Module), Capacitors, Resistors, and a Cooling Unit that can be either passive or active. All these components are put together on a PCB by these graphics card manufacturers and after that, they are ready to be sold in the market.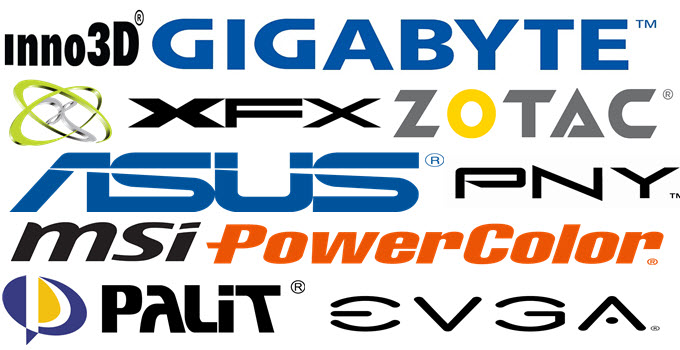 Graphics Cards having the same GPU from different manufacturers or brands may not have the same performance and features. This is because different manufacturers may have their own board layout, memory capacity, type & speed, components quality, and cooler. Most of the manufacturers overclock their graphics cards for better performance, some of them bundle free games and some provide more warranty. All these things ultimately affect the performance and efficiency of graphics cards having the same GPU. This is why graphics cards having the same GPU from different brands have different pricing. Some are cheaper and some are a bit more expensive. Graphics cards from higher reputed brands are usually costlier than the other brands. Here in this post, I am going to provide you with a list of top graphics card manufacturers & brands and tell you about their graphics cards.
Must Read:
Top Video Card Manufacturers & Graphics Card Brands
Here are the top graphics card brands or graphics card manufacturers for Nvidia and AMD GPUs.
ASUS
ASUS is a top computer hardware and electronics company that is known worldwide and it really needs no introduction. It makes motherboards, graphics cards, components, peripherals, smartphones, tablets, laptops, headphones, routers, modems, and more. Asus is known for its high quality and robust products and has a very good reputation worldwide.
Coming to graphics cards, Asus makes graphics cards for both Nvidia and AMD GPUs. It has a wide range of graphics cards starting from the budget, mid-range to high-end. Graphics Cards from Asus are robust and offer superior performance. Asus also has a gaming brand named ROG which stands for Republic of Gamers. The ROG brand consists of all the high-performance and high-quality products for gaming. Asus ROG STRIX Graphics Cards are considered to be one of the best graphics cards in terms of performance. Asus Graphics cards are a bit expensive as compared to other graphics card brands. Graphics Cards from Asus are available worldwide and their support is good all around.
MSI
MSI or Micro-Star International is also a well-known computer hardware company that makes high-performance graphics cards. MSI makes both Nvidia and AMD graphics cards. Top higher mid-range and high-end MSI graphic cards come with TWIN FROZR VI cooling solution which is very quiet in operation and provide good cooling to the graphics card. The pricing of the MSI graphics card is close to that of Asus and has good availability worldwide.
Gigabyte
Gigabyte is another good brand that makes a variety of computer hardware products including motherboard, graphics cards, laptops, and other computer peripherals and components. Gigabyte makes both Nvidia and AMD graphics cards. Generally, Gigabyte Graphics Cards are cost-effective and they are a bit cheaper than Asus and MSI graphics cards. Gigabyte has recently launched its AORUS brand graphics cards to compete with the Asus ROG STRIX line of graphics cards.
EVGA
EVGA Graphics Cards are very popular in America and you won't find EVGA graphics cards everywhere. EVGA is an American Hardware manufacturer that makes Nvidia Graphics Cards, Power Supplies, and computer components and peripherals. EVGA makes high-quality Nvidia Graphics Cards but its availability is a bit of concern outside America.
Zotac
Zotac is a company that is known for its cost-effective graphics cards and mini PCs. Zotac only makes Nvidia Graphics Cards and their graphics cards are affordable as compared to graphics cards from other big brands like Asus, MSI, Gigabyte, and EVGA. Zotac offers graphics cards from every segment whether it is budget, mid-range, or high-end graphics cards. Zotac may be a smaller brand, but it makes good graphics cards, and you can trust them. I also own a Zotac graphics card.
Galax
Galax (previous Galaxy) is a pretty decent company that makes affordable and reliable Nvidia graphics cards. Galax offers a complete range of graphics cards from Nvidia and they are a bit cheaper and more affordable than the more famous brands mentioned above. In Europe, it is known by the brand name KFA2.
PNY
PNY is an American company that makes graphics cards, flash memory cards, flash drives, chargers, adapters, and other accessories. PNY makes both gaming and workstation graphics cards for Nvidia. It is the officially licensed partner of Nvidia to make professional or workstation graphics cards. PNY gaming graphics cards are well priced but they are not much popular and have availability issues.
Palit
Palit is a graphics card manufacturer that mainly makes Nvidia Graphics Cards. It is a fairly popular brand and offers some cheap graphics cards. Availability is also a concern for Palit Graphics Cards.
PowerColor
PowerColor is an AMD Radeon Graphics Cards manufacturer from Taiwan. It is a good brand and if you are looking for an AMD Graphics Card then PowerColor is one of the best.
Sapphire
Sapphire also makes AMD Graphics Cards. It offers AMD Radeon graphics cards from all ranges including budget, mid-range, and high-end graphics cards. Sapphire is one of the most popular brands for AMD Radeon graphics cards.
Inno3D
Inno3D is a Chinese manufacturer of Nvidia Graphics Cards. Their graphics cards offer good performance but they are a bit hard to find because of availability issues.
XFX
XFX is a popular brand that many of you have heard of with graphics cards. XFX used to make Nvidia graphics cards previously but it is no longer an official Nvidia Partner and now it only makes AMD Graphics Cards. XFX Graphics Cards are pretty good and offer great performance and features.
HIS
HIS is a graphics card manufacturer that makes AMD Radeon Graphics Cards.
VisionTek
VisionTek is a manufacturer of AMD Radeon Graphics Cards. Their graphics cards are not very popular among gamers and also they are not readily available.
ASRock
ASRock, which is known for its motherboards manufactures AMD Radeon Gaming Graphics Cards. Their graphics card series or range is known as Phantom Gaming. It is a new player in graphics card manufacturing but it is a reliable brand and offers great products at relatively cheaper prices.
AFOX
AFOX is a Hong Kong-based company that manufactures both Nvidia and AMD graphics cards. It also manufactures Motherboards, Memory, SSD, CPU cooler, Power Supply, Mini-PC, Tablet PC, and Laptops. The company offers almost all the graphics card models ranging from budget and mid-range to high-end categories. You can go to its website www.afox-corp.com and can check the complete range of graphics cards and other products there.
Manli
Manli Technology Group Ltd. is one of the major manufacturers and suppliers of Computer Graphics Cards, MiniPCs, 3D Printers, and other peripherals/components. It is a Hong Kong-based company and makes only Nvidia graphics cards. You can find the complete range of Nvidia GPU-based graphics cards starting from the budget range to the high-end range. Its website is www.manli.com where you can check all of its products including graphics cards.
Other Brands
Some other or less popular brands include BFG, Biostar, Diamond Multimedia, Maxsun, PixelView, Jetway, Onda, Leadtek, Point of View (POV), Club 3D, Zogis, Colorful, Gainward, ECS, Sparkle, ViewMax, Chaintech, ELSA, Dataland, Yeston, Ocamo, Macy, Forsa, Emtek, Kinology, VTX3D, Axle3D or AXLE, PCYES, KUROTOSHIKOU, Axigon, GEIL, ASL, AXLE, CAT, SAPLOS ColorFire, PRADEON, Vastarmor, SOYO.
See also:
Which Graphics Card Brand is the Best?
It is true that some graphics card brands are better than others and graphics cards from top brands do cost a bit more than smaller or lesser-known brands. If there are no budget constraints then the best brands that I recommend are Asus, MSI, EVGA, and Gigabyte. Also, graphics cards from these top brands are available worldwide and have good support. If you are on a budget then you may look for other brands and get the best deal or the cheapest graphics card from the brands mentioned above. If you have any queries or want to suggest something then connect with us by leaving a comment below.
Check out Graphics Cards from Different Brands
(*This post may contain affiliate links, which means I may receive a small commission if you choose to purchase through the links I provide (at no extra cost to you). Thank you for supporting the work I put into this site!)