Even in this age of solid state drives, hard drives still dominate when it comes to bulk data storage. They are cheap, reliable, and come in high storage capacities. Normally, hard drives don't require additional cooling as they can run on passive cooling without any issues, but in some cases where you have a compact case / slim case or a case with restricted airflow then your hard drives can get very hot. Also, high ambient temperatures can cause your hard drive to reach higher temperatures that may not be safe for it in the long run. Some high-performance hard drives such as WD Black series naturally run hotter than a standard hard drive, and sometimes cooling may be required for it, even if you have good airflow in the case. Overheating of the hard drive can result in drive failure and thus data loss. So, if you are in such a situation where your hard drive is getting too hot then you need to take some measures to keep its temperature down to normal levels. So, here I am going to list some ways to lower your HDD temperature. Let us first learn about the safe operating temperature of a hard drive and at what temperature you should be worried about it.
Safe Operating Temperature for Hard drive
The safe operating temperature for most hard drives is between 10°C and 50°C, but some modern-day HDDs can withstand up to 60°C. However, if you see your hard drive getting above 50°C then it is a sign of worry and you have to take appropriate measures to bring it down. Also, your hard drive should not be running too cold, because in too colder environments, the viscosity of the lubrication between the parts increases, which then increases friction and may shorter the HDD lifespan and can lead to its premature failure. Also, metal parts shrink under much lower temperatures and can cause misalignment between the head and the platters, and may lead to a breakdown. In my opinion, it is better to keep the hard drive temperature between 20°C to 40°C for its longer lifespan.
How to Check Hard Drive for Temperature & Errors
To monitor the hard drive temperature and other important parameters, you can use a small utility called CrystalDiskInfo. It is available for free to download and you can get it from the link given below. It can tell you about your hard drive temperature, firmware, serial number, transfer modes, features, power-on hours, etc., and also shows its health status. It can also report errors with your hard drives that include bad sectors, reallocated sectors count, etc. This utility also supports SSD and is one of the best hard drive monitoring tools available.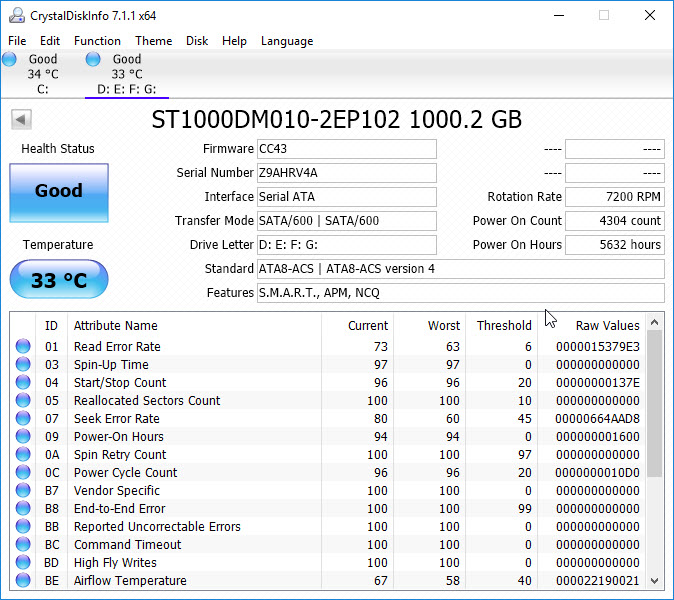 Ways to Fix Hard Drive Overheating
Here are the following ways to prevent your hard drive from overheating. These tips apply to 3.5-inch internal hard drives from any brand, whether it is Seagate, Western Digital, or Toshiba.
Install Front Intake Fans
If your hard drive bays are located just behind the front panel (which is in most cases) then installing front intake fans can help to cool down your hard drive and can prevent it from reaching much higher temperatures. It must be noted that front intake fans should be high static pressure fans because they can push a high amount of air in a focused way so that air can even reach tight and restricted places. I would recommend installing the maximum number of intake fans at the front panel supported by your PC case. This helps to achieve better airflow inside your case, which will keep the internal components cooler.
HDD Coolers & Fans
The dedicated approach to cool down a hard drive is by using a hard drive cooler. This is an active cooling strategy and by this, you can cool any 3.5-inch hard drive more efficiently. The hard drive cooler consists of a fan that attaches to the hard drive and blows air directly onto it and prevents it from overheating under heavy load or during continuous operation. If you have an SFF case with no provision for a front intake fan then this is the best way to cool down your hard drive. Below are the most practical and good hard drive coolers that you can get online. These hard drive coolers are slim, take up very less space, and are very easy to install onto a hard disk.
A slim hard drive cooler from Scythe that comes with a slim 100mm fan, surrounded by a heatsink having aluminum fins. The fan is frameless in design and is integrated with the whole HDD cooler frame and heatsink assembly. The fan comes with sleeve bearing and runs at 1000 RPM. It is very silent and has a rated noise level of 14.5dBA only. This is a 12V fan that uses a 3-pin connector but a 4-pin adapter comes bundled with the cooler, for use with a Molex connector. You can control the fan speed by using a fan controller that changes fan speed by varying the voltage or by using a low noise adapter 3-pin cable (7 Volt or so).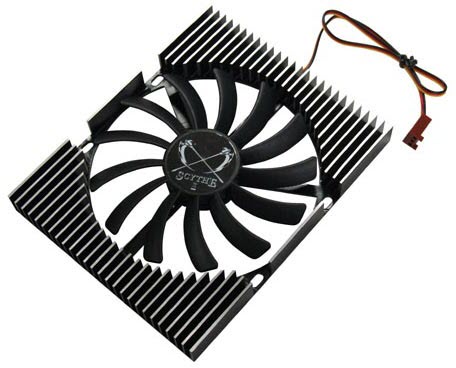 The HDD cooler can be attached to the bottom of the 3.5-inch hard drive using the four screws that are included with it. The fan covers almost the entire area of the hard drive and you can expect up to a 10 °C to 15 °C drop in temperature on the hard drive. The installation of the cooler is quite effortless on the hard drive but installing the hard drive using this cooler in modern cases can be a challenging task because nowadays most cases use tool-free and quick-release clip mechanism / mounting trays for the hard drives. So, you have to figure out a way to install the hard drive in your PC case with this HDD cooler attached. This lightweight hard drive cooler is very affordable and its model number is SCIT-1000.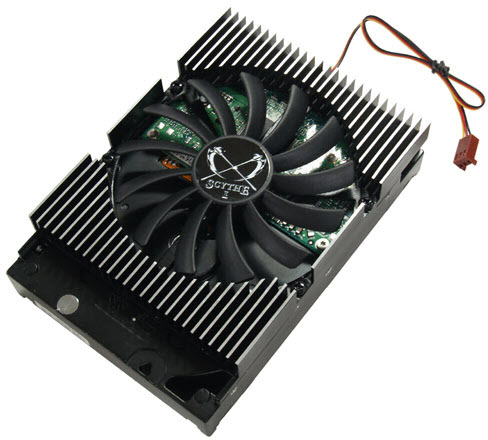 Scythe Ita Kaze HDD Cooler Specifications
Fan Size
100 x 100 x 12 mm
Fan Speed
1000 RPM
Bearing
Sleeve Bearing
Connector
3-pin (4-pin adaptor included)
Noise
14.5 dBA
Compatibility
3.5-inch Hard Drives
Buy Scythe Ita Kaze HDD Cooler
This is merely a 100mm slim fan (12mm thick) that comes with a hard disk mounting kit, to be used as a hard drive cooler too. The fan has got the same specifications that are found in the fan present on the Scythe Ita Kaze HDD Cooler.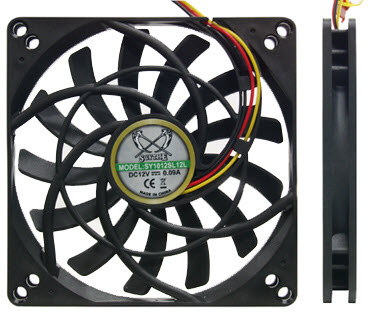 The mounting clips allow the fan to be installed on the bottom of a 3.5-inch hard drive. It cools down the hard drive to almost the same level as the above-mentioned Scythe HDD Cooler. The fan has got 92mm screw holes too, which allows it to be used in SFF computer cases with 92mm mounting points. This is a 3-pin 12V fan and a 4-pin Molex adapter comes included with it.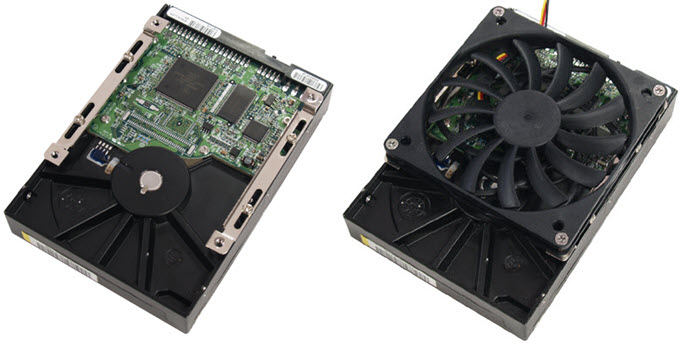 Note: A 2000 RPM version of this fan is also available, which you can also check out from the link given below. This higher RPM fan is not quite a silent performer and has a noise level rating of 29dBA, but it generates more cooling and airflow.
Scythe Kaze Jyu Slim 100mm Fan Specifications
Fan Size
100 x 100 x 12 mm
Fan Speed
1000 RPM
Bearing
Sleeve Bearing
Connector
3-pin (4-pin adaptor included)
Noise
14.5 dBA
Buy Scythe Kaze Jyu Slim 100mm Fan
Fix HDD Overheating for Laptops
2.5-inch Hard drives in laptops can get pretty hot (hotter than PC HDDs) under continuous operation because of almost no airflow in the laptops for the hard drive. On a PC, you can install a hard drive cooler or additional fans inside the case to cool it down to safe levels, but on laptops, you cannot do so. So, the best way to cool down a hard drive in a laptop is to use a good laptop cooling pad or laptop cooler.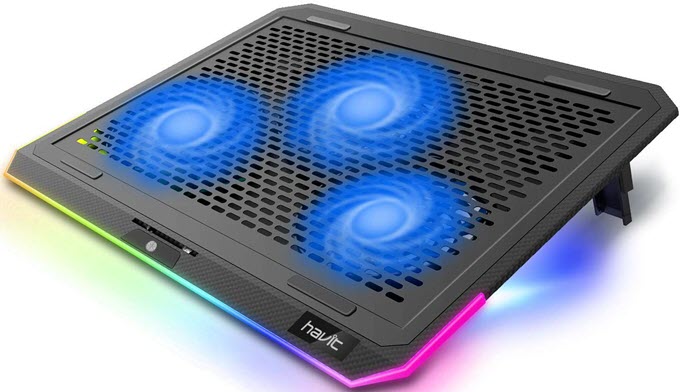 Note: When working, always put your laptop on a flat hard surface, so that the vents under the laptop don't get blocked up. These vents are for heat dissipation and if you put a laptop cooler under it then the fans help to dissipate the heat faster, which then cools down its various components.
See also:
Queries?
If you have any queries regarding the topic or in general, then please ask in the comment section below.
(*This post may contain affiliate links, which means I may receive a small commission if you choose to purchase through the links I provide (at no extra cost to you). Thank you for supporting the work I put into this site!)