(*This post may contain affiliate links, which means I may receive a small commission if you choose to purchase through the links I provide (at no extra cost to you). Thank you for supporting the work I put into this site!)
GeForce GTX 1650, the budget graphics card, has gotten a little better as it now comes with GDDR6 memory. The card is very popular among gamers with a limited budget and is a boon for older systems that have a non-upgradable 300W PSU with no 6-pin/8-pin PCIe power connectors. The GDDR5 version of the GeForce GTX 1650 is around 60% faster than the GTX 1050 and about 35% faster than the GTX 1050 Ti. The card can run almost all the modern-day games on medium-high settings at 1080p with 50 to 60 FPS on average. It is also a pretty good card for eSports gaming, as it can play almost all the major titles without feeling underpowered. The new version of GTX 1650 with GDDR6 memory is expected to perform better because of superior memory, so here I am going to compare both these cards based on important factors.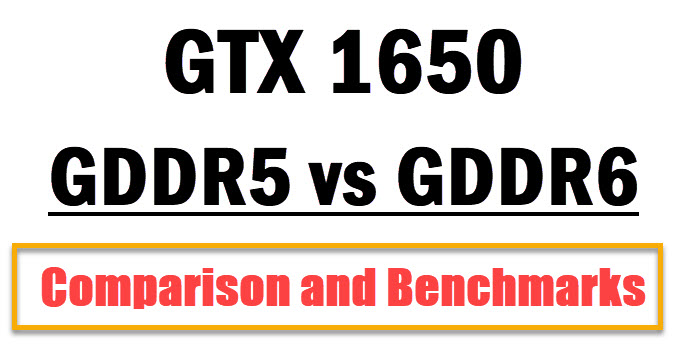 GeForce GTX 1650 GDDR6 vs GTX 1650 GDDR5
Here is the comparison between GTX 1650 GDDR5 and GTX 1650 GDDR6 graphics cards, based on their specifications, performance, pricing, power consumption, and features.
GPU & CUDA Cores
Both these cards share the same TU117 GPU and come with the same amount of CUDA Cores, which is 896. The cards are built on the Turing GPU architecture and are built on the 12nm manufacturing process. However, the GDDR5 and GDDR6 versions differ in the GPU clock speeds as the GDDR6 model has a lower base and boost clock speeds compared to that of the GDDR5 variant.
| | | |
| --- | --- | --- |
| | GTX 1650 GDDR5 | GTX 1650 GDDR6 |
| GPU Chip | TU117 | TU117 |
| GPU Architecture | Turing | Turing |
| Base / Boost Clock | 1485 MHz / 1665 MHz | 1410 MHz / 1590 MHz |
| CUDA Cores | 896 | 896 |
| Manufacturing Process | 12nm | 12nm |
Video Memory [VRAM]
The amount of VRAM on both the cards remains the same, which is 4GB, but the older one comes with GDDR5 memory, and the newer one comes with GDDR6 memory. Moreover, both of these memories have a 128-bit memory interface, but they differ in memory speed and bandwidth. The GDDR5 runs at 8Gbps and offers memory bandwidth of 128GB/s, while the GDDR6 runs at faster 12Gbps speed and offers higher memory bandwidth of 192GB/s. This means the GDDR6 variant has 50% faster memory and offers 50% higher bandwidth, compared to the GDDR5 one.
| | | |
| --- | --- | --- |
| | GTX 1650 GDDR5 | GTX 1650 GDDR6 |
| Memory Size | 4GB GDDR5 | 4GB GDDR6 |
| Memory Interface | 128-bit | 128-bit |
| Memory Speed | 8Gbps | 12Gbps |
| Memory Bandwidth | 128 GB/s | 192 GB/s |
Features
Nothing is changed in the features list as both of them come with the same set of features and support DirectX 12, OpenGL 4.6, Vulkan API, FreeSync/G-Sync, and use the same Volta NVIDIA Encoder (NVENC).
Gaming Performance
Below is the gaming performance of these two graphics cards in popular games at 1080p resolution.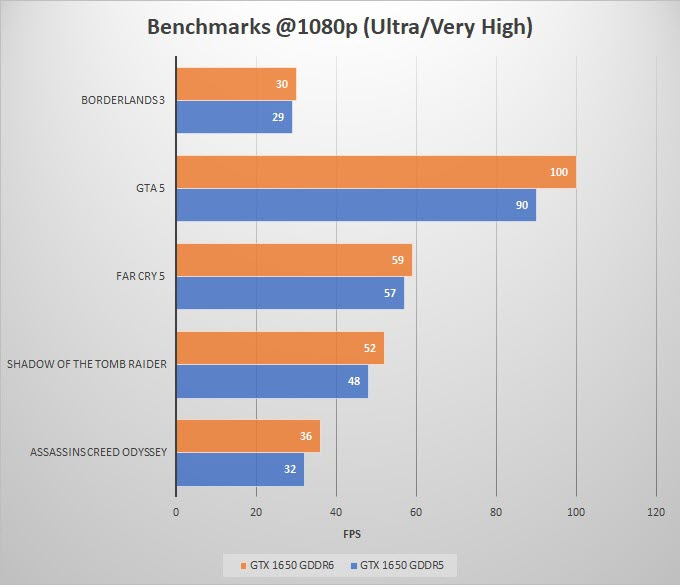 From the above benchmarks, you can see that the GDDR6 version is faster than GDDR5 one but not by a huge margin. It is around 7% faster (on average) than the GDDR5 model, and it can be seen that some games do benefit from the increased memory bandwidth, while in others, there is almost no performance increase.
Power Consumption
On the power consumption front, there is almost no difference as both the cards consume 75W of power and requires a 300W power supply for their working. The basic or standard models of these cards do not require a 6-pin PCIe power connector, but some highly overclocked models do require a 6-pin PCIe connector to provide stability during maximum load.
| | | |
| --- | --- | --- |
| | GTX 1650 GDDR5 | GTX 1650 GDDR6 |
| Power Consumption | 75W | 75W |
| Recommended PSU | 300W | 300W |
Pricing & Availability
Officially, there is no difference in the price of these cards, but the custom models with better coolers and higher overclocking do cost more than the standard models with basic coolers. The GDDR5 model will eventually be phased out, and the GDDR6 model will replace it in the future. You can check the latest prices of these cards from the links given below.
Check GTX 1650 GDDR5 Price on Amazon
Check GTX 1650 GDDR6 Price on Amazon
GeForce GTX 1650 GDDR6 vs GDDR5 Specifications
| | | |
| --- | --- | --- |
| | GTX 1650 GDDR5 | GTX 1650 GDDR6 |
| GPU Chip | TU117 | TU117 |
| GPU Architecture | Turing | Turing |
| Base / Boost Clock | 1485 MHz / 1665 MHz | 1410 MHz / 1590 MHz |
| CUDA Cores | 896 | 896 |
| Memory Size | 4GB GDDR5 | 4GB GDDR6 |
| Memory Interface | 128-bit | 128-bit |
| Memory Speed | 8Gbps | 12Gbps |
| Memory Bandwidth | 128 GB/s | 192 GB/s |
| Bust Interface | 128-bit | 128-bit |
| DirectX | 12 | 12 |
| OpenGL | 4.6 | 4.6 |
| Vulkan API | Yes | Yes |
| SLI Ready | NA | NA |
| G-Sync/ FreeSync | Yes | Yes |
| Power Consumption | 75W | 75W |
| Recommended PSU | 300W | 300W |
See also:
Final Thoughts
There is nothing special about the new GDDR6 version of the GTX 1650 card except for the GDDR6 memory. Also, there is not much of a performance and power consumption difference between the two. The GDDR6 one is a little faster and does offer higher memory bandwidth, which may help in certain conditions. The GTX 1650 still remains an excellent choice for older systems with weaker power supply and is also a pretty decent card for budget gamers who games at 1080p with medium-high settings. If you have any queries regarding graphics cards, then ask them in the comment section below