MXM Graphics Cards are removable graphics cards that are designed for gaming laptops or notebooks, All-in-one PCs, mobile workstations, embedded systems, and small form factor PCs. MXM or Mobile PCI Express Module is a standard developed by MXM-SIG for MXM GPUs or graphics cards. The main motive to develop MXM Socket is to provide an easy way to upgrade graphics cards on laptops, all-in-one PC (AIO PC), and other mobile systems. Not much information is there on the MXM graphics cards and MXM standard, so here in this post I am going to tell you all about the MXM graphics module and clear all your doubts about it.
Note: Not all laptops with discrete graphics cards have MXM modules because in most laptops discrete graphics card is non-removable and is soldered permanently to the motherboard.
Must Read: List of Best Laptop Graphics Cards from Nvidia & AMD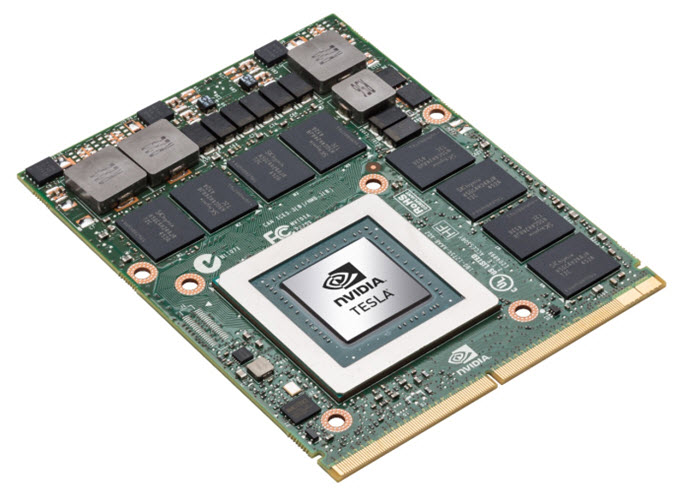 Where to Find MXM Graphics Cards?
You cannot buy MXM Graphics Cards just like regular graphics cards because they are not available to retailers or hardware vendors. MXM graphics cards are only sold in bulk to the manufacturer who makes laptops or other mobile or portable computers. However, you can find MXM graphics cards on online shopping sites like eBay and Amazon. The MXM graphics cards on these online e-commerce sites are ripped or pulled out from other laptops for sale. You can find some MXM graphics cards online at the link given below.
MXM Types / Specifications
Here are the various generations, specifications, and types of MXM graphics cards.
MXM (First Generation)
1st generation MXM graphics modules and thermal solutions are backward compatible. All the first-generation graphics card modules come with 230 pins but MXM Type III may come with 232 pins also.
| | | | | |
| --- | --- | --- | --- | --- |
| MXM Type | Width | Length | Max. Power | Max. GPU Size |
| MXM-I | 70mm | 68mm | 18W | 35 mm² |
| MXM-II | 73mm | 78mm | 35W | 35 mm² |
| MXM-III (HE) | 82mm | 100mm | 75W | 40 mm² |
| MXM-IV (Depreciated) | 82mm | 117mm | | |
MXM 3.0 (Second Generation)
2nd generation MXM graphics modules and thermal solutions are also backward compatible.
| | | | | |
| --- | --- | --- | --- | --- |
| MXM Type | Width | Length | Max. Power | GPU Memory Bus |
| MXM-A | 82mm | 70mm | 55W | 64-bit or 128-bit |
| MXM-B | 82mm | 105mm | 200W | 256-bit |
Below you can see the MXM 3.0 Type A and Type B Graphics Cards.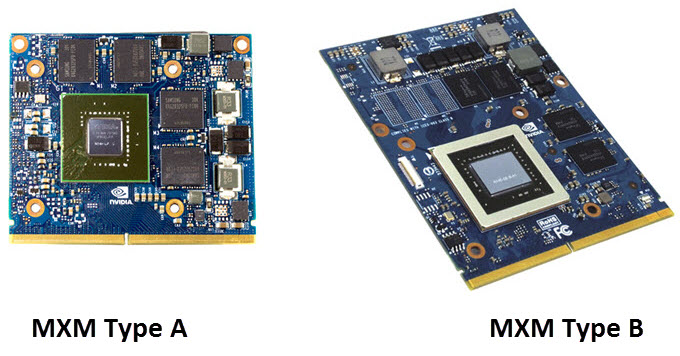 Here width is the length of the MXM connector which is 82mm in the MXM 3.0 cards. Some MXM 3.0 cards PCB can be both wider and longer but the connector length will only be 82mm.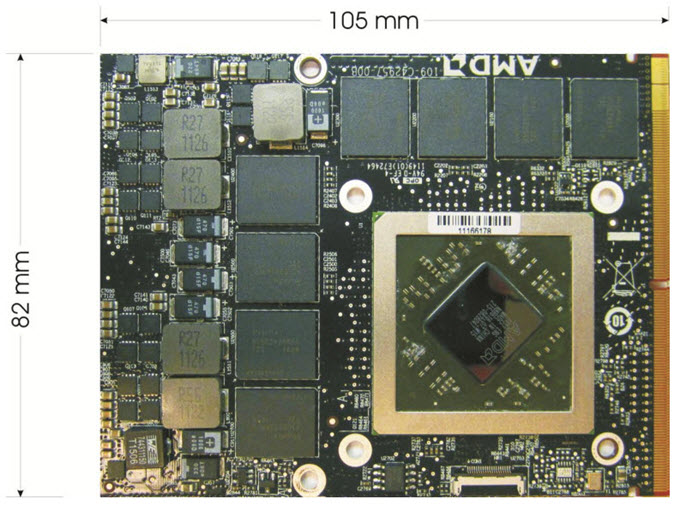 MXM 3.1 revision was released in the year 2012 for added support for the PCIe 3.0 bus.
MXM Video Card Compatibility & Upgrade
The compatibility of MXM modules with one another is a bit of concern because first-generation MXM modules are not compatible with second-generation modules and vice versa. Also, MXM graphics cards may differ slightly in the arrangement of GPU, components, and mounting holes on the PCB. This can pose problems during the mounting of the heat sink on the new MXM graphics card, that you have purchased for your laptop. Also, your BIOS should also support the new MXM GPU for your MXM graphics card to work. So before upgrading to a new MXM graphics card for your laptop, you should be aware of the following things:
New MXM Graphics Card should be of the same generation and type
New MXM card should have the same dimensions as the older card
Your heat sink should be able to fit the new MXM card properly
It should be from the same manufacturer if possible
Your Laptop BIOS should support the new MXM card
You can use an MXM 3.0 Type-A card in a computer or laptop with Type B support, but the reverse is not always possible because of cooling, clearance, and power restriction.
Popular Manufacturers that use MXM Graphics Cards for their Laptops include Clevo, MSI, Alienware, Dell, HP, Acer, Asus, Toshiba, and Apple. Not all of them use standard MXM modules as some of them use their own proprietary MXM modules that are not compatible with other standard MXM cards. Below you can see the GeForce 10 series MXM video cards that include GeForce GTX 1080, GTX 1070, and GTX 1060.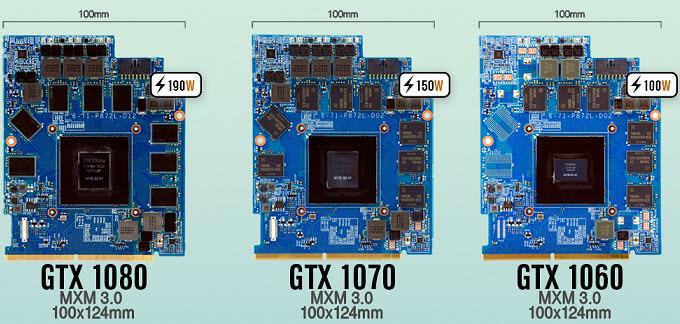 Below are the latest GeForce RTX 20 series MXM cards.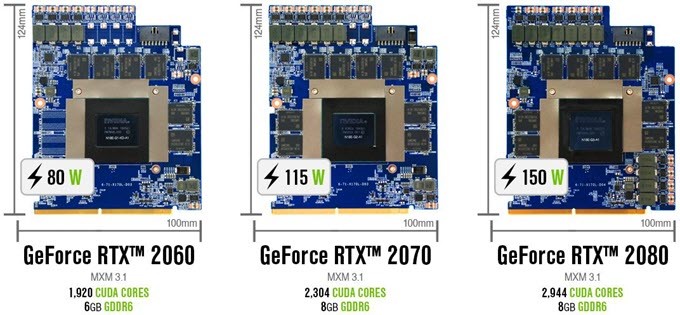 If your laptop is not MXM compatible but got a Thunderbolt port then you can use eGPU Box to upgrade your laptop graphics for playing the latest games and for professional graphics work. This eGPU box lets you connect a full-sized external graphics card (desktop graphics card) to your laptop.
Also Read: Top AMD and Nvidia Graphics Cards Manufacturers
Advantages of MXM Graphics Module
The main advantage of the MXM graphics module is that you can easily upgrade your laptop or other mobile computer graphics card to a higher one for playing latest games or for running professional graphics applications. Also, if your MXM Video Card has gone bad then it can be easily replaced without any soldering and going through too much trouble.
List of MXM Graphics Cards
Here are some of the latest and most powerful MXM graphics cards from Nvidia and AMD. These graphics cards include MXM Workstation Graphics Cards and MXM Gaming Graphics Cards.
Nvidia MXM Graphics Cards
GeForce RTX 2080 SUPER
GeForce RTX 2070 SUPER
GeForce RTX 2060 SUPER
GeForce RTX 2080
GeForce RTX 2070
GeForce RTX 2060
GeForce GTX 1080
GeForce GTX 1070
GeForce GTX 1060
GeForce GTX 1050 Ti
GeForce GTX 1050
GeForce GTX 1030
GeForce GTX 980
GeForce GTX 980M
GeForce GTX 970M
GeForce GTX 960M
GeForce GTX 950M
GeForce GTX 940M
GeForce GTX 930M
Tesla M6
Quadro M620 Mobile
Quadro M1200 Mobile
Quadro M2200 Mobile
Quadro P3000 Mobile
Quadro P4000 Mobile
Quadro P5000 Mobile
AMD MXM Graphics Cards
Radeon RX 6600
Radeon RX 480
Radeon R9 M295X
FirePro W5170M
FirePro W7170M
FirePro S4000X
FirePro S7100X
Radeon Embedded E9260
Radeon Embedded E9550
See also:
If you have any queries regarding MXM graphics cards then please leave a comment below, and I will try my best to answer them and clear your doubts.
(*This post may contain affiliate links, which means I may receive a small commission if you choose to purchase through the links I provide (at no extra cost to you). Thank you for supporting the work I put into this site!)