Graphics Card Fan failure is one of the worst things that can happen to your graphics card. The majority of the graphics cards in the market come with an active cooling solution that consists of a combination of heatsink and fan. The fan is one of the most important parts of a GPU cooling solution and if it fails or its performance degrades then the GPU will overheat and which can lead to thermal throttling and may cause damage to your graphics card, especially during gaming or during higher GPU workload.
So, if your graphics card fan fails or is under-performing then you have to replace it with a newer one. However, it is not easy to find a replacement fan for a graphics card because they have custom designs and are not sold by the manufacturer, and have different mounting points and sizes. Having said that, you can still find aftermarket replacement fans for your graphics card if you know your graphics card model, its brand, mounting holes position, and the fan size. So, here in this post, I am going to tell you how to find the proper replacement fan for your graphics card.
Read also: Graphics Card Troubleshooting Guide [All Major Fixes]
How to Find out Faulty Graphics Card Fan
You can easily find out a faulty graphics card fan if you encounter the following things mentioned below.
Fan Stops Spinning – This is very obvious that if the GPU fan stops spinning then it is gone bad and needs to be replaced. There is no other option for this.
Reduced Performance – If the fan is spinning at a lower speed at full RPM compared to when it was new or before then it has issues and needs to be replaced.
Making Noise – If the fan starts making annoying noise or loud sound then its bearing has gone bad and it can fail anytime. So, it is better to replace it as soon as possible.
Must Read:
How to Select the Right Graphics Card Fan
Follow the below-mentioned tips to find the right replacement fan for your graphics card. These tips apply to both Nvidia and AMD graphics cards.
Fan Size
The first and foremost thing to do is to know your graphics card fan size. Fan size is nothing but the diameter of the fan and you can find it by using a ruler or a measuring tape. You should always buy a fan with the same fan size otherwise it will not fit properly and you will end up wasting your money on it. Examples of some common fan sizes for graphics cards include 75mm, 90mm, 95mm, etc. Also, match the fan design because a different fan design can affect performance as the heatsink could have been designed for that particular type of fan only. All these replacement graphics card fans are Chinese made and are generic or from smaller brands.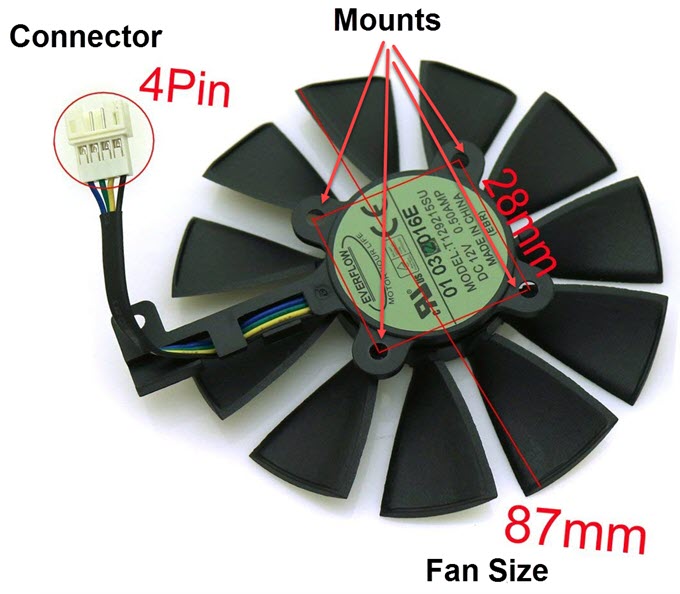 Check out the links below to find your replacement graphics card fan for all popular graphics card brands that include Zotac, Asus, MSI, EVGA, XFX, Gigabyte, EVGA, etc.
Check out Graphics Card Fans on Amazon
Find Graphics Card Replacement Fans on AliExpress.com
Mounting Points
When you have selected the right size then the next thing to look is the mounting points on the fan. If the mounting points are in the same position as the original fan then it is good to go, otherwise, you will definitely face trouble in mounting or installing that new fan in the proper place on your graphics card. However, if the positioning of mount points differs slightly and if you have already bought the fan then you can stick it to the graphics card fan location using super glue or a good strong adhesive. This is only a workaround and should be used when the fitting is really offset because glue may cause permanent damage to your mount points, so use it at your own risk.
Connector
Next thing is to check the connector that is included with the fan. A graphics card with a single fan generally comes with a standard 4-pin connector but a graphics card with multiple fans i.e. two or three fans come with multiple connectors with more pin i.e. 5-pin and 6-pin. You can clearly see this in the image given below that shows a three-fan pack for the Asus Strix graphics card. Here, Fan A, B, and C have different connectors and if you are only looking for a particular fan i.e. either A or B or C then you must be completely sure of this connector thing. Graphics cards with multiple fans may have different fan sizes too so always measure the fan size before getting a particular single fan for such graphics cards. One other thing to check is whether the connector is a male or female type because I have seen that some original GPU fans may come with a male 4-pin connector whereas in most cases the graphics card fan connector is a female one only.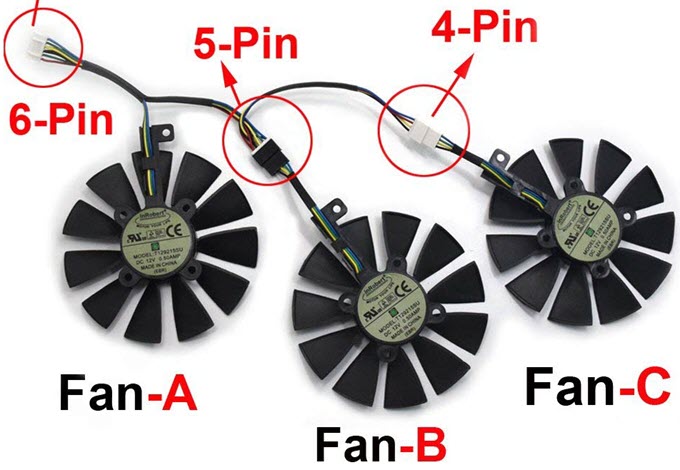 Important Tip: If you are changing the damaged fan of your graphics card then you can go one step further and change its thermal paste too for better performance and heat transfer. This is because older thermal paste dries out with time and its performance tends to degrade with the passage of time. This will help in reducing the temperature of your graphics card to better levels.
Check out: Best Thermal Paste for GPU and CPU
How to Replace Graphics Card Fan
It is very easy to remove a faulty GPU fan and replace it with a new fan in a modern-day graphics card. Also, you don't have to remove the heatsink for replacing your graphics card fan.
First of all, remove the top plastic cover (if present) by unscrewing the screws holding it.
Next is to unscrew the fan from its mount points and unplug the connector.
Take out the fan carefully from its location and then put the new fan in its place and then put all the screws in their place and plug in the power connector. Then put the plastic cover back with its screws at their proper location.
See also:
Any Doubts?
If you still have any doubts about choosing the proper replacement fan for your graphics card then you can ask me your queries by leaving a comment below by clearly stating your graphics card model and its manufacturer or brand.
(*This post may contain affiliate links, which means I may receive a small commission if you choose to purchase through the links I provide (at no extra cost to you). Thank you for supporting the work I put into this site!)